So? Where are we headed? Will this be a year of renewal, with huge margins and an increasing sense of security? Hmm… 2016 definitely allowed us to confirm the new themes that would govern the diamond industry and 2017 guided us to more certainties. However, this certainly does not mean that we can start 2018 feeling completely relaxed and optimistic. We can though draw on what we have learned over the past two years and be sure of one thing: 2018 will be a year for transparency.
I have the feeling that the diamond industry has been surfing on the same wave for the last two and half or three years. The trends that were starting to be sketched out to recover from the difficulties in 2015 have been confirmed; the market has entered a new era, which is certainly better balanced, more realistic and that will allow our industry to look to the future feeling less anchored in obsolete and risky practices.
Transparency and CSR—questions that have become unavoidable
If transparency was one of the major issues of the last two years it is now THE issue. The one that will govern 2018. The one that we will choose and defend. It will also determine many of our actions and strategies for future development.
Let us be clear. You need to decide on your business model, know who your customers are and identify your added value. But you can no longer wonder how you can make sales, which message you need to put out and how to maintain your longevity without having thought about and defined a Corporate Social Responsibility (CSR) policy or at least a responsible social undertaking and transparent business practices. Not all of your customers will care; not all of them will check on your practices. But, if ever it were the case, you need to be sure that you will not be found lacking.
How can I apply transparency and CSR in 'my' company?
Easier said than done? Not necessarily. This will not make you a traitor to the industry, habits have changed; we have spoken about it so much on this site that you know it must be true. Gem producers and banks are asking for guarantees. Ever more guarantees. Which means that you are also asking them from your suppliers.
Let us start by remembering the definition of CSR. In 2001, the European Union suggested one in its Green Paper on Corporate Social Responsibility (click on the link to read it), a practical tool focused on social responsibility, for companies wishing to get involved with CSR. It is therefore "a concept whereby companies integrate social and environmental concerns in their business operations and in their interaction with their stakeholders on a voluntary basis. Being socially responsible means not only fulfilling legal expectations, but also going beyond compliance and investing 'more' in human capital, the environment and relations with stakeholders." CSR affects firstly big groups of companies that, due to their size and notoriety, are under greater outside pressure and have more resources to implement a policy. But it does not exclude SMEs that can—and must—apply it in their system of governance, their internal management, and their social and local commitment…
CSR also meets a standard defined by the International Standards Organization, ISO 26000, published in 2010. It provides in particular a flow chart that gives a quick and simple representation of the fields of action of CSR. It describes transparency as follows: "openness about decisions and activities that affect society, the economy and the environment (2.6), and willingness to communicate these in a clear, accurate, timely, honest and complete manner." For the French speakers amongst you, I can refer you to this online portal that I think is well designed (this remark is not exhaustive!) and that will give you a lot of information about CSR: E-RSE La plateforme de l'engagement RSE et développement durable.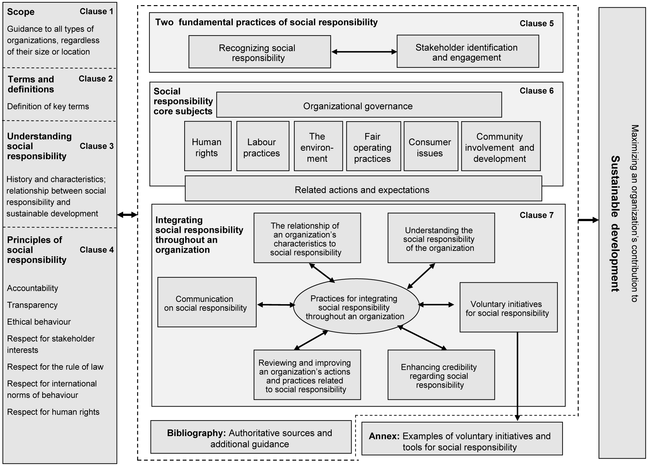 Now, let us get back to the matter in hand, how can you define and build your CSR policy?
You could for example begin by listing the actions of your company that fall within the scope of corporate social responsibility, be it at the level of managing staff (training plans, apprenticeships, etc.), waste sorting, your packaging, controlling your inventory, etc. Then why not hold a brainstorming session with people from the company at every level (not just the managers!), who are interested in the subject, and who could, using the fashionable Post-it method, list good ideas, areas for improvement, and projects that can be undertaken on a small or large scale. Then choose the best ideas, sort through them, organize things, determine the main strategy, suggest a charter and a guideline and start to write your mission statement. The good thing with CSR is that nobody expects you to do everything perfectly, the process is always open to improvements, a permanent work in progress…
What will this concept of transparency mean for the diamond industry in 2018?
The fact that we work in the diamond industry does not change anything. The big gem producers and jewelers certainly have a head-start on diamond traders. But their commitment should be a source of inspiration. They have made major commitments and imposed requirements in this area and, in 2017, their communication was largely focused on transparency and their CSR policy. ALROSA communicated a great deal (particularly on their website: ALROSA looking at tomorrow: its commitment to a responsible industry) about their social commitments in Yakutia and their positioning in international organizations to defend the value chain for diamonds.
This year, you will have new tools to move towards greater transparency, such as the terminology suggested by members of the industry to differentiate synthetic diamonds from natural diamonds. Or just 'synthetic diamonds' and quite simply 'diamonds'. It would also be a good thing if progress could be made with regulations and legislation in this area. Synthetic diamonds are not a danger in themselves, as long as they are clearly identified. As long as there is no fraud. They hold a small place in the jewelry sector at the moment, but we must think ahead. What impact will they have on natural diamonds? What position should we take with regard to synthetic diamonds? What is the real added value that natural diamonds can offer to customers now and in the future? How can we convince them that the "ethical" and sustainable development argument (so-called 'clean' innovation and production, an explosive cocktail), defended by the creators of synthetic diamonds is untrue? The greatest wrong that synthetic diamonds are currently doing to natural diamonds is the image that they give. It is truly essential that diamond consumers understand the social "good" that traditional mining can do for diamond producing countries. This is an important argument in favor of natural diamonds.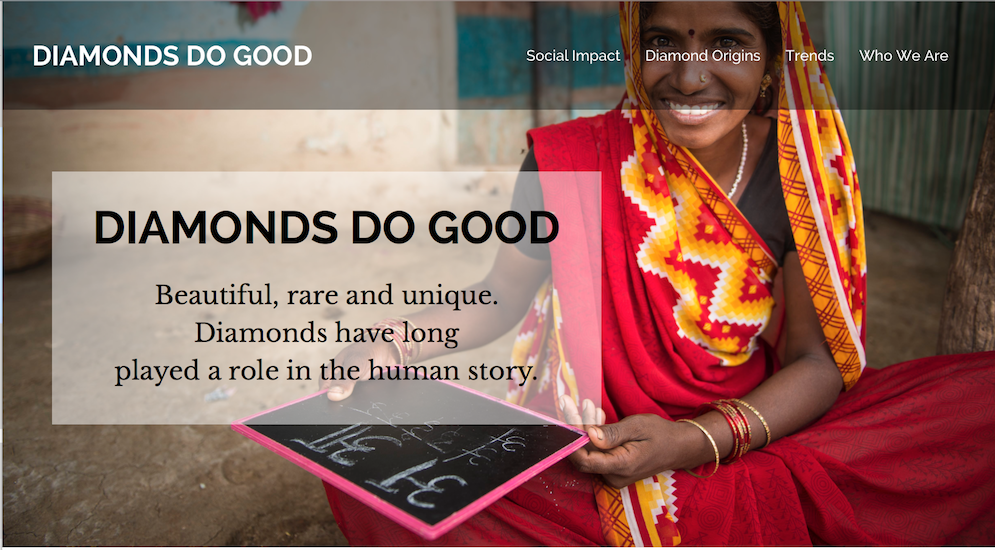 Finally, there will be an ever-greater requirement for everybody to guarantee and prove the origin of their diamonds. We have to be more transparent about prices. How else can we attract new financiers and reassure end customers?
But, we must also get on board with new technologies and innovations, with the vision of a long-term strategy that looks ahead and takes into account the changes affecting our industry.
Is Blockchain a flash in the pan?
You may think: "These journalists are always talking about some fashionable subject that's making the headlines, but it's all just talk!" Well, here it clearly is not just talk. Is Blockchain the future? Yes, probably.
De Beers (which, as ever ahead of its time, is planning to launch its online register at the end of 2018), ALROSA, the AWDC and Lucara have all positioned themselves to defend and invest in Blockchain. And this is good news! The system is a pledge of transparency as much for everyone in the diamond industry, as it is for the banks and end consumers.
Adapting the use of Blockchain technology to the needs of the diamond industry and ensuring the quality of information that is entered into the system will however not be simple and will take time. And, even if Blockchain is not ultimately chosen as a solution for some ethical or technical reason, it shows where the industry is heading today. Even if it is not Blockchain, there is no doubt that a solution of the same kind will be chosen.
And other outlooks for 2018…
I will not give a detailed review of 2017, please read the excellent article by Edahn Golan on this subject—he made a great job of it: Did a troubled 2017 promise growth in 2018?
The year 2017 was fair to good in terms of jewelry sales. In the USA, the big jewelers experienced some difficulties. Even though the holiday season was eventually better than expected, boosted, amongst other things, by online sales. But in China (where Chow Taï Fook has nevertheless lost some market share) and in India, there was a trend for improvement that continued to grow throughout the year. We should just remember that these markets do not target the same type of product.
In conclusion, it is interesting to note that the results for Tiffany, Forevermark, the Richemont Groups (Cartier and Van Cleef & Arpels), Kering (Pomellato, Boucheron) and LVMH (Tag Heuer, Bvlgari) were positive.
What this means for 2018 is that we can expect branded jewelry to hold sway. Fashion and brand jewels. Indeed, we need to be able to meet diamond consumers' expectations in terms of their budgets, understand their desire for differentiation and customization, whilst offering them identifiable and high-quality items (both in terms of technique and styling).
Without forgetting to create demand for diamonds… And this is far from easy! The marketing budget of the DPA should hit $70 million in 2018. This will be followed by campaigns in India and China, and increased marketing in the USA. Let us hope that this investment, along with original and targeted offerings, monopolizing the digital media that are on the rise, such as Instagram or YouTube, will actually improve the image of diamonds and the desire to own them.
After 2017, when prices for cut stones were stable or mediocre in the summer, the position improved in December. As for the prices of rough diamonds, they increased very slightly, and the supply shrank. Now, at the start of 2018, demand is high, but this is unsurprising. It will fall again and probably return to the levels we had in 2017, or potentially a little better. We should not expect miracles or exponential growth. Those times are gone. There is no point in standing your ground and hoping that the old system will come back.
But does this mean that the future of the diamond industry is less interesting? No. It will be more versatile, more in phase with the laws that govern market economics, and more vulnerable to the rules of competition. Rough buyers and the intermediary branch must now find the means to be less dependent on the prices imposed by gem producers. To correctly assess their prices. To be able to negotiate them. How else can they significantly improve profit margins that are always too low? Finance and transparency are surely the key…
---
Photo © Rio Tinto Argyle, DPA, DR, ISO, Diamonds do good