On April 11th, De Beers representatives came to Paris to present their Blockchain pilot project called Tracr to the French industry.
Following this crystal clear presentation, Tom Montgomery, senior vice president Strategic Initiatives with De Beers, agreed to answer our questions and shed light on Tracr: its vocation, its strengths and its potential limits.
Without further ado:
1) Could you revisit the genesis of this project: what led De Beers to take an interest in Blockchain and to devise a platform for the industry?
We launched an « exploratory innovation stage » in April 2017 to brainstorm how potential opportunities could be achieved through digital models. We distilled hudreds of ideas to arrive at the concept of a blockchain platform which is now Tracr.
[two_third]
We believe that the blockchain technology has the potential to be transformative for the diamond industry by addressing some of its main concerns. Crucially, it can support confidence in the diamond ecosystem by creating a tamper-proof, immutable record of a diamond's journey throughout the value chain and ensuring its provenance.
The platform, which we are currently trialling with a small group of leading industry stakeholders, is designed to complement the measures the industry has already taken through the Kimberley Process (KP) and help ensure that diamonds in the value chain are natural, come from a conflict-free area and their physical characteristics match their digital diamond records.
[/two_third][one_third_last]
" Crucially, it can support confidence in the diamond ecosystem by creating a tamper-proof, immutable record of a diamond's journey."
[/one_third_last]
2) How would you sum up the advantages of the Blockchain –and even more so, its advantages for diamond trading?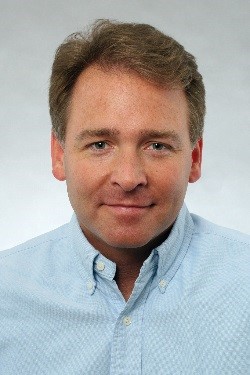 The blockchain platform we are developing will not only help underpin consumer confidence in diamonds. It will also provide lenders to the industry with increased visibility and create trust among sometimes untrusting parties. It will also deliver a number of enhanced efficiencies in the supply chain, thereby supporting the ongoing sustainability of the diamond industry and benefiting all its stakeholders.
Diamond traders and retailers will be able to provide consumers with more information about their diamond and its journey, giving them the confidence that their diamond is natural, sourced from a conflict-free area, and that its physical characteristics match its digital diamond report.
3) Can you summarize the De Beers project, your "vision"? In your opinion, what makes it "the" solution?
The vision is to create the first comprehensive, end-to-end, independently-governed blockchain – by the industry for the industry – that will ensure cast-iron provenance and immutable traceability for diamonds as they travel from the mine along the full value chain through to the end-consumer. We have engaged world class talent with deep expertise in both the diamond industry and blockchain technology to make Tracr the most robust and inclusive traceability solution for the industry.
4) What have been and what will be the greatest difficulties in terms of implementing this project?
This is a ground-breaking project in many ways, and some of the difficulties we have faced in fact presented us with opportunities to develop new solutions:
Data Integration – One such solution has been the development of a mechanism for integrating with the industry's existing record-keeping systems and migrating data onto the common platform.
Stone ID – We have had to attract leading data scientists and diamond experts to develop a proven physical identification solution that a diamond could be verified against, in addition to process tracking.
Privacy Controls – Not least, we have developed a cutting-edge technology to guarantee that certain sensitive data can remain private on the blockchain while still ensuring immutable traceability.
Tech Education – We are also continuing to educate the industry about the benefits of the blockchain technology – the industry is more open to embracing the new technology than ever before.
5) How can De Beers' impartiality in this project be guaranteed, both now and when it comes to fruition?
[two_third]
While De Beers is making an initial investment in the development in the platform, we are aware that this blockchain needs to be independent if it is to be embraced by the industry – and this has always been our vision for the project.
We expect that Tracr will be managed by an independent entity, representing the interests of the platform community, and we are currently in discussions with key industry participants to agree on the best governance setup for this entity.
[/two_third][one_third_last]
"We are aware that this blockchain needs to be independent if it is to be embraced by the industry – and this has always been our vision for the project."
[/one_third_last]
One of the project's unique features is its cutting-edge privacy technology, which allows users to own their data and share its selectively, while still ensuring immutable traceability. This means that neither De Beers nor other platform participant are or will be able to access data unless the data owner chooses to share it.
6) If I have understood correctly, the quality and veracity of the first data are essential. How can one be sure this is 100% accurate?
All entities will be subject to stringent KYC checks on joining Tracr. In addition, automatic data checks and verification at each point of a diamond's journey allows Tracr to flag data anomalies and ensure that once uploaded on the blockcahin, the data can not be manipulated.
7) Your project stops with the retailers. Do you have any leads with regard to a key element i.e. communicating and driving home the interest of this system for the end consumer?
Tracr is designed to be an end-to-end traceability blockchain that tracks a diamond along the full value chain ensuring its provenance and ultimately benefitting end consumers. It will allow retailers to tell their customers more information about their diamonds and their journeys, so that they have more confidence in the diamonds they are buying. For now, we are focused on engaging with industry participants to ensure wide adoption.

8) You have already presented your project to various players in the market. What is your assessment of their reactions?
Indeed, we have been engaged in close discussions about Tracr with many key industry players, including other producers, manufacturers, retailers, industry associations, grading bodies, banks and logistics providers.
The response has been overwhelmingly positive. We are seeing a tremendous demand from industry participants for an inclusive digital traceability solution, and we are now incorporating these insights to ensure the platform meets specific industry needs at each stage of the value chain.
9) Where are you in terms of the schedule? When do you think that this project could come to fruition?
The pilot, which we commenced in January of this year, has been progressing well, and we are on track to open the platform to the industry later this year. We have been working closely with our existing pilot participants and look forward to expand the pool of participants soon in order to develop a truly comprehensive and workable solution for the industry.
10) Finally, as arguments, you put forward an overall reduction in costs in terms of certification, compliance with KYC norms, etc. Do you have an idea of the cost price of this project? Its cost both in terms of operations and management for the aforementioned not-for-profit organization and also for each player in the chain?
The platform participants will benefit from improved cost efficiencies, for example, in compliance and KYC, including through decreased reliance on email and paperwork. Tracr may also facilitate access to financing and potentially improved interest rates due to reduced perceptions of risk from lenders to the industry.
The platform will eventually be governed by an independent entity representing the interests of the Tracr community, and we are currently in dicussions with key industry stakeholders to determine how this entity will be funded.
In terms of the cost for each participant, there is no fee per se to participate on the platform. That said, each participant will be responsible for integration into the system. By design, all blockchains (including Ethereum, which we currently use) require minimal transaction fees for the network to function.
The cost of building the blockchain is not trivial, which is one reason why its ongoing maintenance should be funded by an independent entity.
11) Is there anything else you would like to add?
A comprehensive end-to-end blockchain platform for the diamond industry is a bold undertaking, and we know that wide industry adoption will be key for us to succeed.  We have seen an enthusiastic response from the industry so far; and we look forward to welcoming new pilot participants on Tracr to ensure we have a solution that works for all stakeholders along the diamond value chain.
We would not have invested in the platform had we not believed in its great transformative potential for the industry. However, its value to each and all its members will be truly unlocked only when it is embraced by the whole industry.
There are competing platforms but we believe ours is superior for two reasons:
We have superior tech, which includes cutting-edge privacy controls
Our approach is purpose-built for the diamond industry.
Source Rubel & Ménasché