Rarely has a collection combined so many of the codes specific to the Maison that created it. "Peau d'Âne raconté par Van Cleef & Arpels" is exemplary, using more than a hundred pieces to illustrate, with virtuosity, the spirit of Van Cleef & Arpels. A Maison that we know so well but that never fails to astonish us!
The new collection of high jewelry from Van Cleef & Arpels, presented at the 27th Biennale des Antiquaires at the Grand Palais, in Paris, is, first and foremost, the story of an encounter. An encounter between three worlds: that of Van Cleef & Arpels of course, that of the French fairytale Peau d'Âne [Donkeyskin] as well and, finally, that of the director Jacques Demy—who adapted Charles Perrault's tale for the silver screen in 1970, starring Catherine Deneuve as the princess. Van Cleef & Arpels is firstly contributing to the restoration and digitization of the film. The rest is a matter of consequence: dreams, love, spellbinding nature and fantasy; the leitmotifs for the collections from the Maison, weaving a golden thread between these three worlds.
The exceptional pieces in the collection tell the tale of Peau d'Âne through three chapters: Childhood in the Castle, The Enchanted Forest and The Happy Wedding.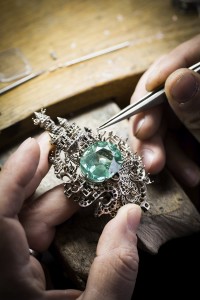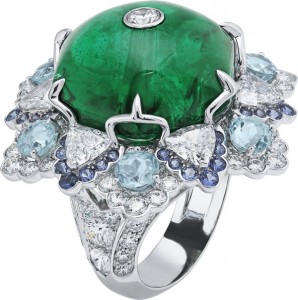 Jean Bienaymé, Marketing and Communication Director for Van Cleef & Arpels, gave us an interview and looked back with us over the creation of this collection.
Why take part in the Biennale des Antiquaires and what audience does this event offer to a Maison such as yours?
This is a very prestigious fair, which is interesting from a French heritage aspect. The Biennale brings together collectors, fans of the art, and also fans or "lovers" of beautiful objects. For a jewelry Maison such as ours, a Maison with a long history, with tales to tell, that loves face to face meetings, it is important to be there… There is a real chance to talk with the public, both from France and abroad. High jewelry is part of the decorative arts, where you consider the precious stones and the materials, the very nature of creation. It is very much in tune with the Biennale des Antiquaires and naturally contributes to all the pieces on display here. "
Let's return to your new collection. Can you tell us more about the sources of inspiration for the Maison Van Cleef & Arpels and, more specifically, those for the collection "Peau d'Âne raconté par Van Cleef & Arpels"?
Firstly, you must know that the world of fairies and fairytales has long nourished the imagination of Van Cleef & Arpels. The cultural dimension is also a source of inspiration for us and the search for inspiration is one of our constant preoccupations. Just think of our collections: Le Palais de la chance, Les Voyages Extraordinaires™ (Jules Verne), L'Atlantide…
We met Rosalie Varda-Demy* during our exhibition at the Musée des Arts Décoratifs (September 2012-February 2013- Ed.). This drew us to take part in the restoration of Jacques Demy's film. Everything in this tale rings true with the world of Van Cleef & Arpels. As for the film, it is an essential part of our living cultural French heritage. Creating a collection on the theme just seemed an obvious step.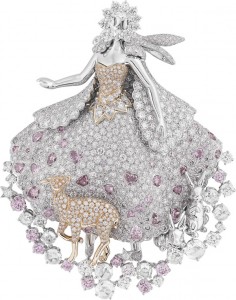 In more practical terms, how is a collection prepared and created? How does this reflect your world in particular? Lastly, are there any pieces that you particularly like? I am stunned by your color camaieux…
Having held the pieces from this collection in my own hands I can tell you that we have gone beyond expertise. At Van Cleef & Arpels we are truly in love with our collections. But this one in particular, from the point of view of a jeweler, really advances expertise and techniques. It took two years of work. The pieces for a collection are designed little by little, their number is determined from the outset. It is the story that is told that gives them life and inspires them over time.
I particularly love the Château enchanté clip, which holds a Pierre de Caractère™ at its heart — an exceptional emerald that perfectly represents Van Cleef & Arpels' quest for extraordinary gems. Just like the pink and purple oval briolette shaped sapphires, that give the jewel a movement…
We could also mention the Émeraude en majesté necklace, a major jewelry piece with stones of extraordinary quality: 29 emeralds including an oval, a sphere and 27 emerald shaped, of Colombian origin. This necklace can be worn in many ways and illustrates Maison Van Cleef & Arpels' search for excellence.
We offer modern and contemporary jewelry that can change to suit your mood.
Finally, we must emphasize our search for "uncompromising stones". If our suppliers offer us extraordinary stones, we can acquire them without any real design in mind. On occasion however, we are seeking THE exceptional stone, with character, that we can't find… For this collection we worked a lot on shades of colors and associating stones. The Robe Couleur du Temps, Robe Couleur de Lune and Robe Couleur du Soleil clips in particular reveal stunning camaieux.
Is there anything you would like to say to round-off?
Yes. The most important thing for us, at the end of the day, is the pleasure of communicating and sharing.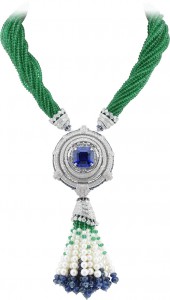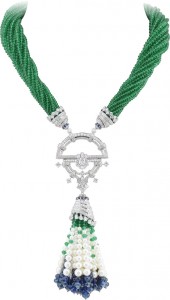 ---
* The daughter of French director Agnès Varda, Jacques Demy's life partner.
Pictures: © Van Cleef & Arpels