After a roller coaster 2020, 2021 continued the upswing in jewelry sales to a degree few if any expected. Sales in October rose 37%, and we expect holiday jewelry sales to top that and close a fantastic year for the industry.
In October, US jewelry sales reached an estimated $7.3 billion, a record for the month, based on US Department of Commerce data.
Year to date, US jewelry sales have totaled $67.8 billion. For a perspective on how unusual these sales levels are, consider the following: sales in the first ten months of 2021 alone have already surpassed 2020's record sales of $62.3 billion by 9%.
Further, year over year, the value of jewelry sales in the first ten months of 2021 are 56% percent higher than those in the comparable period of 2020. Compared to 2019, a "normal" year, sales are up 52%.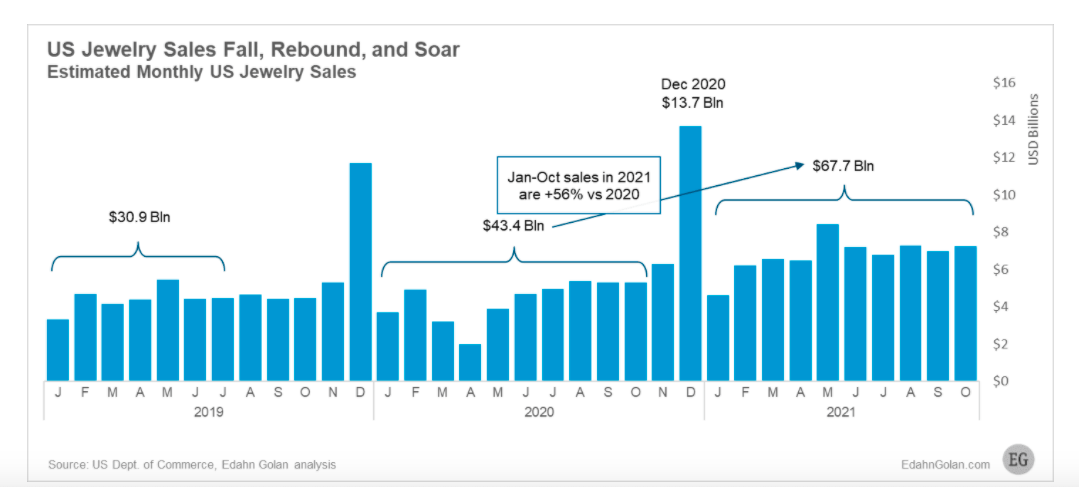 Holiday jewelry sales
By now, it is clear that the COVID lockdowns, temporary store closures, drop in travel, and the deep dip in related consumer expenditures did wonders for jewelry demand.
On an annualized basis, 2021 jewelry sales stand at $101.1 billion, up 62% over the $62.3 billion in jewelry sales in 2020.
Based on our analysis, the gap between the two figures will shrink by year's end. Jewelry analytics show that in October in a regular year, annualized sales are 1.6% higher than final year figures.
But 2020 and 2021 were not regular years economically, socially, or medically.
Based on our US market jewelry analysis, we should expect US jewelry sales to total $94 to $95.3 billion, up 51% to 53% year over year.
Our 2021 US holiday jewelry sales prediction is a rise of 40-42% in the November-December holiday period.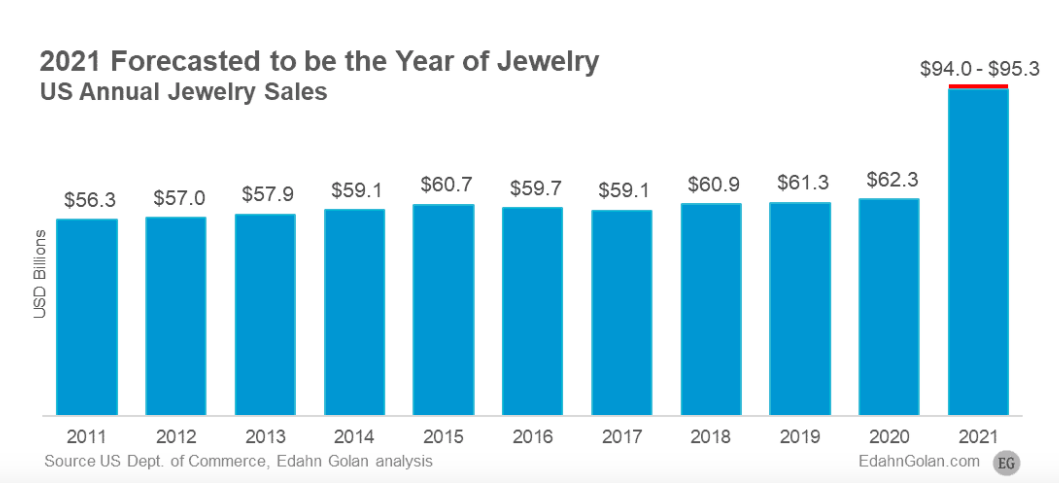 ---
Photo © Cartier, Graphics © Edahn Golan.