The De Beers Business Excellence Seminar was held at the Grosvenor House Hotel, London, on Monday 27th June 2016. The gem producer brought together its sightholders and part of its teams for the occasion.As well as confirming the handover of power from Philippe Mellier to his successor Bruce Cleaver, the theme for the day's conferences approached another aspect of current affairs and aimed to shake up preconceived ideas in the diamond industry: "Innovation and transformation: sustaining success in tomorrow's world."
It was outgoing CEO Philippe Mellier who announced the challenge of the seminar: "to discover the means of creating sustained success, of  preventing [one's] company from becoming obsolete or even the luxury industry from becoming obsolete at the time of a global marketplace." Sightholders at this Business Excellence Seminar 2016 were invited to "look", "listen", "learn" and feed on the experience of De Beers' distinguished guests.
The challenge: a changing environment
Times are changing in the diamond industry, aren't they? Nobody can really contradict this fact anymore. Financial and technological changes are the counterpart of evolving consumer demand and opinions. The real question is how can we adapt? How can we negotiate this turning point and maintain our level of performance? "Innovation and transformation" are the solutions put forward by De Beers and its speakers. For Mark Cutifani, "those who will survive [this changing environment] are neither the strongest nor the most intelligent, but those who will be able to rapidly manage these changing time and this new reality."
Finding solutions by changing your perspective
There is certainly no miracle solution but there are ideas. Above all, everyone has to adopt a new position in their perception of their business and the diamond industry. You have to "look beyond your sector," according to Professor Michael Jacobides. Look at how French wines, by creating the AOC designation, or coffee, by becoming part of fair trade, have created value, rarity and demand.
Here is a summary of the solutions proposed at the BES 2016—solutions on which Nick Fry, Dominic Barton, Simon Woodroffe and Dan Cobley* (list of guests below) in particular are in agreement.
● Don't be afraid of change
For Dominic Barton, the advantage of "small companies" is that they can "move and change faster." For all that, nobody should fear change, as it is indispensable. Global economic powers are completely out of step, in the past 50 years we have seen the emergence of 2.2 billion middle-class consumers, cities have taken more and more space, particularly in Asia and Africa, populations are ageing, and technology is omnipresent. This new environment is a state of affairs that should not be feared. This disruption does not come from the diamond industry itself, but from the external world.
Nonetheless, everyone should continue to do what they do best …
● Fees on others' experience and work, in all fields
This is exactly what Nick Fry, Dominic Barton, Simon Woodroffe and Dan Cobley came to do. Each of them shared their experience in their field and asked the sightholders and diamond industry professionals present to try to transpose it to their business. The diamond industry is neither unique, nor exceptional; it is well and truly part of a globalised, changing world; it can also benefit from the solutions applied in other industries!
● Move forward together
The diamond industry will move forward by reconciling everyone's experiences, by being partners more than competitors. By, for example, understanding the requirements of the banks or the needs of one's partners or suppliers, by collaborating at all levels of one's company, everyone will have a better chance of progressing. Together, therefore! Look upon your employees, your partners, your suppliers, your loved ones as a large family and share your successes with them, make them part of your success.
● Act and innovate, step outside your comfort zone
Firstly, innovating means approaching things in a new way; it is not limited to technological or material innovations. It means anticipating and proposing a new way of seeing things and managing them, it means implementing rapid and effective processes that are adapted to the company's goals, it means relocating the company or rethinking its resources.
But, above all, innovating means daring to act… Simon Woodroffe summarises it thus: "to step outside your comfort zone", change the rules and the world will be yours.
However, don't forget that, as Dan Cobley says: "Data is the new oil." We can no longer conceive of one's business without understanding the way in which technologies are transforming companies and means of communication, without remembering that smartphones permeate our ultra-connected daily lives.
● Trust young people, hire the best
This is a key factor for Nick Fry, who points out that his business has parallels with the diamond industry: the exponential budgets that it generates and the speed of action necessary (when a high jeweller needs a diamond, he doesn't want to wait 6 months!). Surround yourself with the best (Lewis Hamilton to name but one) at all levels of the company—which has nothing to do with level of education!—encourage diversity and hire people from varied backgrounds who, together, will feed off each other's differences.
Train young people, trust them, and let them experiment: this is a gateway. They are a breath of fresh air, they live with their times, "they do business on their telephone" (Simon Woodroffe).
● Define clear goals…
… which everyone in the company must be aware of and be able to follow. Which brings us logically to the necessity of clear communication with all of one's employees: do regular reviews, be honest about the company's situation, define a clear and concise line, and treat teammates with trust and respect.
● Give yourself the resources to hit your goals

Human, financial, technical resources: whatever they are, you have to invest and enable your team to achieve its goals with the best tools. Goodwill is not enough, you need… resources!
● Don't be afraid of failure
Do you know FailCons? These are conferences at which company directors share their failures and the lessons they learned from them. This is an idea shared by Simon Woodroffe: "Successful people failed!"
● Trust in talent and intuition
Talent and intuition: don't forget these two words! Do not turn your back on one or the other; the better we control things, the more we "work", the less we leave things to chance, which is also key in a successful business.
The magic words to remember for Simon Woodroffe are these: "It's so obvious, why did no one think of it before?"
And, to conclude, the testimonial of Nick Frey who reminds us "why people buy Ferraris. They're not the best cars! You'd be better off buying an Audi. But Ferrari was able to spin a story, to talk to people. That's what you have to do: change the consumer's perspective, remind them that a diamond… is a gift!"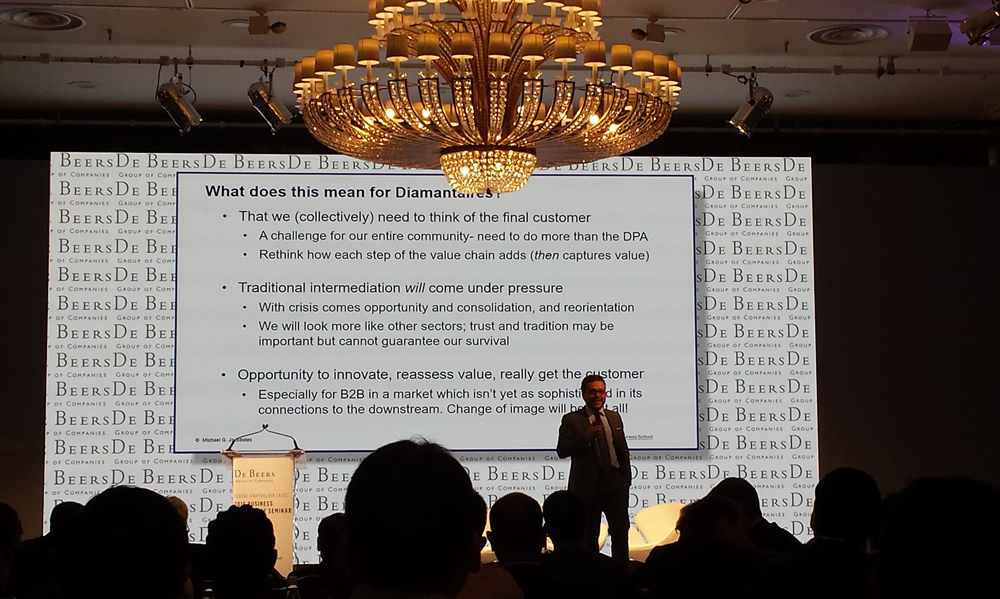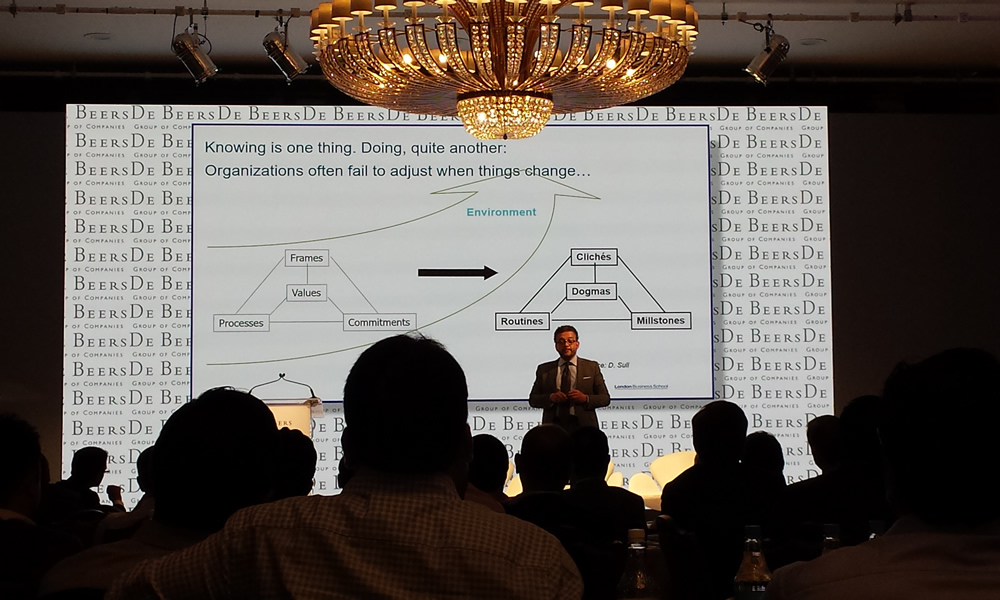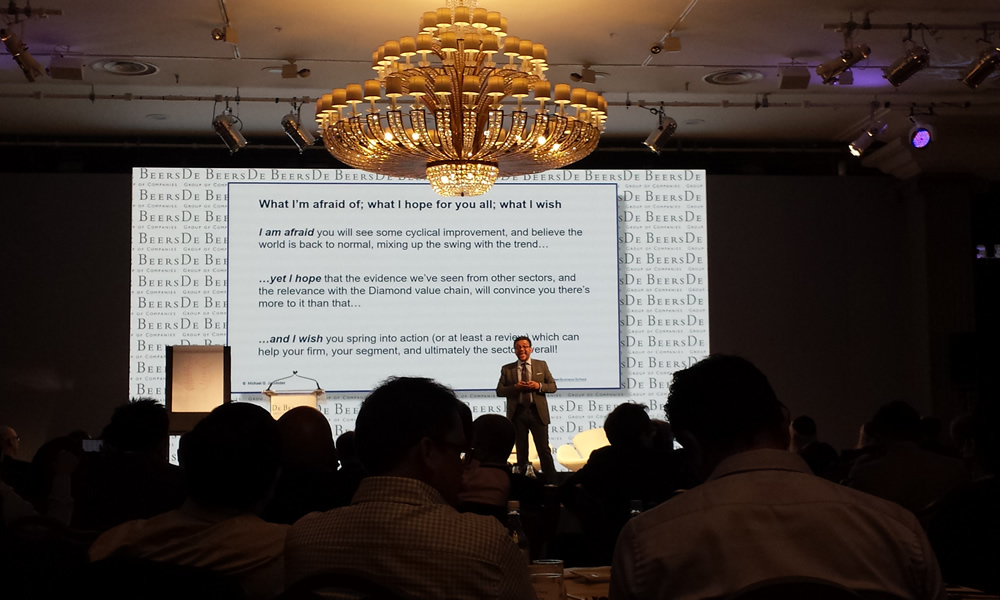 Speakers*
Speakers at the seminar, in order of appearance, were:
– Philippe Mellier, outgoing CEO, De Beers Group;
– Dominic Thurbon, co-founder and Chief Creative Officer Karrikins Group;
– Mark Cutifani, CEO, Anglo American;
– Nick Fry, former CEO and co-owner of Mercedes F1;
– Dominic Barton, Managing Director of McKinsey & Company;
– Simon Woodroffe, Founder of YO!;
– Professor Michael Jacobides, London Business School;
– Dan Cobley, former Managing Director, Google UK;
– Bruce Cleaver, incoming CEO, De Beers Group;
– Paul Rowley, Executive Vice President, DBGSS (De Beers Global Sightholder Sales).
« La qualité du processus de maternalité chez la femme toxicomane ou substituée  »