What's new at Tiffany & Co.? "Plenty of things," you will tell me! No one could have missed out on the latest events signed by Tiffany & Co., certainly no one in our field or, at least, no one with an interest in luxury/ fashion/ celebrities/jewelry/high jewelry, etc. On this website alone in 2017, so far there have been almost a dozen articles in which Tiffany is either the main subject or one of the main subjects. In terms of communication, they have won the top prize hands down! So let's focus a little on Tiffany's strategy and on what brings the company into the media so often.
Tiffany and CSR
Tiffany, which appointed a Chief Sustainability Officer in 2015, Anisa Kamadoli Costa (who is also President of the Tiffany & Co. Foundation), is a CSR champion. In 2016, the house had already published its sixth annual report in this field. It would be putting it mildly to say that Tiffany is ahead of the times and ahead of its sector! With commitments in terms of CSR, environmental actions and involvement with local populations (in Botswana for example), the jeweler did not wait for fads or for charm offensives aimed at Millennials to become active in this field (even if these things are not mutually exclusive).
And its actions are very real: making the Blue Boxes and bags green (recycled paper and responsibly managed forests), the traceability of diamonds via the KP and even more, the protection of certain sites—such as Yellowstone National Park and Bristol Bay in Alaska—from mining, a code of conduct for its suppliers, LED lighting in its stores to reduce energy usage and greenhouse gas emissions, 100% renewable energy, with a target of net-zero by 2050(!), etc.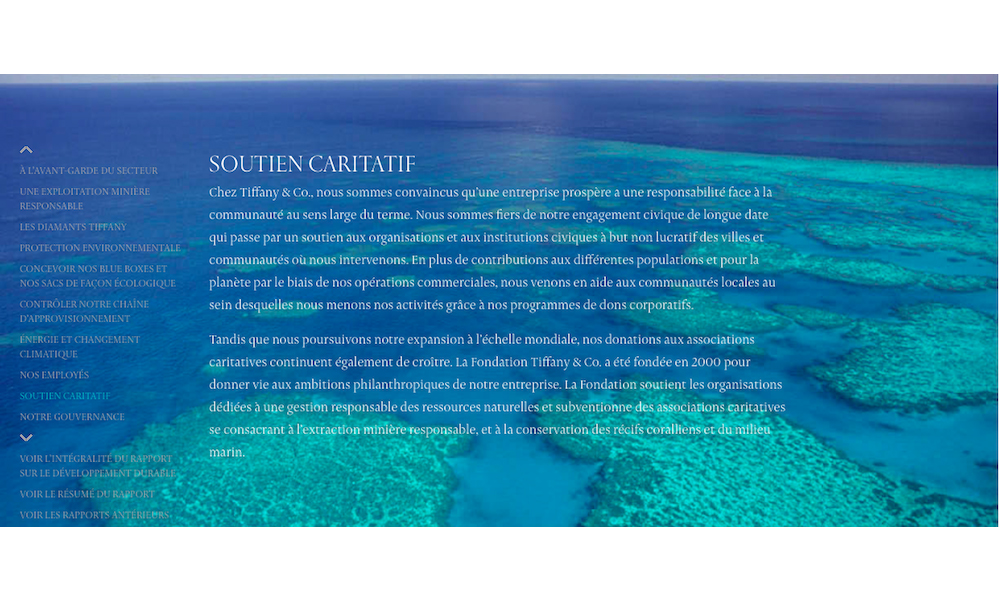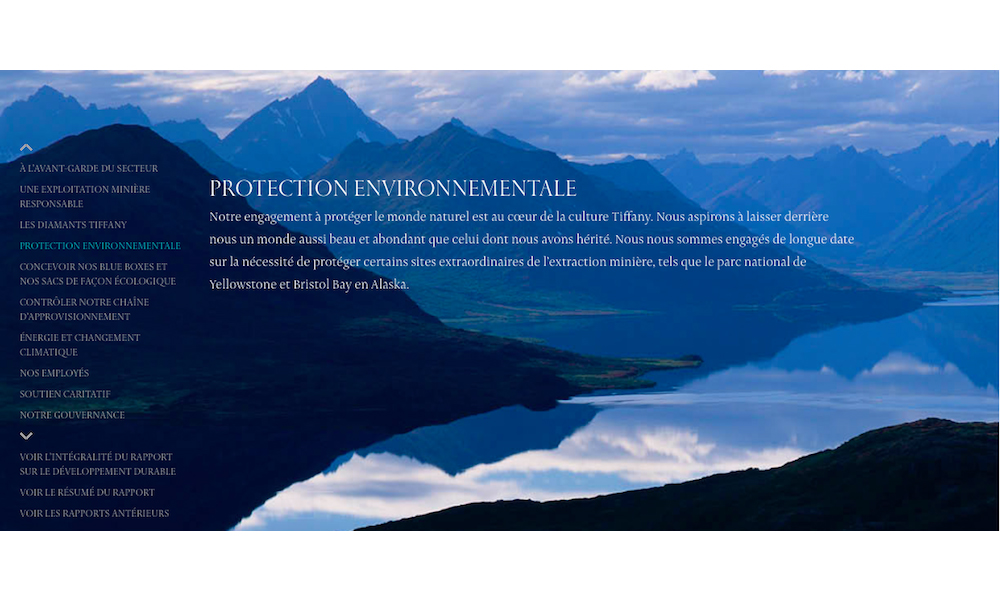 There are a number of actions combining responsible commitment with high-end communication, such as the Save The Wild charm collection (18 carat rose gold, silver, diamonds and tsavorites). All profits generated by sales of these charms are donated in support of the Elephant Crisis Fund (ECF), which is an initiative of Save The Elephant, The Wildlife Conservation Network and the Leonardo DiCaprio Foundation that combats the trade in ivory from poaching (the #KnotonMyPlanet campaign with Doutzen Kroes as its muse). In fact, the Tiffany & Co tsavorites come from the Tsavo National Park, in Kenya, cradle of the African elephant…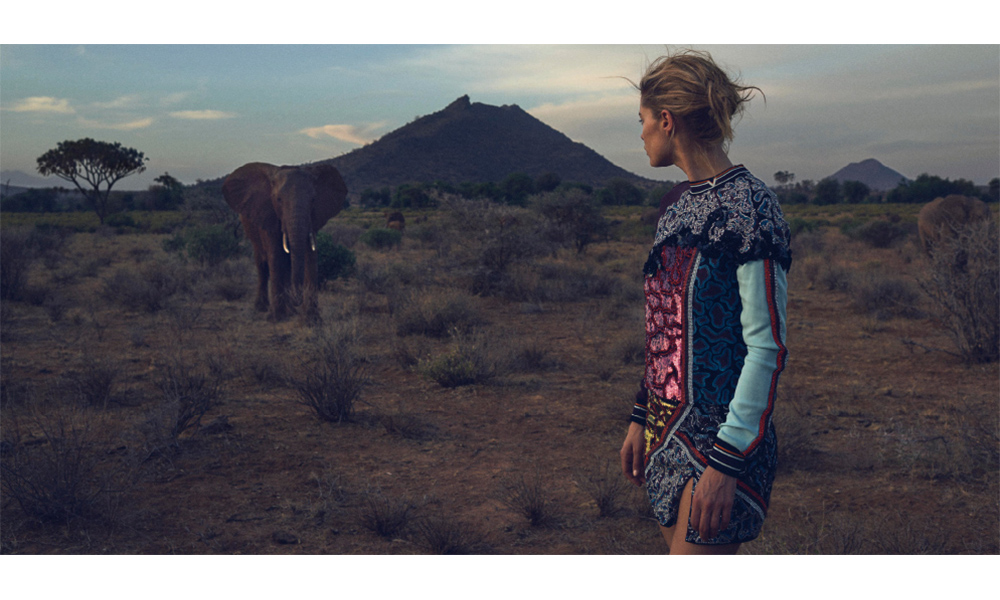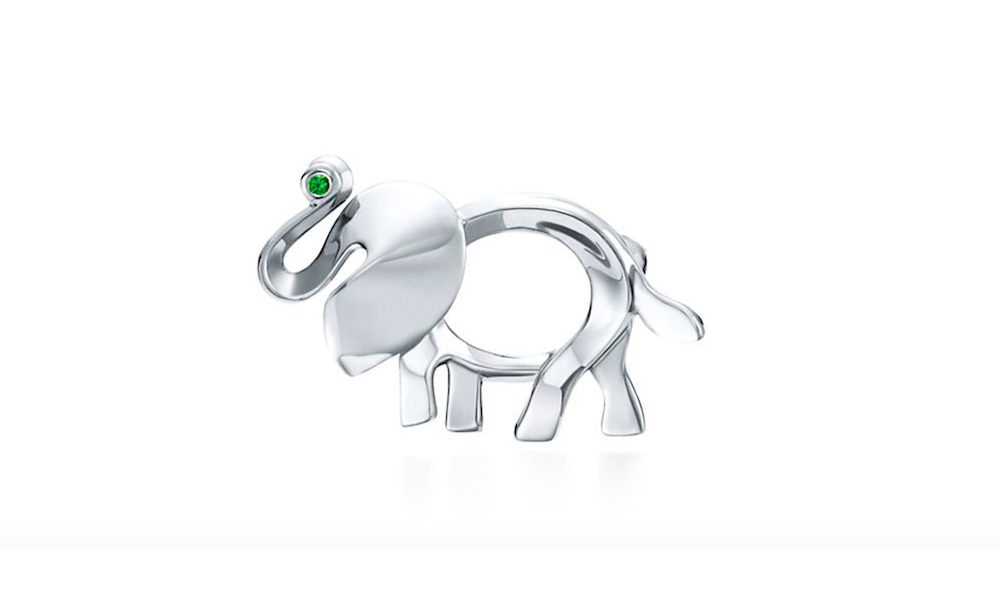 Even if these subjects are not yet communicated across all the media, it cannot be denied that Tiffany's influence in this field, which is extremely beneficial for its image, also indirectly benefits the luxury and diamond industries.
Tiffany, events and change
Events at the end of last year had a direct impact on Tiffany's sales: its Fifth Avenue store in New York, which is very important for the house, since it accounts for 10% of its sales in the United States, is located right next door to the equally famous Trump Tower. The presidential elections in the United States genuinely harmed the jeweler.
There was also a string of resignations: Francesca Amfitheatrof, the company's Design Director (since 2014) was replaced by Reed Krakoff (an unexpected choice subject to much discussion, the latter being a reputed designer from the fashion world); followed, at the beginning of February, by CEO Frédéric Cumenal, who sacrificed himself because of disappointing results (a drop in sales that was subsequently confirmed*), and who will be replaced at the beginning of October by Alessandro Bogliolo, a former executive at Bvlgari, among other companies (this appointment was announced in July.)
So, certainly, this significant presence in current affairs is not, strictly speaking, attributed to "positive" reasons. Yet, above all, Tiffany & Co. owes this to the change in direction that it is attempting to drive through or to external elements (Trump). Today, we are waiting for the changes that its two new high-flying recruits are going to put in place in terms of artistic vision and development strategy in the long and short term.
It's worth noting that, on Thursday 21 September 2017, Roger Farah, a board member, was elected as Chairman of Tiffany & Co., thus following Michael J. Kowalski (Chairman since 2002 and CEO between 1999 and 2015). This nomination shall take effect on October 2.
Tiffany and social media
As for the Trump effect, since Tiffany is not one to hold its tongue, the company has actually managed to turn it all into a positive buzz. Notwithstanding the prejudice caused to them, geographically speaking, by the election of Donald Trump, Tiffany has taken a stand against this latter's politics on social media: "Dear President Trump, We're still in for bold climate action. Please keep the U.S. in the Paris Climate Agreement. The disaster of climate change is too real, and the threat to our planet and to our children is too great." 752 comments so far (600 in five days, both positive and negative), more than 2,600 shares… That's not bad and it's also consistent with the CSR approach that Tiffany holds dear. Such commitment cannot leave consumers indifferent and this controlled presence on the social networks is an undeniable success.
Remember that, in 2016, Tiffany had been crowned the brand generating the most passionate brand loyalty on social media by NetBase, a social market research firm.
Tiffany and the stars
There's a long love story here. The brand dominates the red carpets, with the Oscars and Golden Globes in the lead (Emma Stone, the big winner, honored the jeweler this year), which enables it to be even more present in worldwide media.
Lady Gaga is the new face of Tiffany HardWear, whose campaign was unveiled at the Super Bowl in January 2017. A collection that is meant to be subversive, like its muse ("The new Tiffany City HardWear collection embodies the power and edge of New York City and the energy of its streets.")
A minor aside to come back to the other hot topics on our website: in addition, Lady Gaga says in the Behind the Scenes video, which describes the filming of the campaign, that she thinks that "it is a misconception that a man or your lover has to buy you jewelry. I think that a woman can buy herself jewelry and put it on with dignity… that she earned it." QED.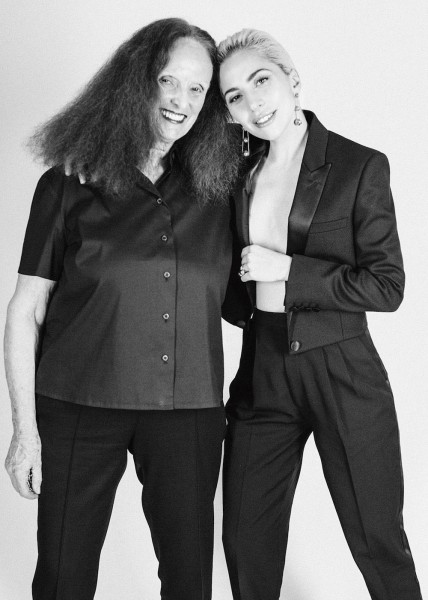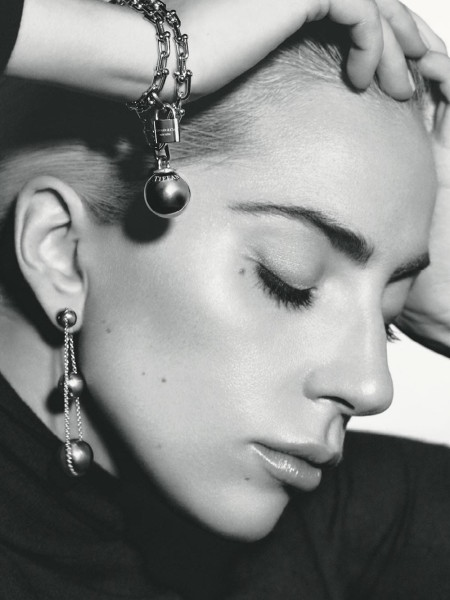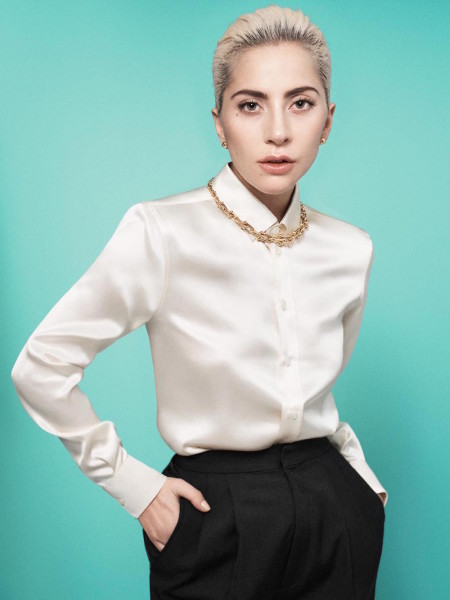 Tiffany engaged the services of the famous and reputed Grace Coddington, the star editor and creative director of Vogue US, hoping to shift the image of its advertising campaign from "romantic" to "modern." The 2016 result of this collaboration was the choice of four modern women—Lupita, Elle, Christy, Nathalie—who embody all women, four images that are "consistent" with what the house represents, but are in step with their times. The angles of the photographs are modernized, the Tiffany blue, ubiquitous until then, is pushed into the background, the zoom is as much on the faces as on the pieces of jewelry worn and portrayed, on the hands of the muses…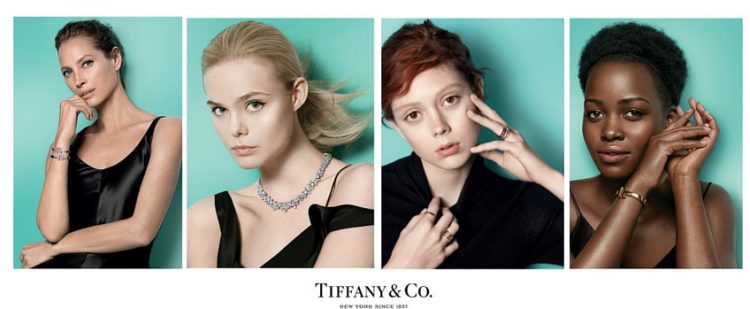 So, in July 2017, under the direction of its new Chief Artistic Officer, Tiffany inaugurated its new marketing campaign: "There's Only One." Six expressive faces were chosen this time, six hands that wave at us, six personalities from very different worlds, six styles so that everyone can find something they like. Tiffany is becoming more accessible but must not lose its "preciosity." The campaign, communicated on social media #TheresOnlyOne) too, remains in keeping with the times and surfs on the wave of personalization, without losing its character of exclusivity and individuality. Luxury is looking to the future and establishing itself as a symbol of strength and freedom of expression.
Tiffany and jewelry
Yet it shouldn't be forgotten that Tiffany & Co is, above all, a jewelry and high jewelry house, with 180 years of experience. As evidenced by its magnificent Blue Book 2017, which we have talked about on this website: Tiffany & Co's Blue Book 2017: powerful and vibrant nature.

In autumn 2017, the house is offering new pieces according to its key themes.
The Fleur de Lis collection, which is delicate, subtle and gracious, and rich in symbols, is a rereading of the Tiffany Keys collection. Rings and bracelets bedecked with diamonds that will be easy and tempting to collect.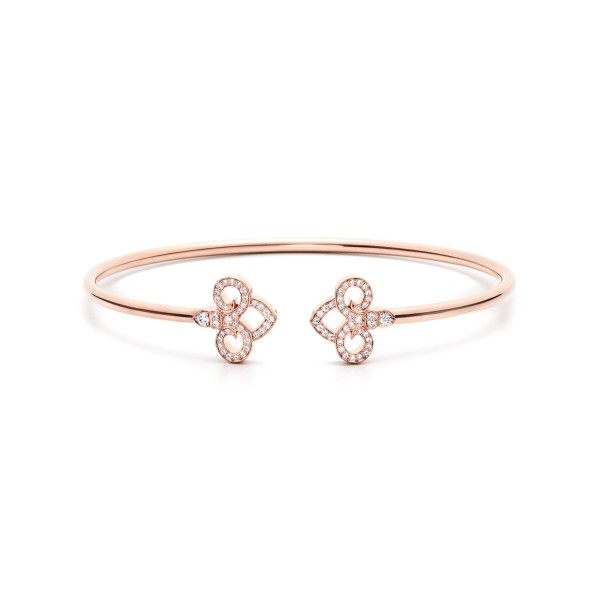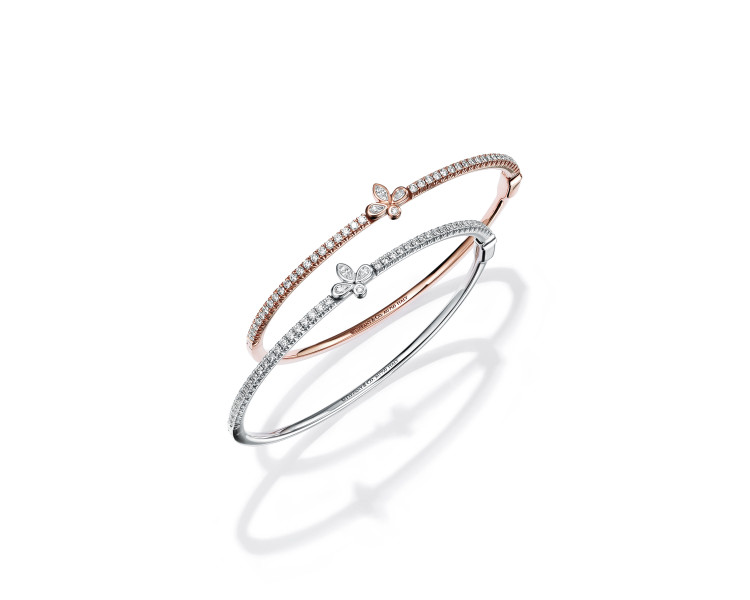 The strong, contemporary and urban pieces of Tiffany HardWear are revisited and paved with diamonds—"precious stones that refer to the lights on the streets of New York."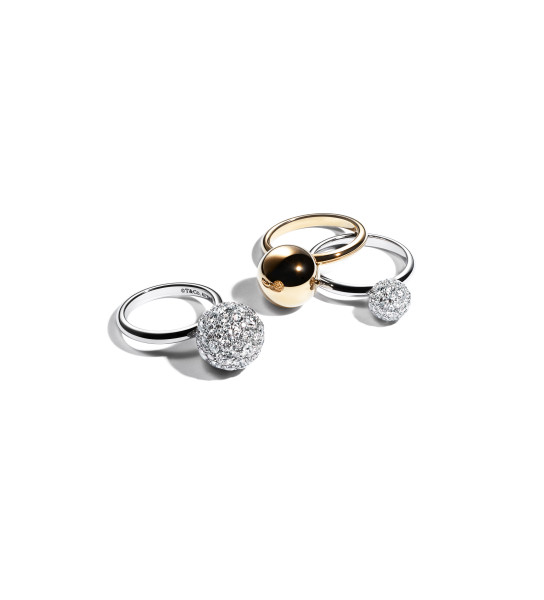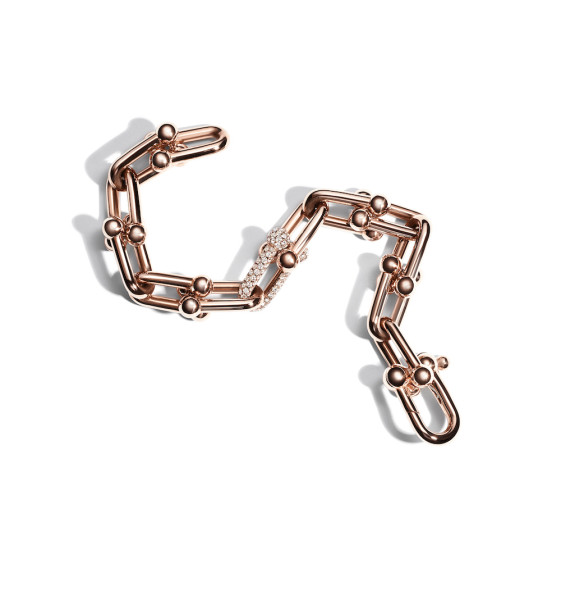 Or even the new pieces, so lively and dynamic, in the Hoop collection by Elsa Perreti, also to be worn and accumulated (a modern and well-thought-out concept, particularly for women wishing to buy for themselves…)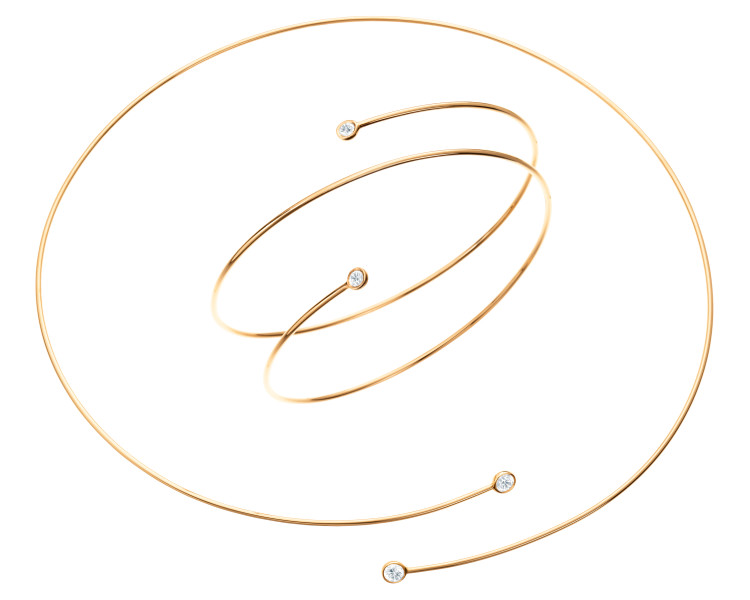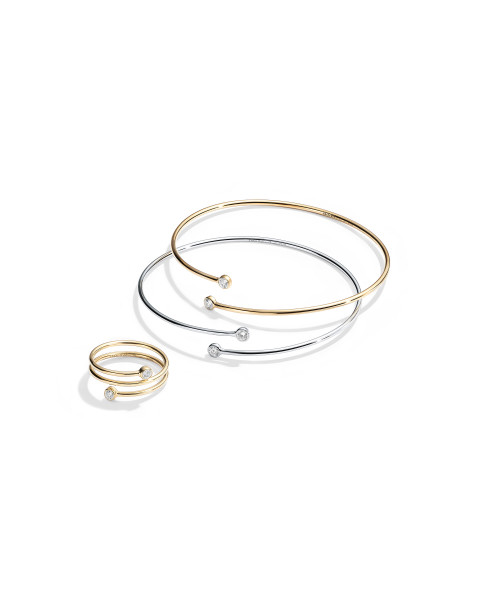 Finally, let's not forget that jewels and diamonds symbolize union, affection, love, and romanticism. Which is what the new Tiffany Bow Ribbon ring intends to remind us of (central diamond and paving of diamonds set on a platinum ring).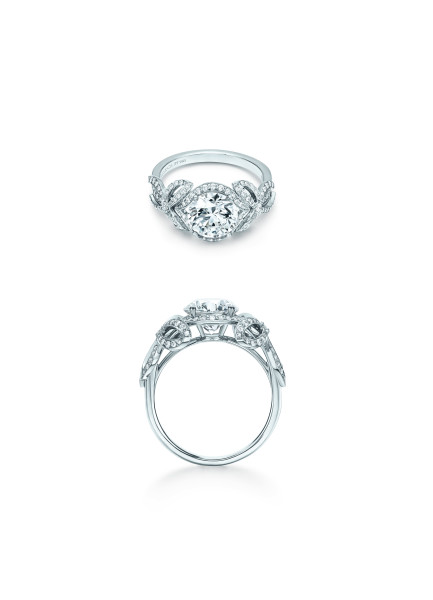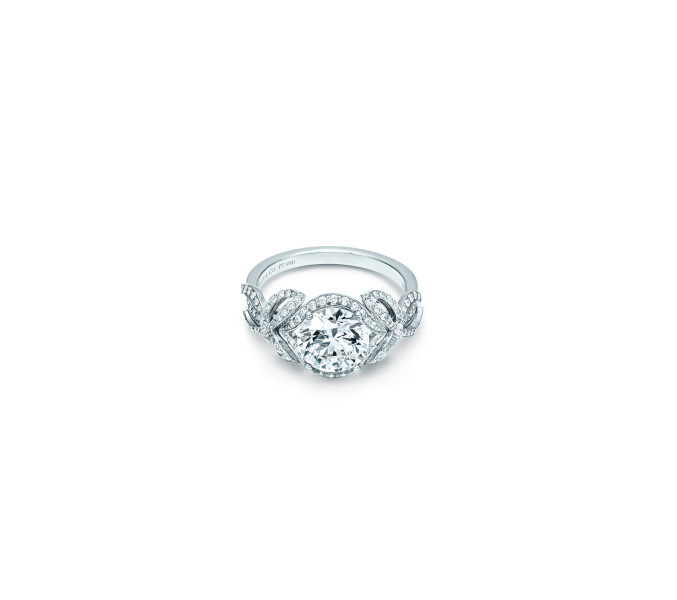 In a nutshell, there we have the record of a cleverly orchestrated media presence. It was intense certainly, and concentrated more on the Tiffany Company than on its jewelry and high jewelry house. This gives Tiffany & Co the time to seek out its future artistic identity and its rightful place moving forward.
The challenge is modernization without betrayal. In the subconscious, in the collective imagination, Tiffany remains a symbolic house: New York, Audrey Hepburn, American elegance, the Tiffany keys…
The jeweler is going to have to preserve this historic, exclusive and precious character while it whispers in the ears of the young generations.
---
* and which does not only concern Tiffany & Co !
Photo © Courtesy of Tiffany & Co.