Even if one's not overly interested in the British royal family (guilty as charged), it's always worthwhile to see the jewels that its millennial members choose to sport at their royal weddings. 
While the Internet was heavily predicting that Princess Eugenie would be making an appearance in the York tiara at her Oct. 12 nuptials to new husband Jack Brooksbank—because, yes, there are people who predict that kind of thing—Eugenie instead forged her own stylish path with the Greville Emerald Kokoshnik Tiara.
And what a statement it was.
Providing a lovely contrast to Eugenie's dark red hair, the Greville Tiara features an enormous emerald cabochon, reported to weigh more than 93 carats, flanked by "brilliant and rose cut diamonds pavé set in platinum, with six emeralds on either side," according to the Royal Family's website.
If you, like me, began to ponder who exactly foot the bill for that piece, then rest assured it is not the British taxpayer.
Boucheron made the tiara for socialite Dame Margaret Greville in 1919 "in the 'kokoshnik' style popularized in the Russian Imperial Court," the Royal Family said.
Greville bequeathed the tiara to Queen Elizabeth in 1942, who in turn lent the showstopper to her granddaughter Eugenie.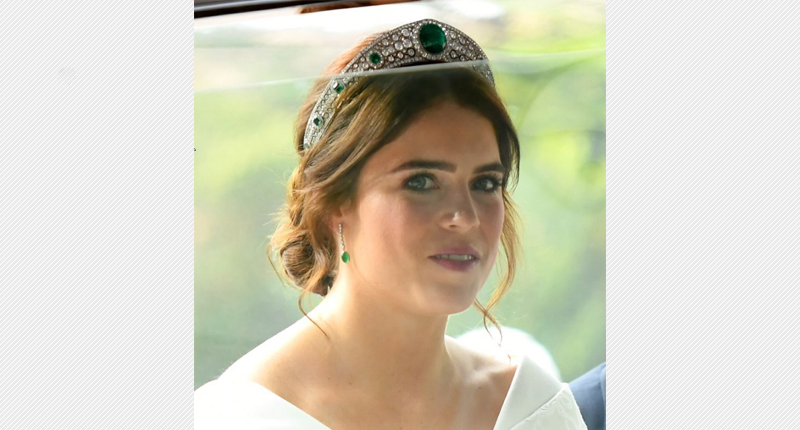 But Eugenie's statement-making style didn't stop there.
She sported a wedding dress from Peter Pilotto that purposely revealed the scars on her back resulting from the Princess' scoliosis-correcting surgery at age 12.
She also forewent a veil to keep her back bared for that very reason, but who needs one anyway when you're wearing a far more interesting tiara than Meghan Markle's Cartier platinum and diamond version? (That one also was lent by the Queen, originally created in 1932 for Queen Mary and featuring a brooch from 1893.)