The iconic Van Cleef & Arpels Maison unveils its new high jewelry collection, The Secret. With secrets hidden, and then revealed, Van Cleef & Arpels is inviting us on a stroll into a fairyland! Technical prowess takes its place alongside the grace of the imagination at play.
Who would not want to know the secrets of a great high jewelry house? Who wouldn't want to slip in through the small door behind the expert craftsman who is going to shape the pieces (on the  Van Cleef & Arpels website, this is a fait accompli) or discover, hiding like a little mouse, what is hidden at the tip of the designer's pencil? There is only promise in this collection title: The Secret! But the secrets are also those that hide, within themselves, the transformable jewels or the other rings and watches "with secrets". When you lift up a cover, a case, an elaborate ornament, and beneath it you certainly find a dial, perhaps (think of Harry Winston or Cartier), but one which also, often, turns out to be the pretext for an incredible creative virtuosity.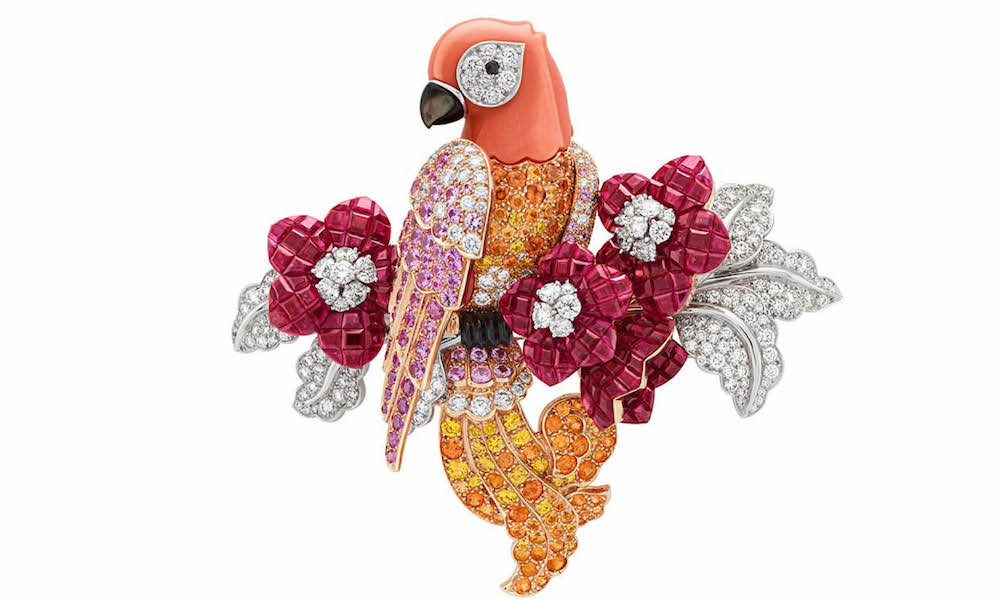 This is the poetic voyage that Van Cleef & Arpels is offering us: "to caress a secret with your eyes or your fingertips"; there is the jewel that you see and, behind it, thanks to a complex mechanism, a treasure that we admire with a pleasure that is all the more delightful as the wonder is hidden.
A butterfly clip thus slips away from beneath the petals of a flower of diamonds, yellow and mauve sapphires and emeralds; a daisy in yellow and white gold, white diamonds and red spinels whose petals, when turned over, reveal messages of love (you remember the game that we used to play as children and which consisted of ripping off the petals of the flower so as to discover if your beloved loved you or loved you not…); a majestic swan—or perhaps a beauty in a ball gown?—; a parrot clip set with yellow sapphires, Traditional Mystery Set TM red rubies, coral and diamonds, which conceals its chick beneath its wing.
Fauna and flora are, as is always the case for this Maison, at the very heart of the creative process, and the imagination still plays a very significant role. The associations and gradations of color, through the grace of the stones, are of great softness and subtlety.
Let's take a moment to look at the "Secret des amoureux" clip that thrills through its tints of purple, pink, violet, (heart-shaped rubellite and sapphires) that enhance white and yellow diamonds to offer a background for Cupid who, finger on lips, urges you to keep his secret: where will he shoot his arrow? Or the "Fleur bleue" ring, bedecked with a king-blue cushion-cut Burmese sapphire, neon blue Paraiba tourmalines and intense green emeralds, which unveil a quote by Oscar Wilde: "A life without love is like a sunless garden".
You have already understood, the Secret that is hiding in this collection is well and truly that of Love…
Finally, at Van Cleef & Arpels, the staging of the creations is important in that we can follow the Maison's emblematic fairy to familiarize ourselves with the collection "The Secret". The introductory film, which is available on the website and features watercolor paintings of the high jewelry pieces, is already an infinite visual delight in itself. We feel like children again, seeking out Tinker Bell or Thumbelina in the shade of a flower… but one covered with diamonds!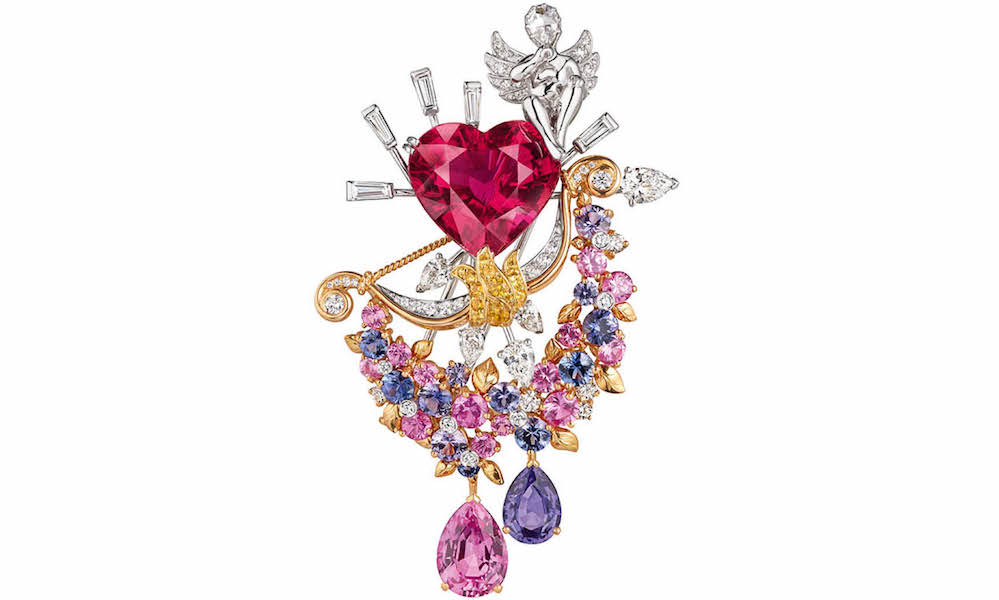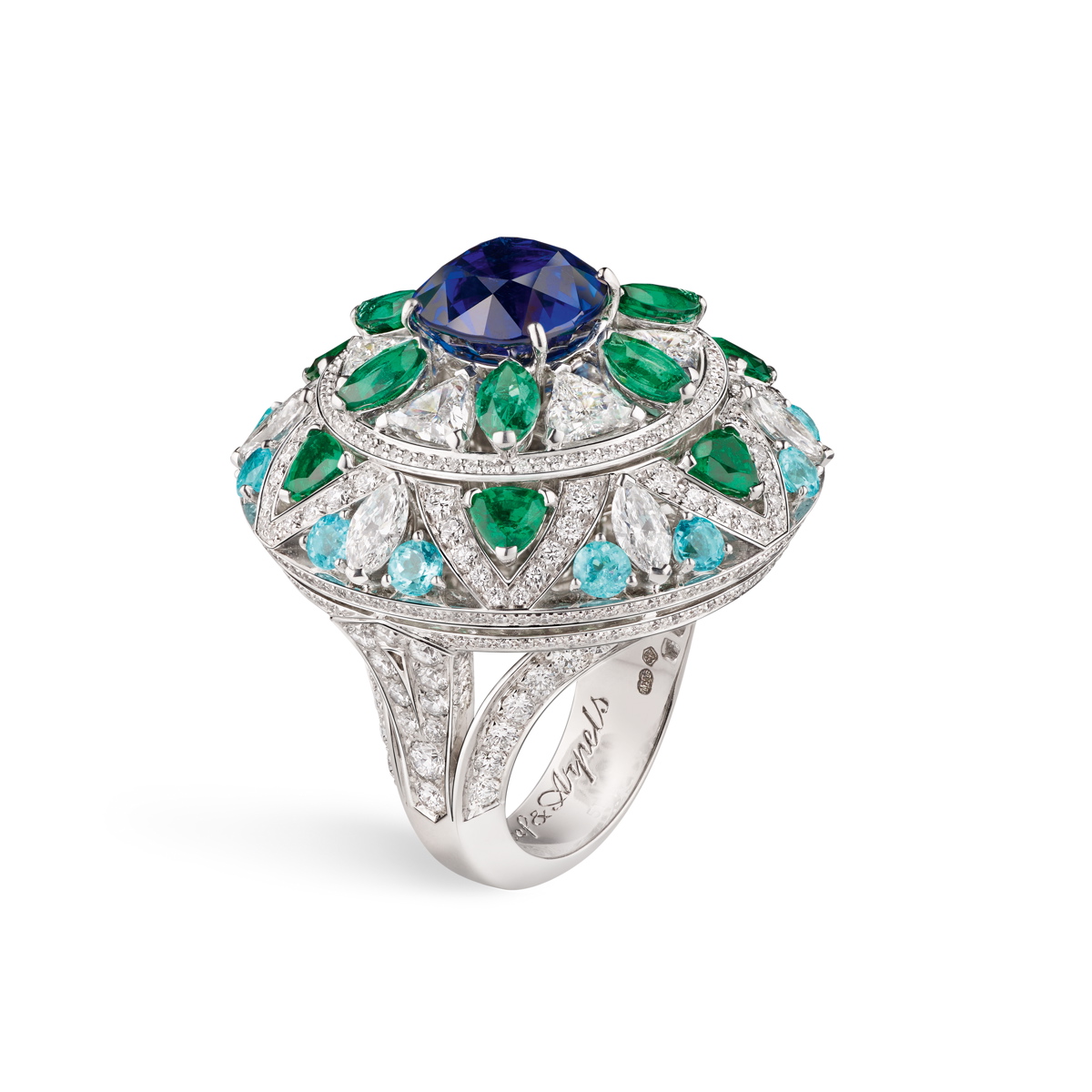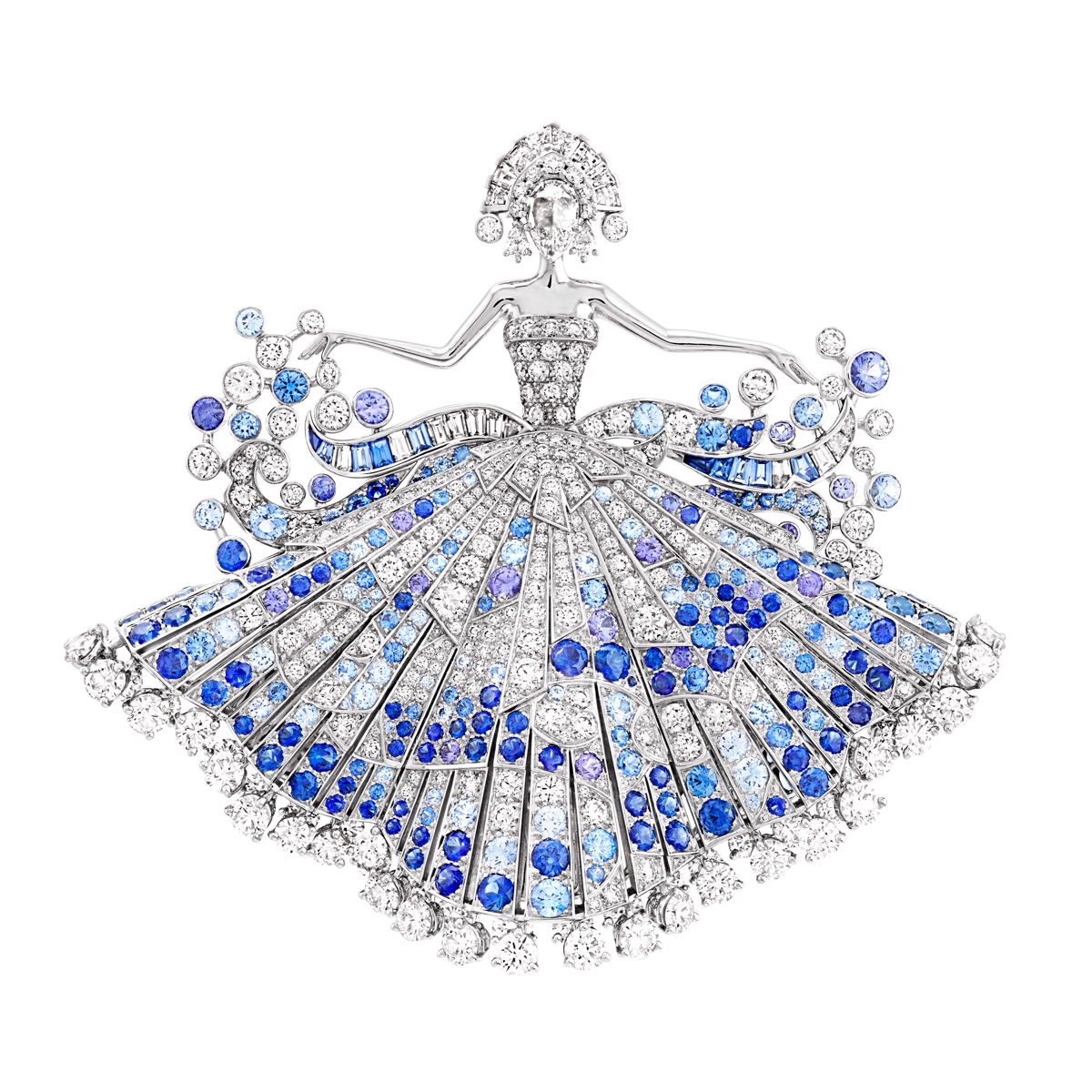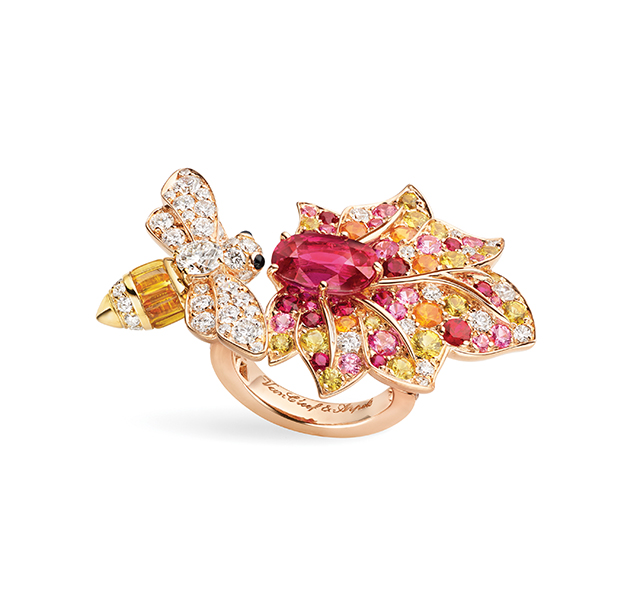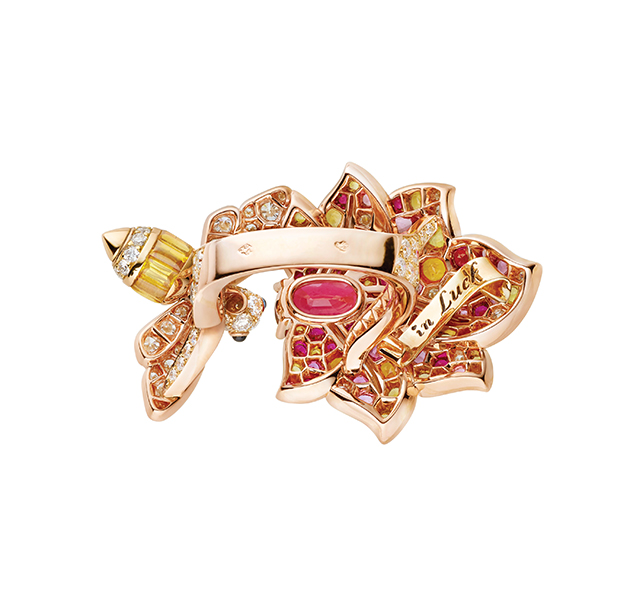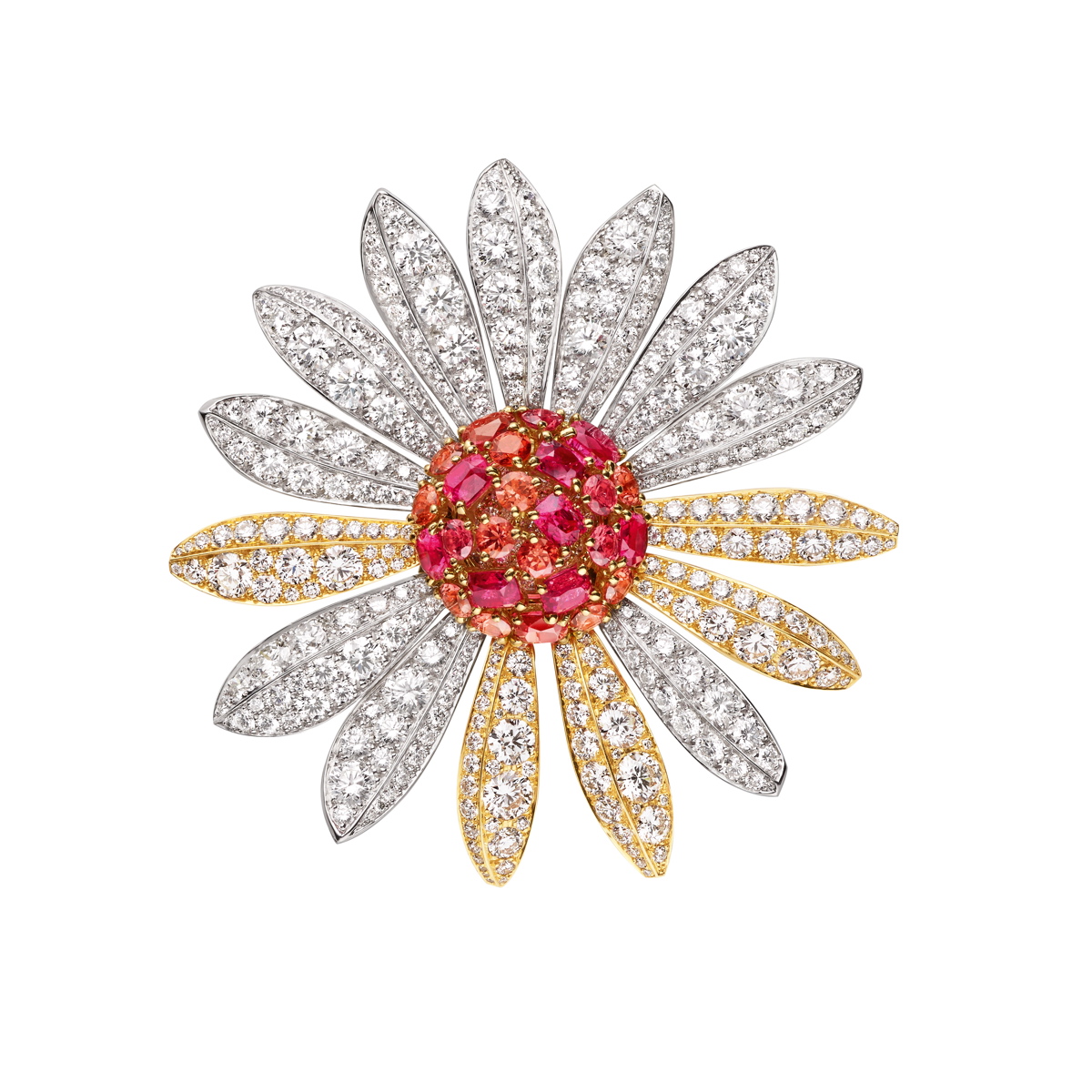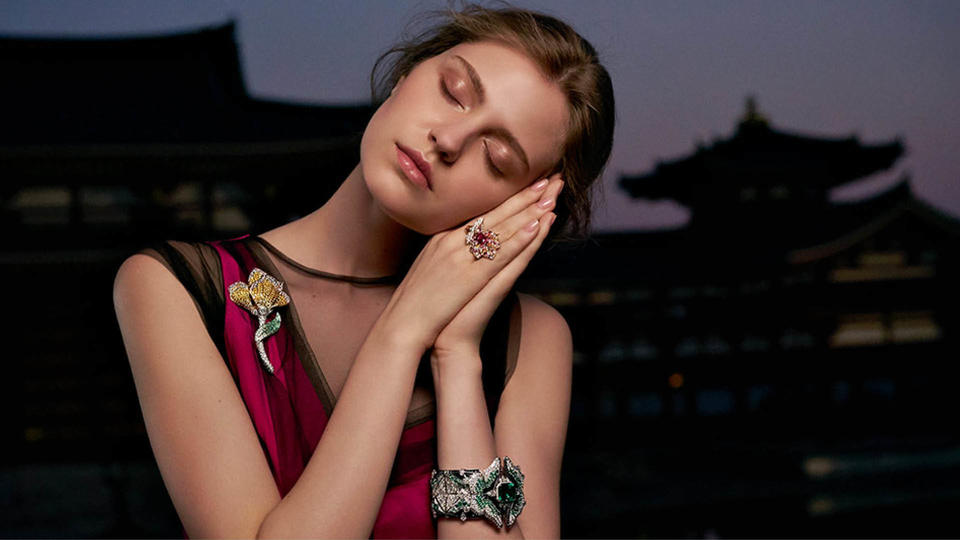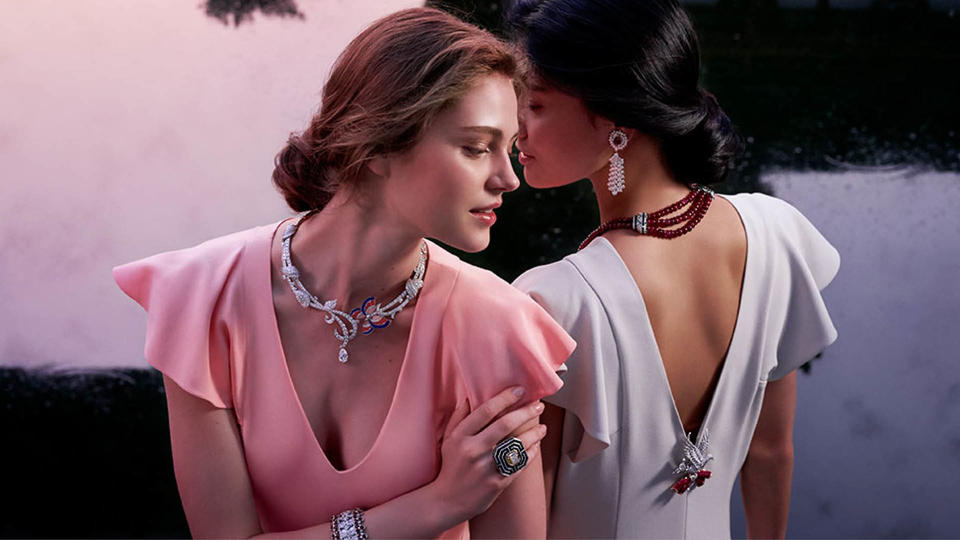 ---
Photo © Courtesy of Van Cleef & Arpels