London – Petra Diamonds has pulled an exceptional 232.08-carat white diamond out of its Cullinan mine in South Africa, the latest in a string of large rough finds this year.
The D color Type IIa diamond is of "exceptional size and clarity," Petra said, "and is a magnificent example of the large, high-quality diamonds for which the mine is known."
Petra said it will update the market with exact sale dates for the stone when it finalizes the timing. The company currently expects the sale to take place some time in the second quarter of this fiscal year.
The Cullinan mine, which Petra acquired in 2008, has been a prolific source of both large and rare diamonds for the company, and is considered one of the world's top sources of blue diamonds.
In February, the company recovered a 29.60-carat rough blue diamond from the mine, which it sold to Cora International NY for $25.6 million.
RELATED CONTENT: Petra's big blue diamond goes for $25M
Earlier this summer, a 122.52-carat rough blue diamond was unearthed from the mine. Although Petra hasn't publicly estimated the stone's selling price or released details about its quality, analysts estimate that it could sell for more than $35 million, setting a new world record price for a rough diamond. The stone is on display for potential buyers in Johannesburg and will remain there until Friday.
RELATED CONTENT: The reasons behind the big diamond finds
The largest rough diamond ever discovered also is from the Cullinan mine, a 3,106-carat stone fittingly named the Cullinan diamond.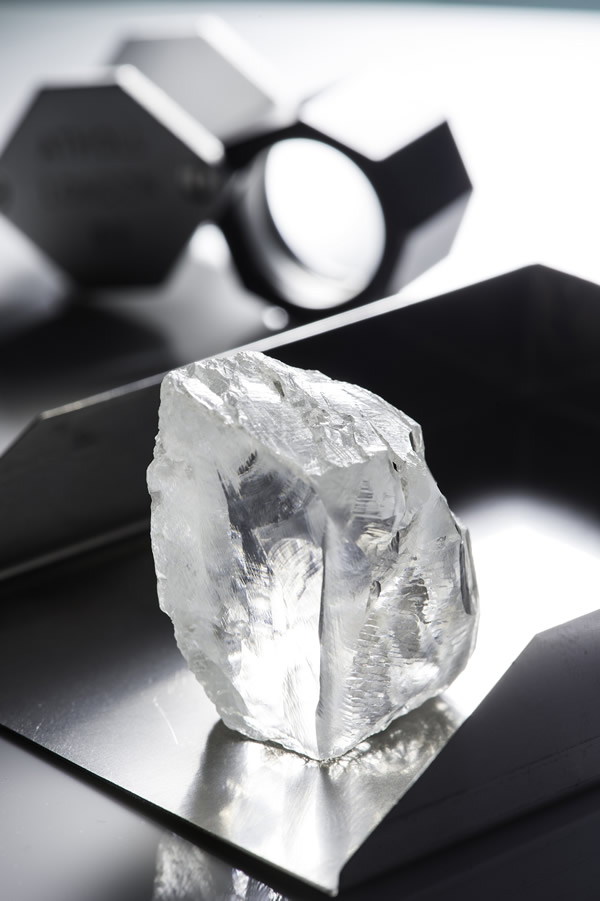 Pictures Petra Diamonds.The 232.08-carat rough diamond Petra Diamonds just recovered from the Cullinan mine is Type IIa, meaning it has no measurable nitrogen impurities and is top quality in terms of color and clarity.