After a century of selling primarily to a short list of contracted buyers, Sightholders, De Beers is planning to add a new kind of regular customer – Accredited Buyers. The number of Accredited Buyers may be high – collectively they will get a decent chunk of De Beers' supply – and it will all start with the next contract period in March 2015.
Some background
Over the years, De Beers had two types of rough diamond clients:
Sightholders – regular clients that got 90 percent of the goods, and tender bidders (De Beers Auction Sales, formerly Diamdel) that are in a way occasional buyers of the remaining 10 percent.
As part of an overhaul of its sales operations, De Beers has simplified the Sightholder application process. Instead of the grueling path Sight applicants had to go through in previous contracts, the new contract will involve a simplified, compliance-based customer qualification process.
This includes abiding by De Beers' Best Practice Principles (BPP), having a certain volume of business, proving a certain level of equity-to-debt ratio so a financial buffer exists and, of course, having good corporate governance with adequate financial transparency. Once past the gating criteria, candidates apply for a supply based on their needs.
De Beers then divides the cake: each Sightholder gets a certain percentage of some of the goods by category (size, quality, etc.). This, in the simplest terms, is the ITO, the Intention To Offer. Each Sightholder has a six-month ITO and knows what they will get and when.
Because De Beers' mines sometimes produce more goods than predicted, it offers these extra goods to Sightholders as Ex-Plan, i.e. a supply that goes beyond the ITO.
A new class of clients
This is the plan for Accredited Buyers as it stands now:
How to become an Accredited Buyer? Companies will need to apply and then pass the gating criteria. As part of this, they will need to prove that their rough diamond purchases in the year prior to application (March 2014 to March 2015 for this upcoming contract) exceeds a certain rough purchasing threshold. This threshold is probably lower than the threshold that applying Sightholders need to meet and will vary based on a number of benchmarks such as a company's location or if it has any manufacturing that is part of a beneficiation program, for example.
How many Accredited Buyers? Currently it is not clear how many Accredited Buyers De Beers intends to have, however the company is speaking of "a large pool" of them. Are we looking at dozens of Accredited Buyers? Maybe as many as a hundred Accredited Buyers? The De Beers person I spoke with did not have an answer but did not rule out either option, later saying that it depends on the number of applications. We should expect the number to be substantial to make the exercise worthwhile. By the way, there are currently 83 or 84 Sightholders (the company reports 84 but lists 83).
How and when will Accredited Buyers get the goods? Accredited Buyers will need to apply for ex-plan goods a short time before each Sight, probably a week ahead using De Beers' online system used to communicate with Sightholders. Accredited Buyers will then attend the Sight week, together with Sightholders, ten times a year.
What will they pay for the goods? The question on everyone's mind is how much will Accredited Buyers pay for the goods. The answer is they will pay the same as Sightholders, the De Beers list price, and the payment is due in cash, ahead of delivery.
What about VAS? An interesting question is will Accredited Buyers be required or asked to pay the 1-1.5 percent Value Added Services (VAS) fee for the ITO. The policy is that a Sightholder does not have to pay the fee, but then you drop to the end of the line in terms of goods selection. Those that pay the VAS fee will get the choice selection. Therefore, the question is, if Accredited Buyers apply for ex-plan and do not have an ITO, then logic dictates that there is no VAS. Without it, Accredited Buyers will get the goods at a de facto lower price than Sightholders!
What if applications exceed supply? At this point, this is not clear yet. A likely solution is dividing the goods according to past performance – the Accredited Buyer that purchased more goods will be rewarded with a greater proportion of the supply when demand is high.
Which goods? The expansion of ex-plan goods offering is across the board. This will allow companies dealing in any kind of diamonds to have access to the goods they need.
Will Accredited Buyers need a broker? De Beers has said repeatedly that they don't require a Sightholder to have a broker, but the reality is that only a few don't have one. De Beers says that having a broker will be up to the Accredited Buyers.
Does this mean a change to the tenders? Accredited Buyers are a new type of clients in addition to the existing ones, so no changes to auction sales.
Will they become Sightholders? Possibly. An idea De Beers is considering is that Accredited Buyers will be able to compete for an ITO and become Sightholders. There is a good chance that this will be similar to the program launched a few years ago at Diamdel where companies that successfully bid for certain items for a minimum total outlay over a period of time were invited to apply for a Sight.
Other benefits? Accredited Buyers will be allowed to display an insignia that denotes their relationship with De Beers, just like Sightholders.
With Accredit Buyers, the supply cake is sliced thinner
To make this program work, De Beers needs to allocate goods to this new class of buyers and the way to do it is by increasing the amount of ex-plan – ostensibly, at the expense of Sightholders.
If the regular supply, of which 90 percent is earmarked for Sightholders, will be cut down, even by a few percent, this means that Sightholders will be competing for less goods. A Sightholder I spoke with about the idea this week simply sighed "Oy vey."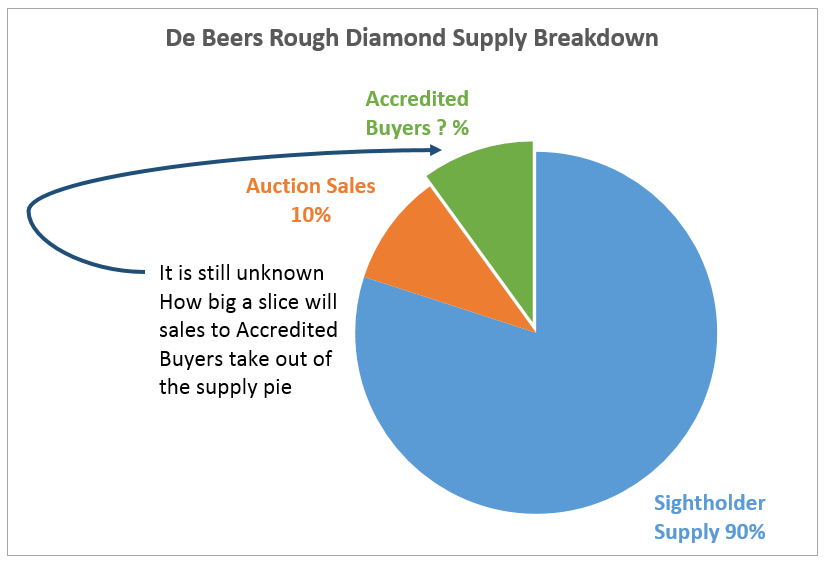 There is an economic logic
You can argue that supplying more clients decreases De Beers' dependence on any one client. The many new Accredited Buyers will altogether amount to a relatively small part of income compared to the 83 (or 84) Sightholders. Yet, a failing of a large Sightholder means that De Beers can spread the lost ITO among many other buyers.
This brings me to another point, the one about Sightholders over extending themselves to buy rough. Last year the market was rocked by the decision by banks to make a small step away from the market. ABN AMRO and Antwerp Diamond Bank worried about runaway rough prices against steady polished diamond prices and the tendency of diamond firms to continue buying their full allocations despite them leading to horrible margins, and decided to force the market's hand. They informed their clients and the main mining companies, that in future they'd not fully finance the Sight purchases, reducing this financing from 100 percent to around 60 percent in some cases.
This had a cooling effect on prices and a sobering effect on the market. De Beers' decision to add Accredited Buyers that apply for the goods a week before each Sight means that if prices are too high, applications could decline.
De Beers will likely add changes in these applications to its price decision mechanism. If Sightholders complain, premiums in the secondary market are down, tender results are low and applications for goods by Accredited Buyers are declining, then clearly, the price is just too high.
Another benefit is the access smaller firms will have to rough diamonds. It will give them a chance to grow and develop while giving more access to more companies around the big boys table. Call it Democratization of Supply.
Sightholders I spoke with are not thrilled about the idea, but this is good news for a large number of good and able companies that found that cracking into the Sightholder ranks was difficult. It will be interesting to see how it will affect the rough and manufacturing sector and see if it has any really bearing on prices – and margins.