The Rolex Daytona that once belonged to Paul Newman sold for $17.8 million Thursday evening, becoming the most expensive wristwatch ever sold at auction.
The late movie star's Rolex Ref. 6239 Cosmograph Daytona led Phillips's "Winning Icons–Legendary Watches of the 20 Century" sale in New York, its first in the city.
Previously owned by James Cox, the former boyfriend and current close friend of Newman's daughter, it sold to an anonymous phone bidder after 12 minutes of activity.
According to Bloomberg, the starting $1 million bid was immediately followed by a $10 million bid, and the hammer almost came down at $15 million until a "showdown" in the last few minutes between two bidders.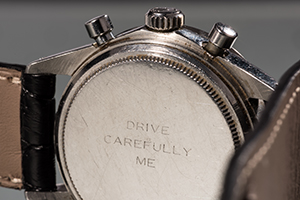 The watch surpassed the previous record set by a stainless steel Patek Philippe Ref. 1518 that went for $11.1 million in November 2016 in Geneva, also sold by Phillips. (However, it still isn't the most expensive timepiece of all. That honor continues to belong to the Henry Graves Supercomplication at $24.4 million.)
Prior to the sale, the auction house had estimated that Newman's Rolex would go for "in excess of $1 million."
The Ref. 6239 was a gift from Paul Newman's wife, Joanne Woodward, who had the caseback inscribed with the words "Drive Carefully Me."
Newman, in addition to being a two-time Academy Award winning actor, also was a director, entrepreneur, philanthropist and racecar driver, the latter of which grew from his role as Frank Capua in the 1969 film "Winning."
---
Photos © National Jeweler, Phillips, Douglas Kirkland via Getty Images.