The decision by De Beers to introduce forward contract sales through its auction platform is a stunning development in the rough diamond market. The announcement comes 11 months since Anglo American became the 85 percent majority owner of De Beers and is the most significant initiative yet introduced by the parent company.
For the diamond industry, the move is a step in the right direction to create competitive, fair and open rough markets. Therefore, while it remains unclear just how the contracts will work, the announcement is positive news for diamond manufacturers and rough dealers.
By definition, forward contracts give the bidder the right and obligation to buy a given security at a specified price on a specified date. Therefore in the diamond sense, manufacturers will know what diamonds they're going to get at a future date at a price that has already been fixed. That reduces their risk exposure and enables them to better plan their operations.
Under the current De Beers supplier of choice (SOC) program, sightholders have a strong estimate of the amount of goods they will get at each sight – having submitted their intentions to offer (ITOs) at the beginning of the contract year – but they do not know what price De Beers will charge them. For example, next week's July sight is expected to be relatively large, but sightholders are uncertain whether prices will rise or fall in any particular category. The difference with a forward contract is that the price will have been set.
Still, the devil will be in the details. De Beers left more questions than answers in its press release and its email correspondence with Rapaport News.
Key questions remain regarding how to buy via these new De Beers forward contracts. What will be the terms of payment for these sales? How far in the future will De Beers be willing to sell? How will the bidding take place? How will the winning bid be determined? When will the forward contract price be determined?
Company spokespersons said more details will be revealed in the coming months. They explained that the contracts will be offered by the De Beers Auctions Sales unit (formerly Diamdel), which will continue to buy 10 percent of supply available from De Beers Global Sightholder Sales (formerly Diamond Trading Company – DTC).
Lynette Gould, De Beers head of media relations, added that while the auction sales unit was unable to offer the consistency and regularity that rough buyers seek, it will now be able to create auction-specific assortments based on demand and previous bidding behavioral patterns on a consistent and cyclical basis.
Gould stressed that the contracts will not affect supply to sightholders.
But sightholders should be concerned. With the market awash with speculation about the future of the SOC program, could this signal the beginning of the end of the sightholder system? If anything, the forward contracts suggest a shift in focus by Anglo American away from the preferential sale of rough diamonds that the sightholder system has come to represent.
One always suspected that Anglo American – considered a top five mining and commodities conglomerate – would be less interested in the downstream marketing strategies of its clients that SOC requires, and more geared toward ensuring bottom line revenue growth. It makes sense that any marketing spend be channeled through the De Beers Forevermark brand, which has its own growing revenue stream.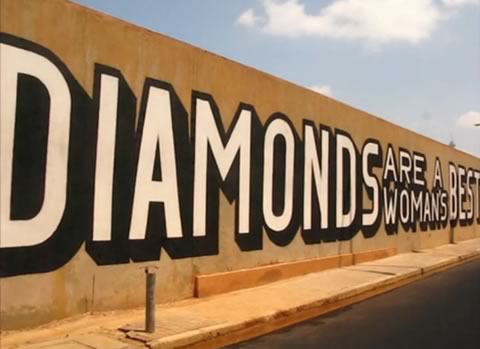 The system has the potential to improve De Beers own cash flow and operating efficiency.
The company could soon be selling and receiving payment for diamonds that have not yet been mined. With a sufficient portion of goods sold via these contracts, De Beers could theoretically plan production based on sales that have already been paid for. The contracts will also enable De Beers to lock in a price set by the market regardless of market developments between the time the contract is made and time of delivery. Those prices will most likely, but not necessarily, be higher than current market valuations – manufacturers tend to be optimistic when it comes to price expectations. That is a coup for anyone operating in these volatile times, not least a mining company so vulnerable when the market downtrends.
But it should be viewed as a win-win for De Beers and its clients. For the industry, the contracts represent a move toward a more efficient and fair way of buying diamonds. It is expected that the market will set the price rather than De Beers whereby bidders would be stating how much they're willing to pay now for diamonds that will be delivered at a future date. That is highly significant for the diamond market.
It will be even more significant if De Beers were to publish those forward contract prices.
Doing so would raise the level of transparency and further enable a secondary market for these goods. As it is, a secondary market based on these forward contracts is likely to develop whereby the winning bidder trades the rough for future delivery, or sells the prospective resulting polished goods at a date further into the future, based on the rough bought on these contract sales.
The possibilities are endless and largely positive.
But let's not get too far ahead of ourselves. The forward contracts will likely take time to implement and the company will probably start off slowly.
After all, De Beers has a lot going on this year. The company is moving its main sights from London to Botswana in the fourth quarter, having already transferred its aggregation and sorting activities there. De Beers also announced this week that it will relocate its auctions headquarters to Singapore in November 2013 – an unusual decision in an otherwise encouraging press release.
In addition, De Beers is rolling out its new corporate identity that will unify its auction and sightholder sales under the De Beers brand, which is an initiative launched earlier during the Anglo American era. The Diamdel and DTC subsidiaries will be known as De Beers Auctions and De Beers Global Sightholder Sales units respectively. The company new chairman, to be announced in the next two weeks, is largely expected to be Anglo American chief executive Mark Cutifani.
Then believe it or not, De Beers will soon start to negotiate new contracts with sightholders to replace the current three-year agreements that are set to expire in March 2015. Sightholders will be wondering who exactly they'll be negotiating with, if at all, and whether that route is worth the effort.
Frustrated by the lack of profitability from their sight supply, and rough in general, sightholders should embrace this new opportunity to buy rough from De Beers, albeit initially limited. If implemented correctly, the De Beers forward contracts announced this week should quickly gain traction as an attractive way to buy rough. Hopefully they will succeed in creating a more competitive, fair and efficient rough market.