Rio Tinto has unveiled a necklace-and-ring set worth $1.1 million, created from 673 diamonds recovered from its Argyle mine in Australia. 
The jewels, called Argyle Dreaming, were handcrafted by jewelry designer John Calleija using pink, white, yellow, blue and champagne diamonds, as well as gold from Rio Tinto's Kennecott mine in the US, the company said during the week of 30th of September. Pieces in the set, which took 800 hours to make, have interchangeable center stones. The 3.55-carat white diamond in the center of the necklace can be switched out for the champagne diamond in the ring.
"This was a labor of love, an opportunity to work with the entire Argyle diamond color palette," Calleija noted. "I am thrilled with the Argyle Dreaming necklace and ring. They are a permanent record of the most intriguing diamonds in the world, and a beautiful endeavor that highlights Rio Tinto's commitment to integrity and traceability in its diamonds and gold supply chain."
Rio Tinto will showcase the set in New York and London before returning it to Calleija's retail stores in Australia.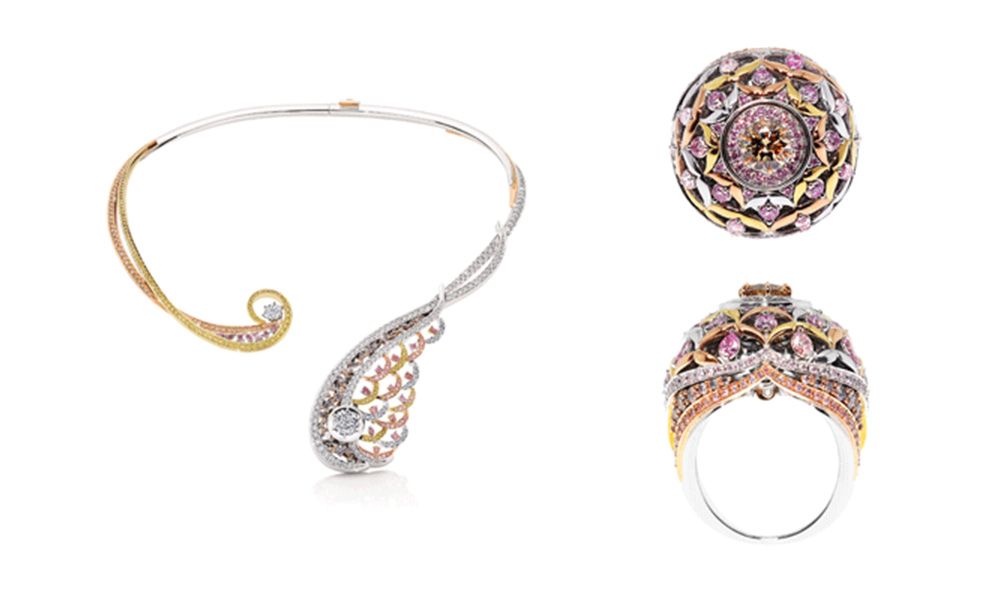 ---
Photo © Rio Tinto.