Here and elsewhere, whether we are still in lockdown or starting to lift it, we are approaching the time we have at our disposal in a different manner. It is not that we have more of it; far from it. But it has been reinvented. For my part, I want more and more quality, authenticity, truth and beauty. So, I suggest that you make the most of this time to go back and discover the big luxury and fine jewelry houses by taking advantage of the precious media available on their websites.
Chanel at the movies
For the House of Chanel, whose marvelous work in fine jewelry we presented here, we can still picture its incredible founder. A free woman, who was inspired and inspiring, she was able to step outside the lines and bring her innovative House with her. Inside Chanel Chapter 28 presents, in a video composed of many slides from archive images, the links that Gabrielle Chanel maintained with cinema. You will be sure to admire her magnificent fine jewelry creations and her stunningly beautiful diamond jewelry photographed by Robert Bresson and whose symbols you will recognize as still used by the House…
Educate yourself with the Van Cleef & Arpels School of Jewelry Arts

You must be aware of this by now; at Rubel & Ménasché, we particularly love the Van Cleef & Arpels School of Jewelry Arts. We have admired its exhibitions, taken a class and attended a lecture on diamonds there (Fancy Colored diamonds: on the beauty of defects). Today we suggest that you indulge in a cultural immersion with the School and find out much more about gemstones and jewelry. The establishment has a range of very instructive short videos available (with the majority in English), in which its art historian instructors present various subjects. These include:
Van Cleef & Arpels Touch Wood Jewels
Tavernier, a Life led in Adventures and Diamonds (about Jean-Baptiste Tavernier in French with English subtitles).
Myths & Legends of the Emerald – The Origins (there is a series of videos on emeralds and rubies).
La Belle Époque (also in French with English subtitles), but you will be able to admire incredible diamond and platinum jewelry, particularly in the "Garland Style" from Cartier).
These videos are beautiful, accessible (I clarify that they are subtitled in English or in French), didactic and very interesting. But I will not say any more, go and see for yourselves!
You can also read "Inside Out: Journey into the center of a gem" with Billie Hughes, an interview with gemologist Billie Hughes by Olivier Segura, Scientific Director of the School of Jewelry Arts, transcribed by Sandrine Merle on the french jewelry post. The photomicrographs of the "interior" of the precious stones are incredible. You can discover them via the Hyperion search engine.
Finally, push the door open a little further and set off to discover the know-how of the House of Van Cleef & Arpels, its  heritage gallery  or its creative universe. For anyone interested in jewelry and its creation, these pages are fascinating (and highly accomplished!)
Chaumet tells all
With #ChaumetatHome, the House famous for its diadems invites itself into your home to tell its story. So, as visits of its townhouse at 12 place Vendôme are not possible, Chaumet invites followers of its Instagram, Facebook, Twitter and Pinterest accounts to dive into its creative universe of 12 iconic pieces. Amongst other marvels are the forms with ears of wheat, of course, the wings worn by Gertrude Vanderbildt that are set with 1,274 diamonds, the so modern and delicate Mancini-style hair ornaments (circa 1840) set with Golconde diamonds, and so on.
Forevermark, love love love!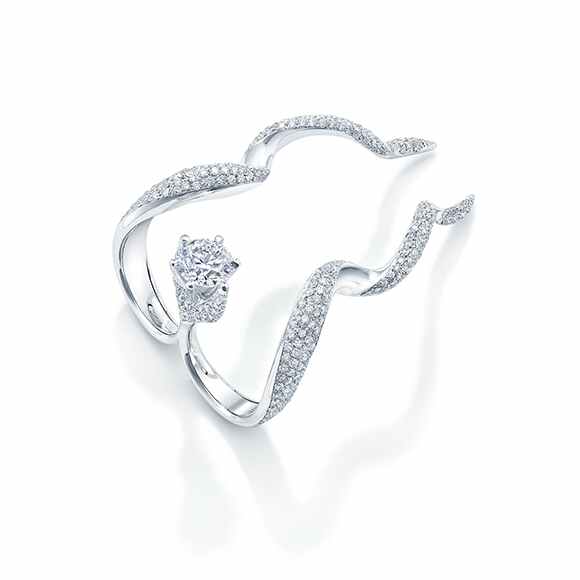 At Forevermark, things are kept more traditional, but after all why not! Diamond brands still sell lots of love and eternal oaths and, at the moment, that is what does us good! On its Defining Forever  page, Forevermark wonders about the meaning of this famous "forever". Artists and creators are interviewed to give their vision of this highly symbolic word, while giving you a peak behind the scenes of the House and the jewelry. So, by taking a look at the stories of Louise Kriek or Jade Trau, you will learn more about the design and creation of fine jewelry pieces, the meaning of Forevermark diamonds, as well as the commitment of De Beers to promoting women's careers. Also make a stop on the Forevermark's Ethical Diamond Journey through the eyes of four inspiring women page and read, if you feel like it, the interviews of "authentics".
L'Odyssée de Cartier
In four chapters, the House of Cartier also looks back over its history.
This begins with the innovative Jeanne Toussaint, nicknamed "la Panthère", who led—and this is a real achievement!—the creation of the jewelry house from 1933 to 1970. It continues with the British Touch, the Russian influence, and the road to the Middle East. Here you can also discover pieces of Cartier's heritage, like its famous Garland Style, or its savoir-faire which enables its artisans and their technical prowess to bring the panther to life…
Poetry, history, expertise and innovation, this is what the fine jewelry houses promise you.
Source Rubel & Ménasché
---
Photos © Chaumet, Forevermark.