There's a new Tiffany & Co. pop-up in Paris—but if you're hoping to find it by searching for the exact shade of Tiffany Blue we've come to know and love, you might just miss it.
The charming, 650-square-foot space at 34 Avenue Montaigne—across from Dior's new flagship (where Dior Joaillerie used to live, prior to merging with the flagship)—dons a deeper jewel-toned blue, perhaps evoking the spirit of the jewels within.
What's also unexpected about this pop-up, at least compared to most others, is that it's on for an entire year, through May 2023. Even more, it will showcase rotating themes—beginning with a "Paris in love" concept—so no two visits, in theory, will be alike.
The pop-up "represents an innovative approach to Parisian shopping and a forward-thinking vision of experiential retail," said Anthony Ledru, the jeweler's chief executive officer," in a statement.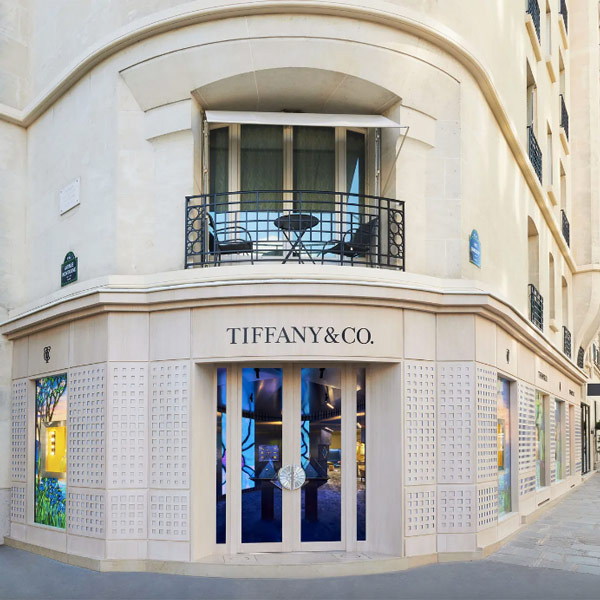 It seems to look forward, but the brand is also looking back by incorporating elements that nod to its rich history. Among such elements are, naturally, jewels. But not just any jewels: historical ones including those designed by George Paulding Farnham (the house's chief jewelry designer from 1885 through 1908) and mid-century pieces designed by Jean Schlumberger, counting a 1960s brooch. Together, they help craft the entire story of Tiffany's past and brand identity—and, perhaps, where the brand (under LVMH positioning) is headed.
And of course, it wouldn't truly be a Tiffany boutique without a dedicated bridal area. The pop-up features an intimate, round room with carats upon carats of engagement styles.