Press release – The Government of the Republic of Namibia and The De Beers Group of Companies today signed a new 10-year sales agreement for the sorting, valuing and sales of Namdeb Holdings'[1] diamonds. The sales agreement is the longest ever signed between the two partners.
Namibia will see a significant increase in rough diamonds made available for beneficiation as a result of the agreement, with US$430 million[2] of rough diamonds being offered annually to Namibia Diamond Trading Company (NDTC)[3] customers. As part of the agreement, all Namdeb Holdings' Special Stones[4] will be made available for sale in Namibia.
In addition, the agreement provides for 15 per cent of Namdeb Holdings' run-of-mine production per annum to be made available to a Government-owned independent sales company called Namib Desert Diamonds Pty Ltd.
The agreement builds on the socio-economic contribution the partnership has made to Namibia since it was formally established in 1994. Namdeb Holdings is one of Namibia's largest taxpayers and the country's biggest foreign exchange generator, contributing more than one in every five Namibian dollars of foreign earnings.
Obeth Kandjoze, Namibia's Minister of Mines and Energy, said: "This new agreement cements Namibia's position as an important international diamond player and will provide further stimulus to advance our downstream industry. De Beers and Namibia have a longstanding and successful partnership and I am pleased we will continue working together for the benefit of Namibia and the diamond industry."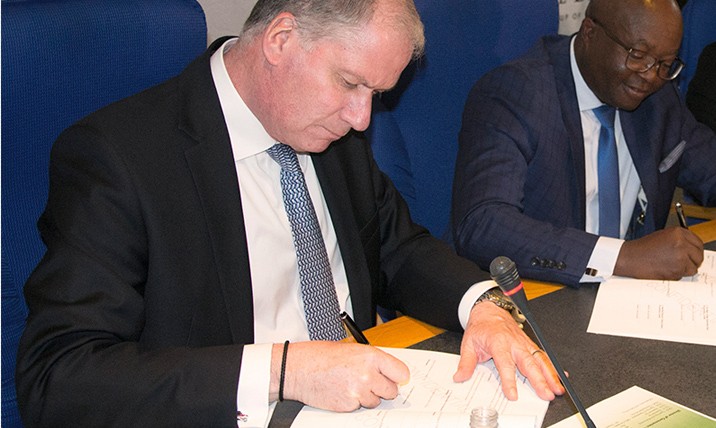 Philippe Mellier, CEO, De Beers Group said "This sales agreement – the longest ever between Namibia and De Beers – not only secures long-term supply for De Beers, but also ensures that Namibia's diamonds will continue to play a key role in national socio-economic development long into the future. Diamonds can have a powerful and transformative effect on a country's prospects when effectively managed and I commend our partners in Government for their vision regarding the role of diamonds in national development."
---
[1] Namdeb Holdings is a 50:50 joint venture between the Government of the Republic of Namibia and De Beers and is the parent company for Namdeb (land) and Debmarine Namibia (marine) production

[2] This figure is index-linked to price so that volumes do not decrease relative to any price increases
[3] NDTC is a 50:50 joint venture between the Government of the Republic of Namibia and De Beers to sort and value production from Namdeb Holdings
[4] Typically, very large or unusual stones