If there is anything that the diamond industry is famous for, it is its marketing. Turning a rare and out-of-reach product into an attainable household desire was a brilliant success, and the marketing slogan "A diamond is forever" is one of the best ever penned. Yet today, the diamond industry is suffering from dismal marketing that has toppled all the way downhill. What kind of marketing are we missing?
Since De Beers killed the generic diamond promotional campaigns a decade ago, a generation of people has come of age who lack exposure to any serious promotional efforts that developed the diamond jewelry category.
Worse, into the void, stepped elements that have only tarnished the image of diamonds. From the movie Blood Diamond in 2006 through regurgitating claims that De Beers made up a fake category to lab-grown companies claiming that diamonds are unethical (not all diamonds, mind you, only the natural ones), diamonds have taken a lot of beatings.
Thus, the need for promotional activity for diamonds is urgent, and diamond miners are finally doing something about it now. They recently formed the Diamond Producers Association (DPA), which launched its "Real is rare" campaign late last year. This year, they are funding the DPA with some $60 million – serious money. Still, if you have your doubts about the usefulness of current efforts, you are not alone.
The "Real is rare" slogan and the accompanying campaigns targeting 20-30-year-olds are probably good at generating attention for diamonds, but are they sending consumers to the store to actually buy them? That is the real test.
A wider strategy
"A diamond is forever" was brilliant because it created a desire for diamonds, but the slogan did not go solo. In the images below are campaign ads from the 1950s. They all showcase round-shaped diamonds of different sizes with a price next to them. That was the start.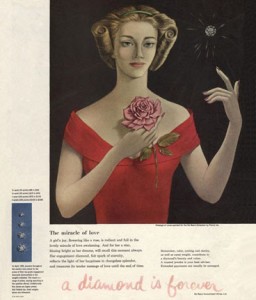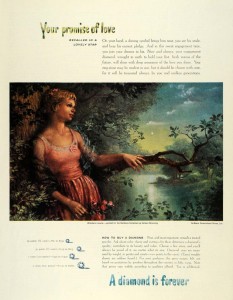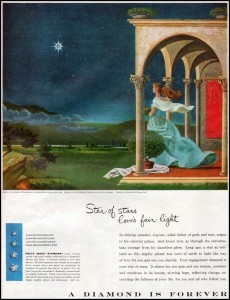 In later years, separate campaigns augmented the general one. They evolved into highlighting specific diamond jewelry items in ad campaigns that ran ahead of and during the holiday season. As seen below, this line of clean-looking print ads featured a single diamond jewelry item, the diamonds popping out, and emphasized by the black background.
Another series of ads were those that promoted specific designs. These large-scale campaigns – among them (click for commercials) the three-stone ring, Journey, and Everlon Diamond Knot – promoted a diamond jewelry item that was easy for consumers to identify, remember and hook onto.
So while the tagline created an image in consumers' minds ("Hey, diamonds are magnificent; I want one"), the specific holiday campaigns provided a specific reason to step into the store ("Wow, I want that!"). The slogan was the furnace that heated the metal; the holiday campaign was the hammer that molded it into a specific action.