Israeli bank financing of the diamond industry was cut by 33% in 2020, falling below $500 million for the first time in 30 years. The decline reflected shrinking activity in 2020 and a decline in reliance on bank financing. But mostly, it reflects banks' balking at dealing with the complications of working with diamond firms.
According to the Bank of Israel, Israeli bank financing totaled 1,733 million NIS, or $498.75 million, in the fourth quarter of 2020. This is a 6.8% decline in bank financing compared to the third quarter of the year.
Israeli bank financing dramatic phaseout

In 2014, Israel's Bank Leumi announced the closure of its New York City branch. Leumi's pullout came at a time when the industry was on a moderate growth path and experiencing financing increases. In retrospect, it was the first sign of what has become an ongoing reduction in Israeli bank financing.
At the time, the bank had been providing an estimated $200 million in financing to the diamond sector in the US, part of $1.56 billion in Israeli bank financing extended to the diamond industry.
Some 16% of Israeli bank financing was allocated outside of Israel, mainly to Israeli firms. In late 2017, this financing to diamond firms abroad came to a near full stop, down from $50 million to less than $19,000.
Since its peak in 2005, Israeli bank financing to the diamond industry has dropped a massive 77% in nominal value. This rolls financing back 30 years to its 1991 levels.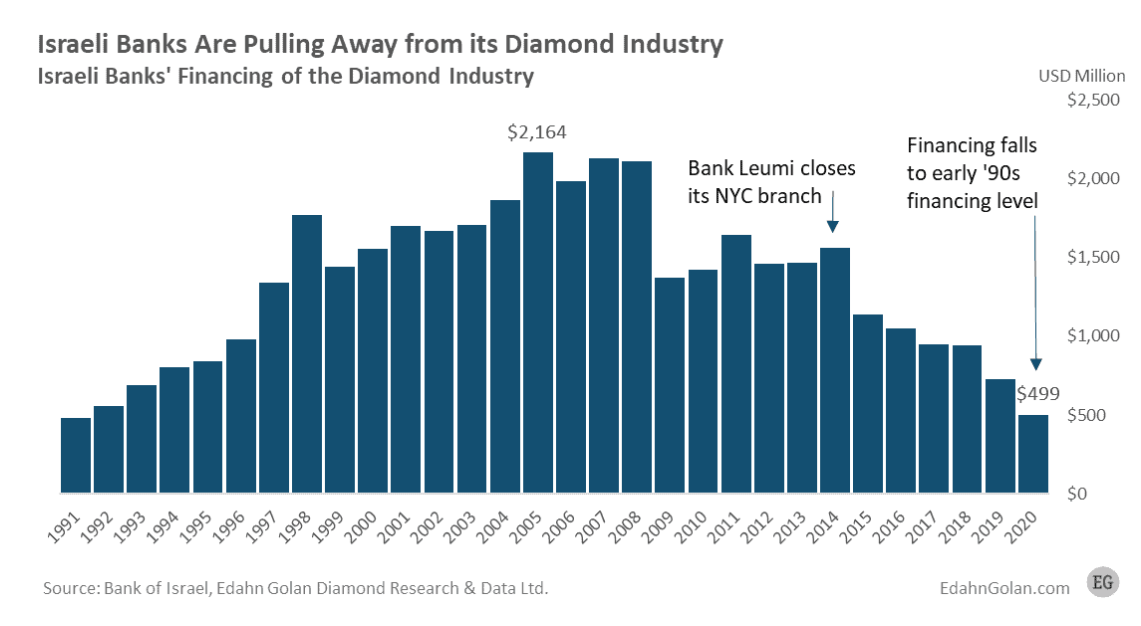 Israeli bank financing declined for good reason
Diamond firms are famously resilient with few bankruptcies occurring in the past year, which is why banks aggressively courted diamond firms during the pandemic. But there was another reason for banks' interest in diamond firms in 2020 – financing diamond companies is a very profitable venue for them.
Unfortunately, banks with diamond accounts find money laundering-related regulations a burden. This has caused banks in Hong Kong, for example, to actively urge diamond clients to close their accounts. In some countries, diamond firms find opening a bank account nearly impossible, and diamond traders' personal bank accounts are carefully scrutinized.
At the same time, the Israeli diamond sector has constantly been shrinking. Gross polished diamond exports of $12.9 billion in 2010 fell to $9.7 billion in 2019, and to just $4.5 billion in 2020. Net exports have been slashed by half in the last six years.
With decreased activity comes a decreased need for financing. That said, diamond traders would argue that the decrease in Israeli bank financing has contributed to the decline in activity.