The industry must meet consumer confidence challenges and promote itself more in order to keep diamond demand strong, Philippe Mellier, CEO of the De Beers Group, told a packed Mandalay Bay Surf Room in his presentation "Perspectives on the Diamond Industry" on May 30. 
He said that diamond jewelry demand grew 7 percent in the U.S. and 18 percent in China. He also argued that the industry still missed a few opportunities.
For example, the industry does not have as many brands as other businesses.
"With diamonds, we have not seen the brand competition that has elevated other industries," he said. "Think how the battle between Apple and Samsung has captivated the public."
He maintained that the industry does not advertise as much as other industries.
"Think of how many Apple commercials you have seen in the last year, compared with how many commercials you have seen for diamond jewelry," he said. "We believe the time for investment is now."
He said the entire industry needs to be mindful of consumer confidence.
"We have the chance to present an increasingly polished image to consumers as we become more transparent," he said. "The diamond industry needs to become more like a normal luxury industry."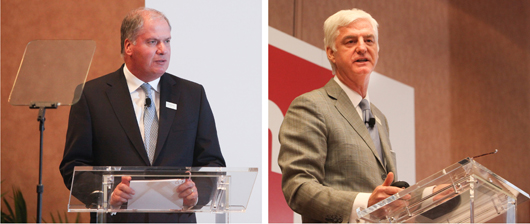 Mellier and Lussier offer "Perspectives" from De Beers