Las Vegas – The Diamond Empowerment Fund's mission of providing higher education to children in Africa's diamond-producing countries got a boost in Las Vegas, with the organization's annual gala raising more than $1 million.
Held Thursday night at the Four Seasons hotel, the Diamonds in the Sky gala this year honored Botswana President Ian Khama and the government of the Republic of Botswana with the Global Diamond Industry Achievement Award for their support of education in that nation. Botswana is the world's largest producer of diamonds by value in the world.
Kitso Mokaila, the country's minister of minerals, energy and water resources, accepted the award on behalf of Botswana. "Our mineral wealth is a catalyst for improving the lives of our people," Mokaila said. "We will always associate with the Diamond Empowerment Fund for the many initiatives they take to ensure countries like ours are able to do what is necessary for its people."
"I'm Every Woman" singer Chaka Khan, a music icon whose career has spanned decades, was the entertainment for the evening and celebrities on hand for the event included Otis Williams of The Temptations, actress Jaime King and pop music artist Mair.
This year's Diamonds in the Sky gala also drew a number of big-name sponsors ˗ De Beers Group put money behind the event, with CEO Philippe Mellier delivering the gala's opening remarks alongside music mogul Russell Simmons, the co-founder of DEF.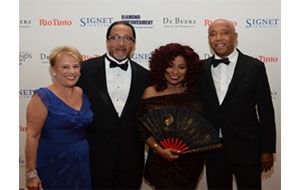 DEF Board President and Mercury Ring CEO Phyllis Bergman, left, with DEF co-founder and senior strategic advisor Dr. Benjamin Chavis, performer Chaka Khan and DEF co-founder and Chairman Russell Simmons at the Diamonds in the Sky gala.