For a sector, which grew from just a cottage industry to one of the largest diamond manufacturing industry in the world, India's diamond industry was, till not long ago, looked at globally with awe as an industry which operated purely on trust.
Today, the recent Alibaba incident could be 'a wakeup call' for the Indian diamond industry, which now finds itself at the crossroads in its march forward. Is the Indian industry paying its price for the enormous growth in recent times or is it the entry of outside entrepreneurs into the industry, which was earlier a group personally known to each other?
In an interview with Rough&Polished, Sanjay Kothari, former chairman of the GJEPC and currently the spokesperson for the Natural Diamond Monitoring Committee (NDMC), speaks about the recent incidents that have disturbed the sedate Indian diamond industry.
The recent and rather shocking news about Alibaba, the online portal listings; and the emails sent by a firm to millions of potential diamond buyers offering CVD lab-grown diamonds with GIA natural diamond certificates. Your comments.
We believe Alibaba immediately took preventive action and discontinued listing from the firms; and currently the list is no more on their portal.
Also, it is disturbing that an Indian company–International Trading Corporation (ITC) from Delhi — is associated with this scam as well. How do you think this will affect the Indian diamond industry's reputation? What steps has the NDMC taken in this regard to investigate this matter? If true, how does the committee plan to tackle it?
I agree that the news is extremely disturbing for the whole industry. The incident is not only a scam, but more importantly, a means of cheating the vulnerable consumers which is unacceptable. The promoter has a history of having indulged in frauds in the past.
Unfortunately, as the said company is not a member of GJEPC or BDB, our ability to take action is limited.
Alibaba should be appreciated for taking immediate action of de-listing the company on its portal. But, we also believe that Alibaba should take further action/s against the fraudster as the company's reputation is also at stake to an extent.
Can you please give a gist of the meeting of NDMC and associates on 19th Jan.'16? What solutions has the Committee formulated, given that synthetic or lab grown related problems are occurring in different forms and rapidly as well?
As of now we are closely monitoring the situation. It is 2 years since the last study was done, and we as GJEPC and industry need to know what developments have happened in lab grown synthetic diamonds like value and volume of production. With this in mind, we have again appointed M/s. Bonas and Co to study the scenario and give us an update in the next 3 months.
For the benefit of our readers, can you tell us how the idea of NDMC came about and when? What are its aims and activities towards retaining the natural diamond industry safe and devoid of contamination from synthetics etc.? And how does the Committee aim to retain the end consumer's confidence in the diamond industry on the whole?
A few years ago, when synthetic diamonds production started on commercial basis, GJEPC formed this committee. In this committee members of all associations like GJEPC, BDB, MDMA and GJF are inducted. The objective of this committee, as the name suggests, is to monitor the threat of synthetic diamonds vis a vis natural diamonds; and also safeguard the natural diamond industry which is in existence since decades, and see that it does not get affected or jeopardized in any way by synthetic diamonds.
Let me make it clear that we are not against the synthetic diamond industry. But, it is imperative that the synthetic sector runs its business in an ethical manner, adhering to 'disclosure' while marketing the product.
Our main purpose is to see that the end consumer/s are not sold synthetic diamonds as natural diamonds and thereby get cheated.
We are for fair trade practices.
Can you please explain the steps taken in earlier cases of Indian companies involved in the GIA/TCS 'upgrading' certificates issue? Undisclosed mixing of synthetic diamonds with natural diamonds in the recent past was also a stain on the industry. What steps were taken by NDMC in terms of action taken against the concerned parties and mitigate this problem from the industry?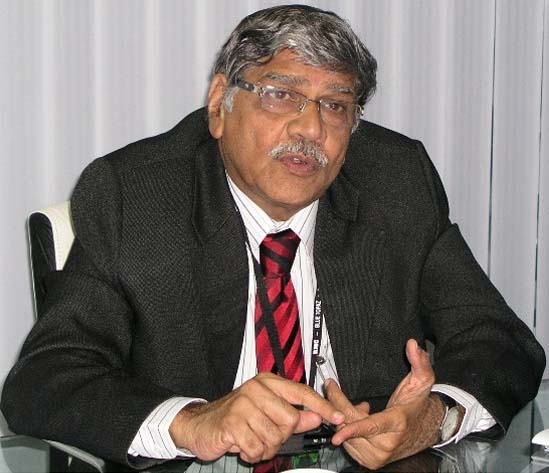 As far as GIA/TCS issue is concerned, the matter is sub judice and also between the parties. As a trade body, we are closely following it.
We, as NDMC, have taken actions against few companies and individuals who have been found guilty of selling synthetic diamonds undisclosed and as natural diamonds.
After due diligence, the committee gives fair hearing to all parties; and proper action has been taken within the article of association of all bodies.
Is just banning the companies from trading in Bharat Diamond Bourse an effective step or should a stronger legal step be taken to thwart the wrong doers from indulging in illegal ways? Is NMDC thinking of more effective steps for the future?
We are taking action based on our jurisdiction. Further than that, as associations we can't do much as we are not police or court. It is for an individual company or person to go to police and complain if one is cheated. We try to encourage them to do so and offer whatever assistance is required by them which is within our limits.
Understand that NMDC is actively involved with manufacturers of 'detecting machines' to produce affordable machines to supply all industry players. How successful do you think this would be to forestall unscrupulous people to indulge in the act of 'mixing' synthetics with naturals, especially in 'smalls'? Besides, 'mixing' can happen anywhere from traders, during assorting, to kharigars / jewellery manufacturers, etc.
Yes, NDMC provides platform to companies who are developing detection machines. We also encourage members to make use of these machines. NDMC recently organized DDES to bring all the manufacturers of detection machines on a platform. The industry also got an opportunity to view different detection machines. We believe that as a result of the efforts of NDMC, diamond parcels are now being checked by people either in their own offices or in laboratories; and because of that cases of mixing have minimized significantly.
With consumer confidence at stake, on whom does the 'onus' fall to maintain accurate natural diamonds in the pipeline? Polished traders; jewellery manufacturers; wholesalers or retailers? Will a third part certification hold well? How do you think this can be made fool proof?
I believe onus lies on everybody at every stage right from manufacturers of diamonds till it reaches the consumers. Whole pipeline needs to be foolproof and proper supply of natural diamonds needs to be maintained; and wrong doers should be brought to book.
Third party assessment may be a good idea but if I want to do the business in an ethical manner I should be vigilant in whichever manner I can be. One has to look at his reputation and his business if he wants to be in the business and attain growth.
Do certifying labs, like say GIA in the recent 2 cases, need to be more assertive and think of better ways to provide services without loopholes, so that they are not misused? Any suggestions?
GIA is doing their best to safeguard the interest of the whole diamond business. There are always possibilities to improve and we also give them feedback and suggestions. We work closely with them.
For an industry as enormous as India's gem & jewellery industry which operated on trust till not long ago, how secure are we at present from such frauds being repeated? Does the huge size of the industry make it vulnerable to such incidents?
In every industry cheaters are there and as the volume increases unscrupulous elements also increase. Individual companies and associations need to be vigilant in this matter to safeguard their business.
It is widely believed that similar or worse frauds and issues happen in other countries as well, but they are not blown out of proportion as in our country. You think the media hype and sensationalizing has adversely affected the Indian diamond industry?
As we are the largest supplier of diamonds to the world, it is obvious that we are always on the radar.
Looks like lab grown diamonds are here to stay. Should they be considered as a 'threat'? It is widely known that the Indian diamond industry is not against synthetics or lab grown diamonds per se, but suggests 'disclosure' by synthetics for smooth running of the two businesses separately. Your comments please.
As already mentioned earlier, we are not against the lab grown diamond industry. It is here to stay for sure. The only problem is mixing and selling them as natural diamonds. We are strongly against that practice.
I believe if ethically done, there is a room for both the products to survive. Consumers will buy either of them as per their pocket and affordability.
I also believe that if consumers lose confidence in diamonds, both the products, natural and synthetic, will be badly hit. We must remember that we are not dealing in 'life saving drugs' or in a product which is necessary in life. We are dealing in a luxury item, so we need to safeguard our product at all costs for our own survival. This is the reason why I believe wrong doers should be punished.