If diamond miner equities are a proxy, the sentiment surrounding the diamond industry is currently at historic low levels. Just in the last two years, a basket of diamond producer stocks was down 28.9% in 2018, following a decline of 17.3% in 2017 (see Figure 1 below). This is in part due to idiosyncratic operational challenges that most all of the miners are dealing with in one way or another, however, investor sentiment is also undeniably low by valuation standards projected by future diamond price expectations. This has led to concerns spanning the industry's future growth prospects and overall longer-term economic viability.
The ultra-successful "A Diamond is Forever" marketing campaign has been discontinued for over a decade now and so have many of the positive attributes of diamond ownership in consumers' minds. The glamorous cultural perception of diamonds has faded and has somewhat been replaced by an association with civil rights abuses and De Beers monopolistic pricing practices. Just look at the reader comments under any diamond related post on Reddit or any other pop culture media platform.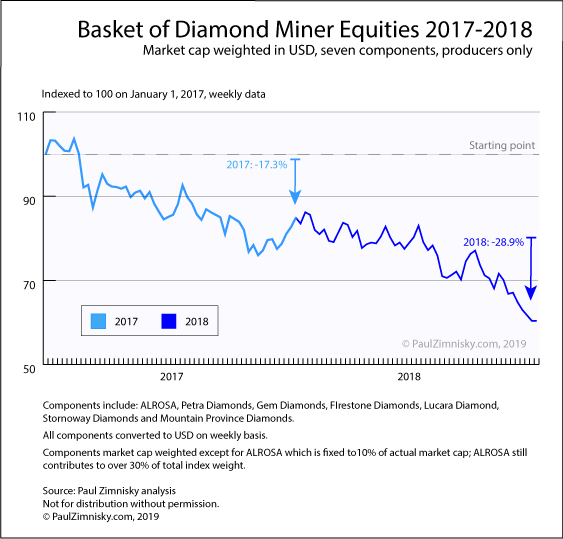 Further, marriage rates are declining in the U.S., Japan and China, just to name a few, a trend of inconspicuous consumption seems to be on the rise and the emerging wide-availability of lab-created diamonds are providing consumers with a lower-priced alternative to natural diamonds.
All of that said, global diamond jewelry sales in nominal and real terms have been growing at a steady rate for the past 9 years. This is in part due to the continued financial liberation of middle-class consumers in developing economies, continued positive global GDP growth post-Global Financial Crisis and continued population growth, especially in the diamond industry's most important end-consumer markets, the U.S., China and India.
In addition, despite the fact that marriage rates are declining, diamond consumption by self-purchasing women in on the rise and younger generations in the U.S. are still buying diamonds despite a narrative that the generation is too indebted to afford luxury. In fact, per-capita jewelry demand growth in the U.S., the diamond industry's largest end-consumer market at approximately 50%, has been non-negative since 2010, which normalizes for population growth –technically, without rounding, there was negative growth in 2016 of 0.19% (see Figure 2 below).
Further, looking just at last year, both De Beers and ALROSA's diamond sales exceeded those in 2017, at 1.5% and 5.8%, respectively. The two companies combined represent almost two-thirds of global diamond output. Also, De Beers recently guided incremental production increases in 2020 and 2021, perhaps implying the company is comfortable with diamond demand expectations in the coming years.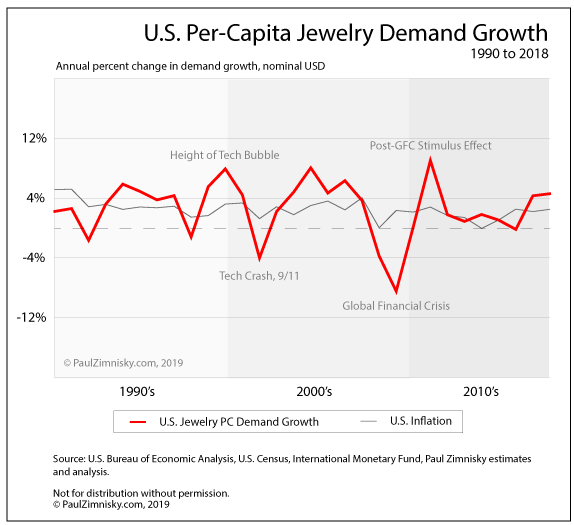 Despite lab-created diamonds dominating the narrative surrounding the natural diamond industry's survival, the life-blood (perhaps a poor word choice) of natural diamonds, as with most all of luxury, has always been successful marketing and branding. For example, there was not even a Japanese word for diamond until De Beers began marketing in the country following World War II. While Japan's share of global diamond demand has since fallen off in recent years, it represented as much as 20% of global demand as recently as the early 2000's and has remained an important market for the industry.