And here we go for the fourth opus (let's not be afraid to flatter ourselves!) of our series on gem producers1. I hope that after that, when you are looking for information about a gem producer or you want to remind yourself about everybody's role, you will think to click on "Rubel & Ménasché"!Enough small talk, now let's take a look at two gem producers with different approaches, but with their own distinct characteristics and identities: Dominion Diamond Corporation and Gem Diamonds.
Dominion Diamond Corporation, Canadian diamonds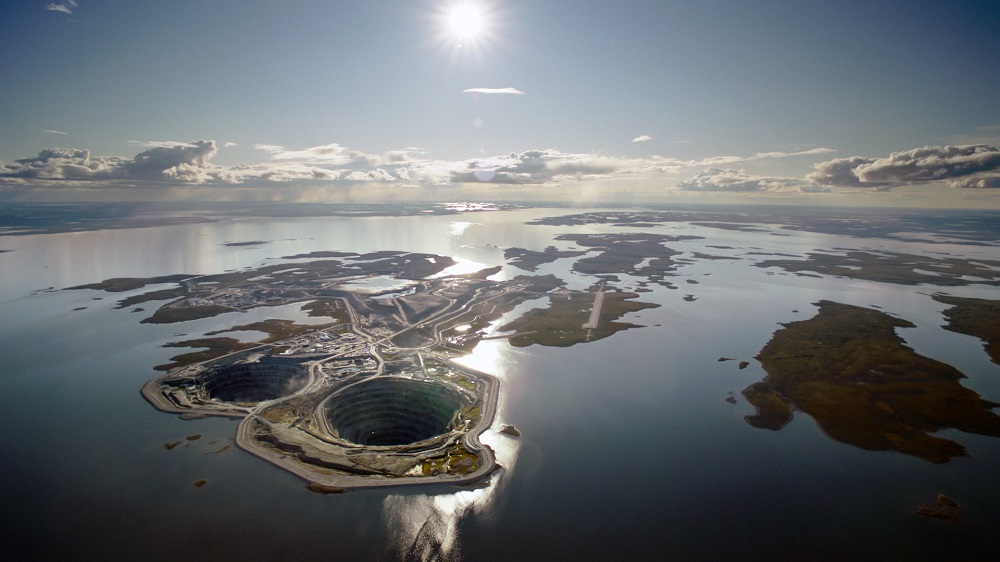 Dominion is a "young" Canadian mining company. It is based in Toronto and has sales offices in Antwerp and Bombay. The company was officially created in 1994 as the Aber Diamond Corporation, shortly after the discovery (in 1992) of the promising Diavik mine in Canada, in which Rio Tinto holds a 60% stake. Production in Diavik2 only began in 2003, but the first diamonds were sold in March of that year.
Getting back to the story of the Canadian miner, in 2004 Aber acquired 51% of the famous jewelry brand Harry Winston (founded in 1932 by the American jeweler of the same name). In 2006 it then acquired the remaining 49% and became the Harry Winston Diamond Corporation. However, in 2013, it sold Harry Winston Inc. and acquired a majority holding in the Canadian mine Ekati (whose kimberlite shafts have been in operation since 1998), in which BHP Billiton previously had an 80% holding. It changed its name to become what we now know as: Dominion Diamond Corporation.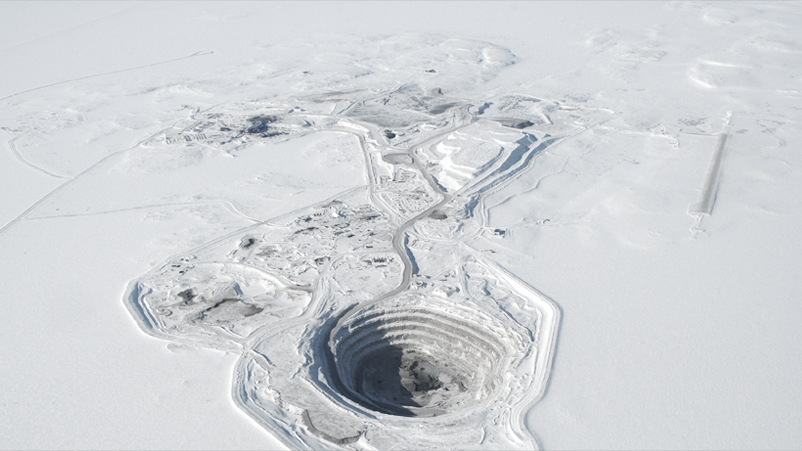 Dominion now therefore has a 40% stake in Diavik and a majority holding in Ekati. Diavik and Ekati are both in the Northwest Territories, at Lac de Gras, also known as Lake Ekati. They have a major influence on the local economy and employment in this region. It was moreover when Ekati entered into operation that Canada officially became a major diamond producing country.
According to Natural Resources Canada, "Ekati's average production over its projected 20-year life is expected to be 3 to 5 million carats per year—about 3% of world diamond production by volume." Ekati is therefore the leading mine in Canada.
Diavik, for its part, was originally operated through open cast mining. In 2012, it switched to fully underground mining. Again according to Natural Resource Canada, it should also have a "projected 20-year life, it is expected to peak at 11 million carats per year, representing about 6% of the world's total supply." Diavik is considered to be the second biggest diamond mine in Canada.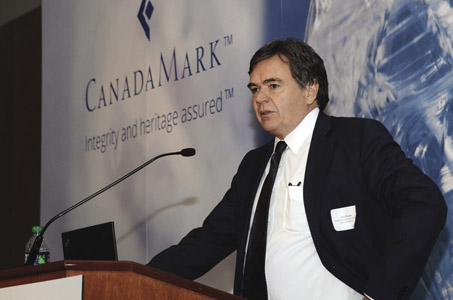 Jim Pounds, Executive Vice President, Diamonds, at Dominion Diamond Corporation, was appointed Vice Chairman of the DPA in February this year. Recently (on April 13), Jim Gowans was appointed as Dominion non-executive Chairman of the Board of Directors, replacing Robert Gannicott.  Gowans, who joined the board of directors of Dominion on January 16 this year,  is also CEO of Arizona Mining Inc. and was previously CEO of Debswana Diamond Company in Botswana and CEO of De Beers Canada Inc. He therefore has an outstanding resume, which promises ambitious projects for the future of Dominion Diamond… We should also remember that Robert Gannicott directed Dominion for 12 years, and according to the press release and more specifically Dan Jarvis, Lead Independent Director: "built this Company from a junior exploration company to the world's third largest diamond producer and a true Canadian success story." (It should be noted that we ranked Rio Tinto as the third largest diamond producer…)
CanadaMark, a brand marketing initiative
CanadaMarkTM is, as its name would suggest, a brand or a program owned by Dominion, which guarantees that every CanadaMark TM diamond is:
– Responsibly mined in Canada's Northwest Territories;
– Natural and untreated;
– Tracked through audited processes at every stage from country of origin to polished stone; and
– Polished to meet specific quality standards.
It is a formidable and modern marketing tool—we will not return here to all the debates that we have published on the need for generic and brand advertising for diamonds—that supports Canadian diamonds from the Dominion mines. A marketing initiative based on origin (diamonds made in North America) and ethics, which will promote Dominion diamonds to generations Y or Z for a long time…
Gem Diamonds, the biggest white diamonds in the world
Gem Diamonds Ltd — we will discuss Petra Diamonds in a later article — is an international scale gem producer, even if it cannot really be compared with the four mining groups we have already presented in our articles on the DPA. The particularity of Gem Diamonds is not the volume of diamonds it sells but their price and quality. It is a very recently created gem producer, founded in 2005 by Clifford Thomas Elphick, who is still the CEO and Executive Director. Gem Diamonds has its registered offices in London, but its activities are split between Lesotho and Botswana for mining, naturally in Belgium for sales and marketing and Mauritius for cutting, etc.

The London jewelry house Graff Diamonds Ltd., chaired by Laurence Graff and known for setting stones of exceptional weight and quality, is the biggest shareholder (15.1%), holding a few more shares than the investment company Lansdowne Partners. The biggest mine managed by Gem Diamonds is the Letseng mine in Lesotho, which has produced the biggest and most outstanding white diamonds discovered in the world, such as the 603 carat Lesotho Promise to name but one! Gem Diamonds has owned the mine since 2006 (with a 70% stake) and it represents most of its ressources.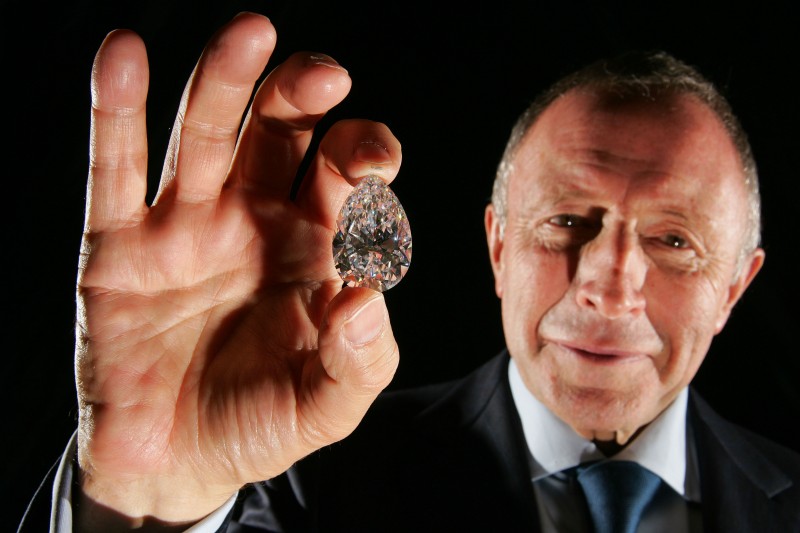 In 2007, Gem Diamonds acquired a second mine, Ghaghoo in Botswana. The mine was opened in 2014, but operation is "problematic" as it encroaches on the territory of the Botswana Bushmen, who were expelled from the Kalahari Desert at the end of the nineties. As things stand, the Botswana government has lost the trial against the Bushmen, who have however still not been able to return to their land according to the press articles… Which goes to show that ethical questions are never far away and not for advertising reasons this time.
---
1. Another small reminder: ALROSA, De Beers, Rio Tinto, Dominion Diamond Corp. and Petra Diamonds taken together account for nearly 70-75% of global rough diamond production.
2. To be more specific, it is Diavik Diamond Mines (2012) Inc., a subsidiary of Rio Tinto plc, which operates Diavik. Dominion pays 40% of the operating costs and receives 40% of the production from the mine.
Photo © Courtesy of Domion Diamond Corp., Graff Diamonds Ltd., Rio Tinto, Gem Diamonds, DR.