In the early 2000s, as the Kimberley Process was being forged, an NGO activist told me the best answer to post-war Sierra Leone's diamond woes just might be De Beers reopening a buying office there. He fretted the company would never do that, as it feared the public relations repercussions.
But now, De Beers is returning to Sierra Leone, decades after it shut its buying offices in "the bush." It's all part of a new pilot project, called GemFair, that uses digital technology to tackle one of the industry's most stubborn and enduring challenges—the artisanal mining sector.
According to the Ontario, Canada–based Diamond Development Initiative(DDI), up to 20 percent of the world's gem diamonds are dug up by artisanal miners, often working for poor pay in even poorer conditions.
"The work is hard, dirty, and dangerous," says the DDI. "Because gravel must be washed in order to find the gems, much of a digger's day is spent standing in stagnant water. Health conditions are bad, and mine sites are incubators for disease. Miners often face exploitation, human rights abuses, and live in extreme poverty."
The industry has long considered the artisanal mining sector a major reputational risk; most notoriously, the diamond fields of Sierra Leone became the breeding ground for blood diamonds.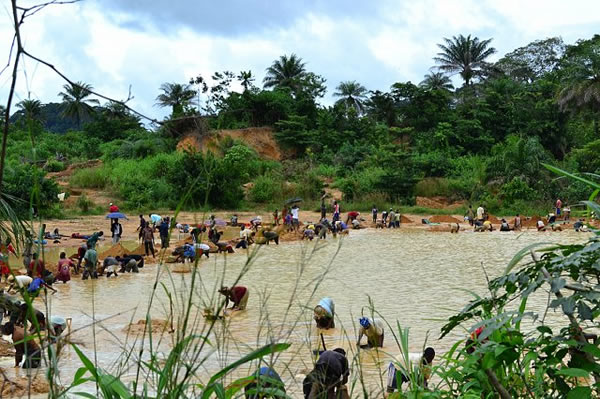 From a public relations standpoint, it would easy for the industry to simply shun artisanal diamonds, like it does conflict diamonds. But activists warn this would create even worse problems: Some 1.5 million people, in the world's poorest countries, make their living as diamond diggers.
And, in fact, with more brands embracing origin tracking—including De Beers' Forevermark—some worry that artisanal diamonds will be increasingly shut out from the industry, in favor of gems from large mining companies.
Though the years, there have been numerous—mostly unsuccessful—business ideas for the artisanal sector, notably Martin Rapaport's idea of Fair Trade diamonds. These plans are mostly premised on the idea that if you offer miners higher prices for ethically produced diamonds, they will not only enjoy greater profits but be motivated to improve working conditions.
GemFair follows this template, but with a high-tech twist.