De Beers' first announcement of its lab-grown diamond line set the jewelry world on fire. But the week of the 24th September Lightbox Jewelry debuted, and the world still seems mostly the same.
The most-talked-about offering—the pendant with the 1 ct. white center stone for $900 (with mounting)—was, at press time, sold out. And while chief marketing officer Sally Morrison says early demand has been healthy, she admits it's possible that a lot of the initial orders, particularly in the first two days, may have come from curious jewelry folk.
In the end, Lightbox will live or die based on consumer demand. For now the brand is being sold online only, which is also the only place it's being advertised. During the week of 1ft October, it started running spots on podcasts, perhaps the only jewelry brand to do so. Its choice of venues—it will soon be touted on Oprah's new podcast—shows that it's not as millennial focused as some at first assumed. You can hear a Lightbox ad on the Grape Therapy podcast at the 7:00 mark here.
One company involved in lab-growns was among those that placed an early order. While the company sought the 1 ct. center stone, it was only able to pick up a pair of ½ ct. t.w. white studs with a 10k gold mounting. (Total cost with shipping: $615.) The people there—who wish to remain anonymous—were impressed with some things, less so with others.
"When you open [the Fed Ex package], you see the pair of earrings in the box the same way you see the iPhone," says a person there. "So the box was kind of a wow."
The earrings sat on top of marketing materials detailing the growing process, which are wrapped around the shipping invoice. But this person was disappointed there was no "inner box" to support the earring box, like an iPhone has.
"The box was just sitting there exposed in the Fed Ex carton. If something happens to that Fed Ex box, those earrings could potentially get damaged.
"I do genuinely like the box that holds the earrings, and I like the window that allows the light to come in. I like the play on it. But the whole [packaging] was not a wow."
As for the jewelry itself, the stones seemed "clean," and the pieces looked "fine," a company employee reports.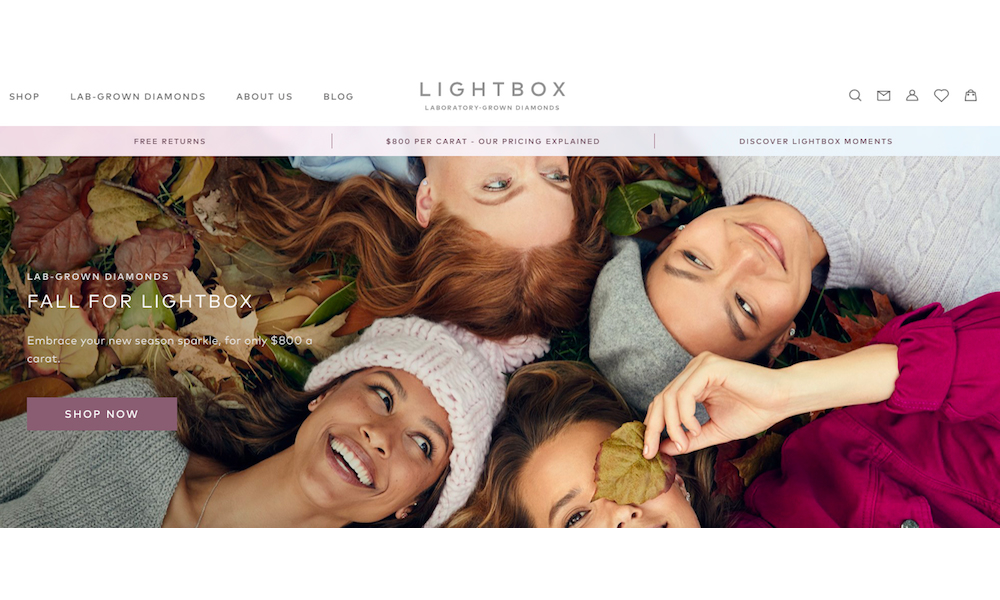 ---
Photo © Lightbox.