Lightbox, De Beers' lab-grown diamond brand, has called off its trial of engagement rings, citing a lack of business prospects.
"Through the test, the company deepened its understanding of LGDs [lab-grown diamonds] and evaluated the changing landscape and consumer perceptions associated with them," De Beers said in a statement Wednesday. "Lightbox will continue to focus on where it sees the most promising future opportunities in the sector — in fashion jewelry and in loose stones at accessible price points — and will not sell lab-grown diamond engagement rings."
Lightbox quietly introduced a small line of engagement rings in June. The industry reacted with a mixture of anger and, in some cases, a lack of surprise, since the company had gradually been rolling back some of the claims it made about synthetics when Lightbox launched in 2018.
The test reinforced De Beers' view that the "commercial proposition for many lab-grown engagement ring offers is likely unsustainable," it added. Retailers already need to double the number of synthetic-diamond carats sold every two years to maintain a flat absolute gross profit, management explained.
A recent De Beers consumer survey found that the primary motivation for buying lab-grown was price, the miner continued.
The announcement came alongside the launch of a marketing campaign for the holiday season, with De Beers bringing back the famed tagline "A Diamond Is Forever." It will invest an additional $20 million to support consumer demand in natural stones, it said.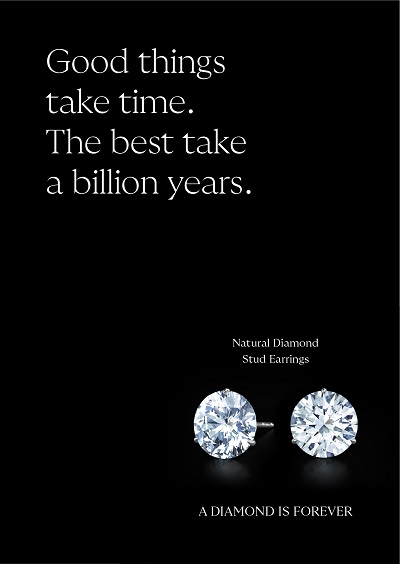 "Natural diamonds have remained icons of love for centuries" said De Beers CEO Al Cook.
"De Beers advertising has remained iconic over the decades. We're proud to build on this tradition by reviving and refreshing one of our most successful campaigns. By investing ahead of the holiday season, we aim to support the industry, drive consumer demand and underline our confidence in the future of the diamond dream."
Main image: A model wearing one of the Lightbox lab-grown diamond rings. (De Beers)