De Beers is putting the emphasis on natural diamonds in Q4 and ending Lightbox's lab-grown diamond engagement ring test run.
London—De Beers Group will pump an additional $20 million into marketing diamonds this holiday season via a multimedia generic category campaign that will look familiar to many.
The company has refreshed its "Seize the Day" campaign, which debuted in the mid-1990s, and is bringing back one of the most iconic taglines in advertising history, "A Diamond Is Forever."
The ads are geared to promote natural diamonds specifically, with lines like: "Artist credit: Mother Nature," and "Nature's mic drop," among others.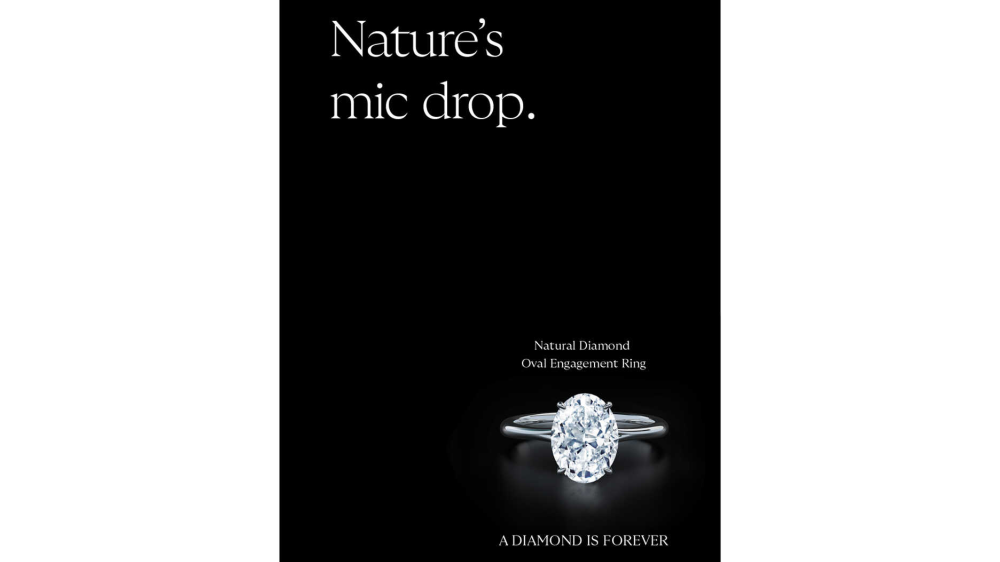 Set to launch in early November, the updated Seize the Day campaign will run in the world's two largest markets for diamond jewelry, the United States and China.
It will include print, out-of-home, and digital components that will be available for the trade to use free of charge. De Beers will be working with influencers for the campaign as well.
More details about how retailers can access the creative content will be announced next week.
In an interview Tuesday, David Prager, De Beers' chief brand officer, said the company is looking to create demand for U.S. retailers this holiday season amid an economic backdrop that could prove challenging.
After two years of skyrocketing sales, diamond jewelry sales are seemingly coming back down to Earth.
The latest data from The Edge Retail Academy shows that gross sales across all diamond categories, including both natural and lab-grown, are down 11 percent year-to-date, with units sold down 7 percent, and average retail sale per unit slipping 4 percent.
The slowdown was evidenced in Signet's latest quarterly results and is what the Gemological Institute of America cited as the reason for its recently announced layoffs.
Some consumers are feeling the effects of inflation and high interest rates, and savings rates are down after soaring during the pandemic, factors De Beers is well aware of heading into the all-important fourth quarter.
"When we look at diamond demand, it's clearly a mechanism of affordability and desirability," Prager said.
In the U.S. market, there is desire for diamond jewelry, De Beers said. However, price could be a stumbling block for consumers this holiday season, some of whom have less discretionary income.
The Edge Retail Academy data shows while gross sales of loose natural diamonds are down 9 percent overall, retailers actually are moving more units (up 33 percent) but customers are spending less, with the average retail sale down 35 percent year-to-date. 
The De Beers campaign is designed to tap into diamond desire and drive demand by relaying an "energetic, just in time message" in the midst of the biggest gift-giving season of the year.
"Natural diamonds have remained icons of love for centuries, and De Beers advertising has remained iconic over the decades. We're proud to build on this tradition by reviving and refreshing one of our most successful campaigns," De Beers CEO Al Cook said in a press release. 
"By investing ahead of the holiday season, we aim to support the industry, drive consumer demand and underline our confidence in the future of the diamond dream."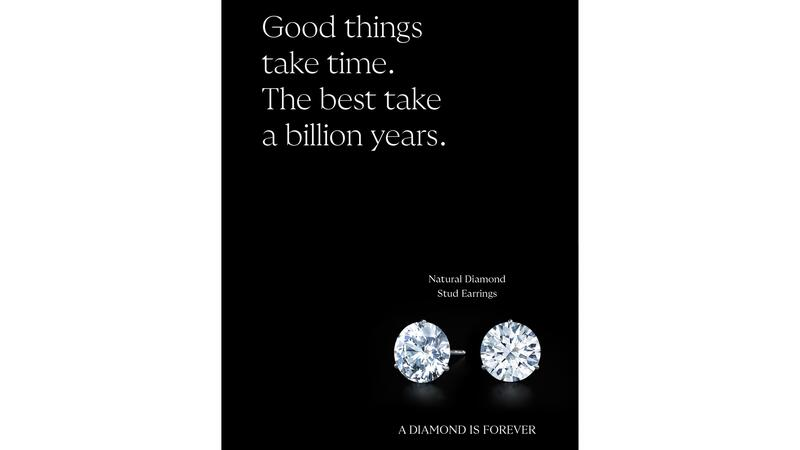 The $20 million De Beers is spending on the updated Seize the Day campaign comes in addition to the $45 million the company invests annually in the Natural Diamond Council, Prager said.
He said De Beers didn't ask NDC to take the lead on this campaign because the organization already has invested in a Q4 campaign on behalf of its members.
"We wanted to add to and complement that effort to support the trade this holiday, and we believe the most powerful way to do that is by reintroducing 'A Diamond Is Forever' in advertising, which is proprietary to De Beers." 
He said De Beers will work with NDC to distribute the campaign.
Prager said in developing a campaign for Q4 marketing this time around, De Beers went through its archives and settled on Seize the Day because it was one of its most successful category campaigns.
It was also one of its last.
The original Seize the Day campaign, which was call-to-action and male-oriented, was in circulation from the mid-1990s into the early 2000s.
Shortly thereafter, De Beers abandoned generic advertising in favor of promoting Forevermark, which launched in Asia in 2008, and closed the U.S.-based Diamond Promotion Service.