At the end of a sluggish year 2013, amidst the pressure on rough prices, the tightening liquidity, the drop in polished prices and the weak margins, only rare diamonds managed to stand out…
Super large or colored "rare diamonds" were a permanent feature in 2013 and did particularly well at auctions, reaching almost unprecedented figures. A new order for investors, a special purchase and unique stones for collectors and consumers? Speculation about these remarkable stones is flourishing and is contributing towards the boost in astronomical prices.
For your viewing pleasure, let's focus on the rare diamonds that made the news in 2013. This is also an opportunity for us to start the year 2014 on a positive note!
Rough tenders: exceptional finds
● Two white diamonds, of 126.4 ct and 91.5 ct, were sold for $8.52 million and $3.78 million by Petra Diamonds at its December tender. These diamonds were recovered at the Cullinan mine in South Africa and were of type IIa, in other words they were extremely rare rough diamonds, of exceptional chemical purity.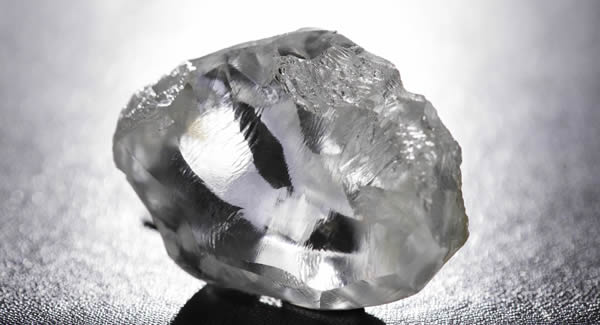 White diamond of 126.4 ct, Cullinan mine, sold by Petra Diamonds (Picture Petra Diamonds)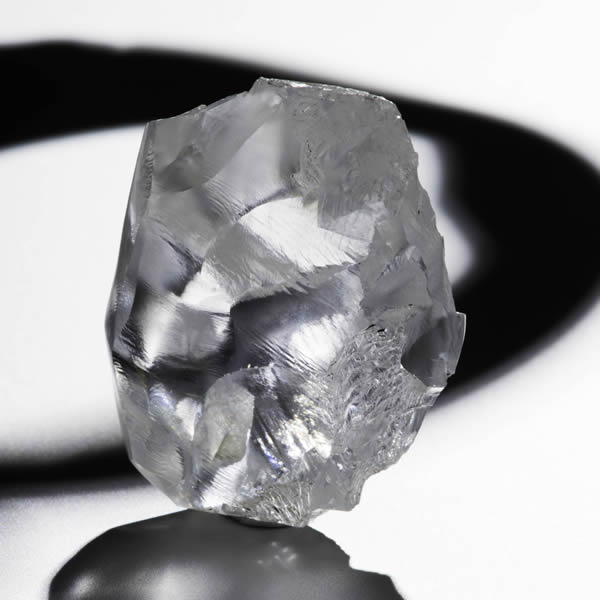 White diamond of 126.4 ct, sold by Petra Diamonds. View 2 (Picture Petra Diamonds)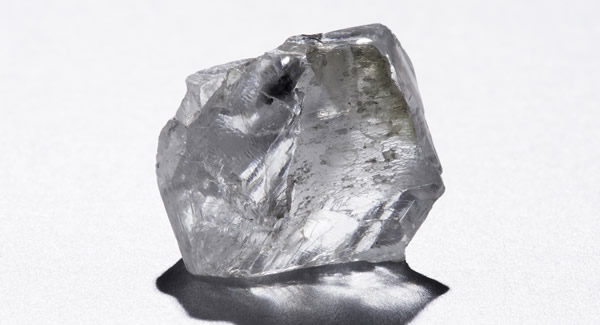 White diamond of 91.5 carats, Cullinan, sold by Petra Diamonds (Picture Petra Diamonds)
●Based in Vancouver, Lucara Diamond Corp. completed a special tender on November 25, 2013, and sold $22.9 million worth of rough (14 stones, totaling 1,128 carats) from its Karowe mine in Botswana. The sale included in particular two extremely rare stones: one of 256.6 carats, sold for $4.40 million, and the other of 137.9 carats, sold for $4.28 million.
Two diamonds of 167 and 122 carats, which were also recovered from the Karowe mine, should in turn be auctioned in 2014.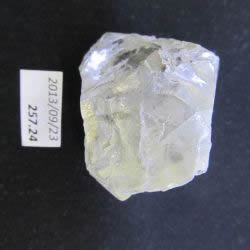 Lucara Diamond, white diamond of 257 carats, discovered in Karowe, Botswana (Picture Lucara Diamonds)
Colored diamonds, record prices
Colored diamonds are without a doubt the stars of 2013. They are a result of the crystallization of highly pressurized carbon molecules (please read, Colored diamonds 101 and The colored diamond boom), and very few are produced by nature. Of type IIa and IIb, they prove difficult to grade. The less and less frequent discoveries of these fancy color stones, in addition to their "extraordinary" characteristics, have boosted their prices in the past few years.
● In December, Sotheby's NY sold a Fancy Vivid Yellow diamond of 51.75 carats (VS1), mounted as a ring and adorned with white round and oval-shaped diamonds, further accented by small round diamonds of yellow hue. The total of the sale amounted to $3.5 million.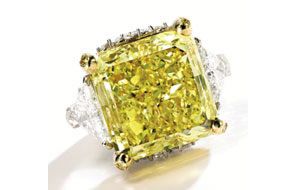 Fancy Vivid Yellow Diamond VS1, 51.75 carats, mounted as a ring, Sotheby's (Picture Sotheby's)
● In November 2013, in Geneva, Sotheby's sold an oval Fancy Vivid pink diamond, IF, of 59.6 carats, for a total of $83 million ($1.4 million/ct). The "Pink Star", which was mounted as a ring, weighed 11.92 grams. If the Fancy Vivid Pink hue is already synonymous with the word "exceptional", then so is the carat weight. To this day, the Pink Star (renamed "Pink Dream" by its proud owner, a diamond dealer from New York) is considered to be the most expensive stone in history ever sold at auction. It was discovered by De Beers in 1999, in South Africa.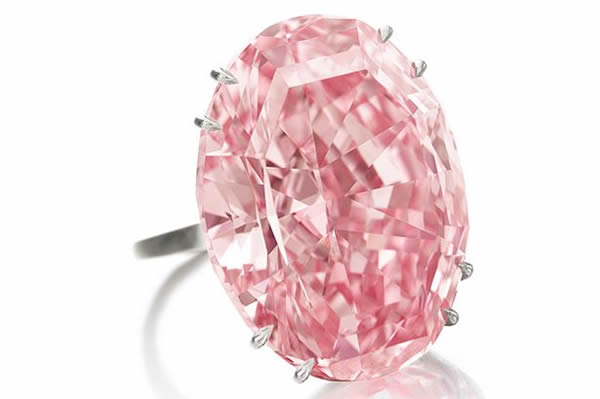 Pink Star Diamond, 59.6 carats, Sotheby's (Picture Sotheby's)
● In November 2013, also in Geneva, Christie's sold "The Orange", a pear-shaped Fancy Vivid Orange diamond, VS1, of 14.82 carats, for $35.5 ($2.4 million/ct).  This stone, which was discovered in South Africa and is also of remarkable intensity and color, was initially valued to be worth between $17 and $20 million. The price of the sale is a record for an orange diamond and puts it in the same league as the most beautiful blue or pink diamonds, which are traditionally more coveted.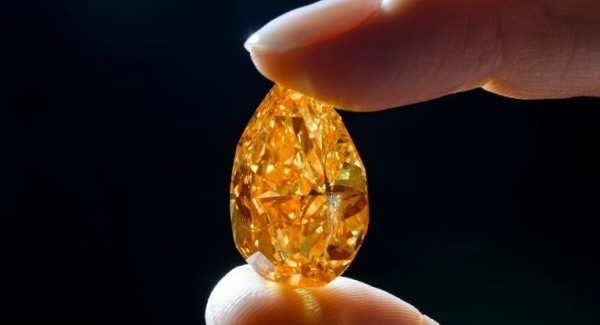 The Orange, 14.82 carats, Christie's
● In November again, Sotheby's Geneva sold, for $11 million, the Van Cleef and Arpels Walska Briolette Diamond Brooch, which consists mainly of a Fancy Vivid Yellow diamond briolette of 96.62 carats.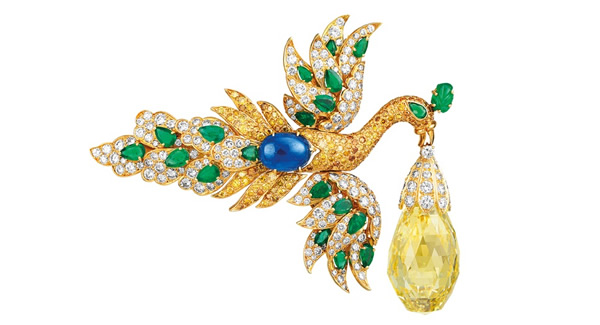 The Van Cleef and Arpels Walska Briolette Diamond Brooch, $11 million, Sotheby's (Picture Sotheby's)
● In October, in New York, Christie's offered for sale a cushion-cut Fancy Vivid Blue diamond, VS1, of 3.81 carats. This extremely beautiful stone went for $3.973 million, a very high price but close to the estimated value per carat. Very few Fancy Vivid Blue diamonds are auctioned every year, as blue diamonds – a result of the presence of boron during the crystallization stage – are among the rarest precious stones.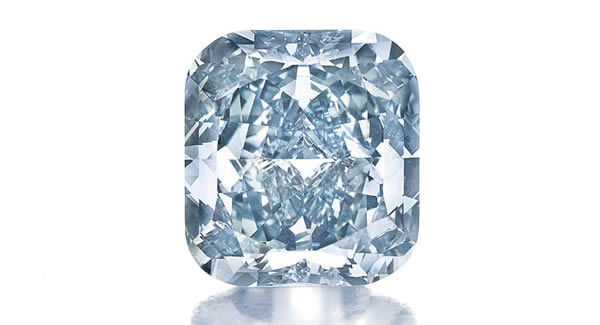 Cushion-cut blue diamond, 3.81 carats, Christie's (Picture Christie's)
● Also in October, but this time in Hong-Kong, Sotheby's was to sell another Fancy Vivid Blue diamond, IF, of 7.59 carats: "The Premier Blue". Valued at around $19 million, it did not find a buyer.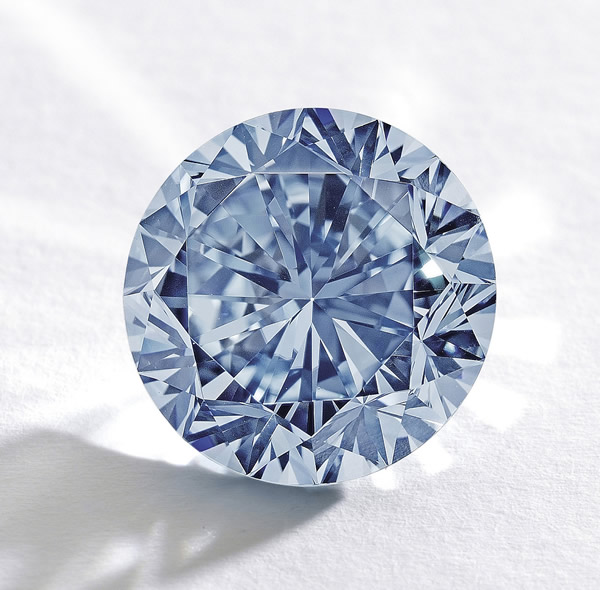 "The Premier Blue", 7.59 carats, Sotheby's (Picture Sotheby's)
● In May 2013, Petra Diamonds found a buyer for the exceptional 25.50-carat rough diamond recovered in April in its Cullinan mine, in South Africa. The stone was sold for $16.910 million.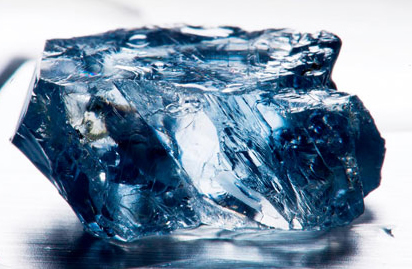 Blue diamond of 25.5 carats, Petra Diamonds, Cullinan (Picture Petra Diamonds)
The list is still long and is not exhaustive. We could still mention the growing demand for the pink diamonds from the Argyle mine  ("Argyle Phoenix" and "Argyle Dauphine") in Australia, or turn our attention towards the 74-carat rough diamond recovered by Rio Tinto in its Murowa mine, in Zimbabwe. There is admittedly plenty to be captivated by. But above all, this craze for rare stones and colored diamonds proves to be, without a doubt, a trend to follow in the years to come.
In the meantime, and still for your viewing pleasure, you should head to the Natural History Museum of Los Angeles to discover, until June 2014, the 240 colored diamonds, which make up the "Aurora Butterfly of Peace". This piece, which required 12 years of research and work, gathers the whole spectrum of colors covered by natural diamonds. Truly beautiful…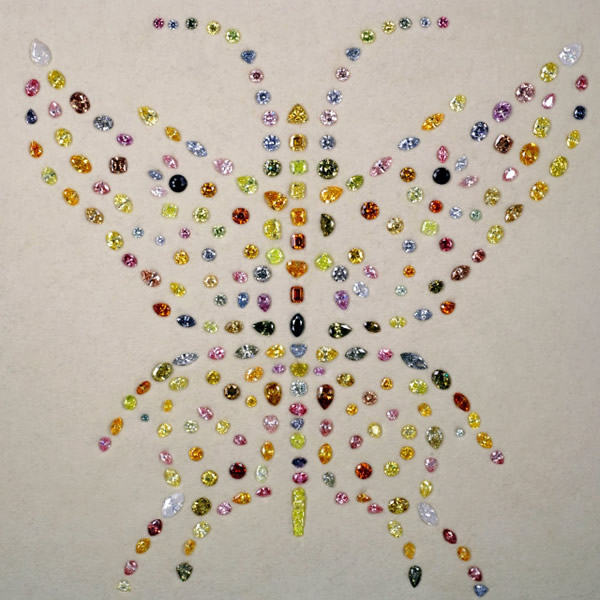 The Aurora Butterfly Of Peace, by Alan Bronstein and Harry Rodman
On this topic, please read:
●Taken from the article 2014: growth potential, an analysis by Avi Krawitz:
Big Stone & Colored Diamond Boom
Already, the popularity of very large diamonds has boomed in the past year. In fact, while commercial polished diamonds have been volatile through the past five years, colored diamonds and rare big stones have enjoyed unprecedented growth. Diamond buyers and consumers are looking for something different and unique, while investors have been enticed by the long-term returns these goods offer. As a result, more dealers have entered niche areas such as the colored diamond market.

Estimates suggest that prices of the more scarce items such as pink, fancy intense vivid yellow, and fancy blue diamonds rose by more than 30 percent in 2013, while lower quality yellows increased by about 10 percent. Fueling perceptions about the market, large special, colored diamonds broke numerous records on the auction circuit.
No market is completely bubble resistant. However, veterans in the colored diamond space note that growing dealer demand and a growing pool of wealthy consumers for these goods, coupled with their rarity of supply, will ensure that prices continue to rise in the near and long term.