Press release – ALROSA reports preliminary rough and polished sales results for April 2021.
ALROSA sales of rough and polished diamonds in April totaled $401 million, including proceeds from rough diamond sales of $383 million, and polished diamond sales of $18 million.
For four months of 2021, total rough and polished diamond sales accounted for $1,561 million, including $1,509 million of rough diamond sales and $51 million of polished.
"In April, demand for diamond jewelry in the key markets continued to remain sustainably robust.  Rough diamonds' stocks at the mid-stream remain modest, while supply of the rough diamonds gradually move to a deficit state as global diamond production capacities structurally reduced. Our April sales were well supported by the successful results delivered by auctions of high-quality large rough, as well as by strong sales of polished diamonds", said Evgeny Agureev, Deputy CEO of ALROSA.
ALROSA Group rough and polished diamond sales in 2021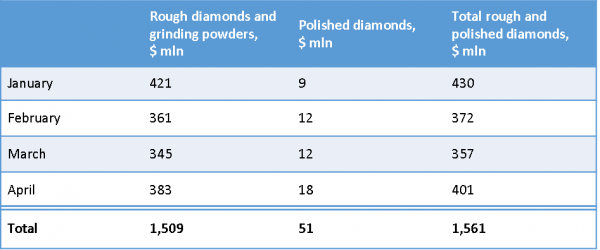 ---
Monthly sales results are preliminary and may be updated. Possible discrepancies are due to rounding. Data on the diamond market is the Company's estimate based on the information available at the time of publication. More detailed Information on sales results the company discloses on a quarterly basis in its Trading updates along with operational results. Official information on the company's revenue is disclosed in its consolidated IFRS results for the corresponding periods. Preliminary dates of such publications are available in Investor calendar.