Losing no time after the landmark sale of a 102.39 ct. perfect white diamond for $15.7 million, Sotheby's announced, the [week of October 12], that another "glamazon" is gracing its fall auction lineup.
And the stone's got everyone tickled pink.
The Spirit of the Rose is a 14.83 ct. fancy vivid purple-pink, internally flawless diamond in an oval modified brilliant cut. Mined and cut by Alrosa, one of the world's leading diamond producers, it headlines the Sotheby's Magnificent Jewels and Noble Jewels auction taking place in Geneva on Nov. 11. The estimate: $23 million–$38 million.
Given the scarcity of pink diamonds, especially in large sizes, and the dwindling global supply due to the imminent closure of the Rio Tinto Argyle mine in Australia, the Spirit of the Rose is an acquisition opportunity that fancy color diamond dealers and collectors alike will find hard to resist.
Especially since it has the distinction of being the world's largest vivid purple-pink diamond ever to appear at auction. And its rose petal–pink color is as rare as it is spectacular.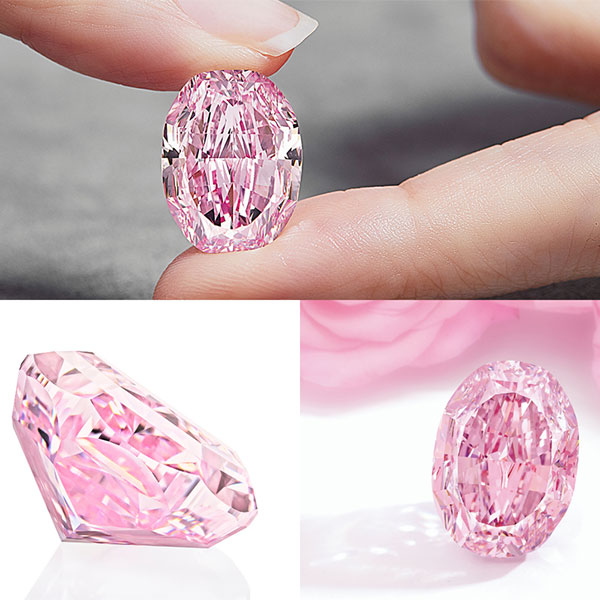 "Having the opportunity to offer a large polished pink diamond of over 10 carats and with the richness of color and purity of The Spirit of the Rose is truly exceptional," noted Gary Schuler, worldwide chairman of Sotheby's jewelry division in a statement. "The diamond's character and immense presence is further enhanced by its perfect cut and oval shape: The numerous facets and shades of pink dance in front of your eyes in a mesmerizing way."
In the past decade, Sotheby's has sold some of the most valuable pink diamonds in the world, including the record-breaking CTF Pink Star, a 59.6 carat oval mixed-cut fancy vivid pink internally flawless diamond, which sold for $71.2 million, a world auction record for a diamond or any gemstone or jewel, in Hong Kong in April 2017.
---
Photos © Sotheby's, ALROSA, DR.