Among the challenges of assessing the lab-grown diamond market is the lack of published data on the sector. That's largely because none of the companies operating in the space are publicly traded, which would require them to disclose metrics such as sales, profit and production.
It's largely through public reports by miners such as Alrosa, De Beers (via Anglo American), Petra Diamonds and others that one can gauge the size of the natural-diamond market. Their reports also provide important anecdotal information about trends and the state of the market. The same is true for the retail sector, with Signet Jewelers serving as a bellwether for US jewelry sales, Chow Tai Fook in Hong Kong and China, and the likes of Richemont and LVMH reflecting the state of high-end jewelry.

In addition, regular import and export data from governments in major diamond centers such as Belgium, India and the US provide insights about the global trade.

Very little of that exists in the synthetics market. Only India has separate Harmonized System (HS) codes — the identifiers that authorities use for imported and exported goods — for lab-grown and natural diamonds, enabling it to distinguish between the two in its trade data. The US and other countries currently lump the two products into one category.
The Indian figures show a sharp rise in synthetics exports this year (see graph), but it's difficult to draw conclusions from one metric alone.
There is also a distinct lack of structure in the lab-grown market. While there have been initiatives to create organizations that represent the sector, set policy, and lobby on its behalf, they have not gained traction. Such an organization would also create a directory of companies operating in the market. Some growers such as WD Lab Grown Diamonds and Diamond Foundry are emerging as majors that set the tone on certain issues. Yet at present, there is a cloud over who the major suppliers, manufacturers and sellers of lab-grown are and how the supply chain operates.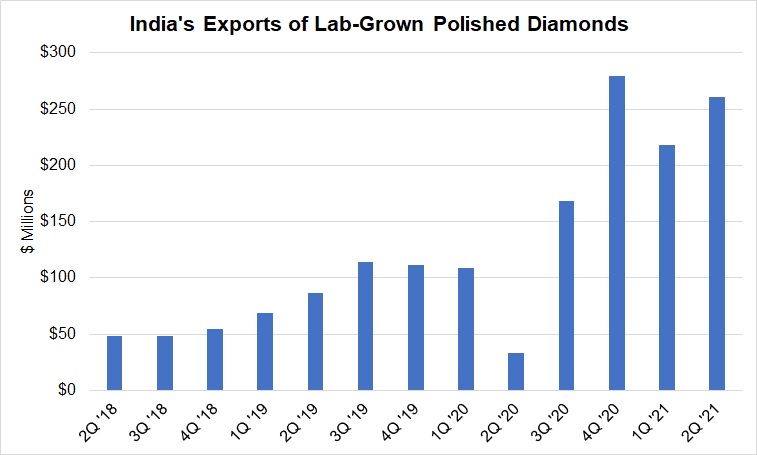 ---
Photo © Lightbox.