Queen Elizabeth II has been the subject of extra fascination since the debut of "The Crown," the Netflix series that recounts her life, but fans of the royal were able to witness what she's really like when she made a rare televised appearance in a BBC documentary that aired Sunday.
"The Coronation with Her Majesty the Crown" recounted details of the sovereign's official coronation 65 years ago, with the queen herself joining royal expert and interviewer Alastair Bruce to watch the event (it was televised at the time) and lend her own commentary.
Bruce and the queen spoke in depth about the Crown Jewels of the United Kingdom, which were brought from the Tower of London to Buckingham Palace for personal inspection during the interview.
Here are six interesting facts we learned about the Crown Jewels from the documentary.
Elizabeth wore two crowns during the coronation
The Crown Jewels is comprised of over 140 items containing more than 23,000 precious stones, the most famous of which are the Cullinan I and Cullinan II diamonds, cut from the 3,106-carat Cullinan Diamond, the largest gem-quality rough ever found. Most of these items, known as the regalia, are used in the coronation.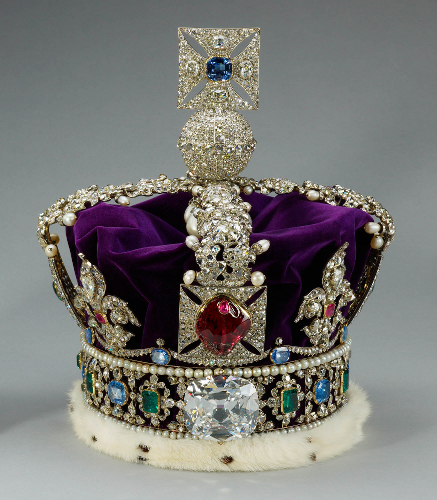 The most important of these is St Edward's Crown, made in 1661 for the coronation of Charles II. The solid gold crown weighs five pounds and boasts 440 gemstones.
The queen hasn't worn St Edward's Crown since her coronation. A second crown—the Imperial State Crown, which is lighter—was placed on her head at the end of the coronation ritual. She still wears it for most state openings of Parliament.
The Queen isn't afraid to handle these rare and important jewels
While many would be intimidated to handle jewels of such great value and historical import, not so much Her Majesty.
Only she, the Archbishop of Canterbury, and the crown jeweler are allowed to touch St Edward's Crown.
During the queen's interview, Bruce asked if the crown could be placed closer to the queen as they discussed it. She grabbed it roughly with both hands, telling Bruce simply: "This is what I do when I wear it."
Or talk about them plainly
She was similarly less than pretentious in her observations of it.
"Is it still as heavy? Yes it is," she remarked. "Weighs a ton. It's very solid isn't it?"
Other gems of wisdom from the queen included: "Fortunately, my father and I have about the same sort of shaped head … once you put (the crown) on it stays." And, "You can't look down to read the speech; you have to take the speech up because if you did, your neck would break, it would fall off."
When Bruce ventured to Queen Elizabeth, "I imagine your principal memory is wearing it ma'am," she responded, "And how heavy and unbalanced it was."
Our favorite was the unsentimental: "There are some disadvantages to crowns but otherwise they're quite important things."