What is the volume of diamonds American specialty jewelry retailers sell every year? Are there pockets of opportunity within items that are losing favor? And how many lab-grown goods are really selling? More importantly, what is the sales pattern and trend?
One of the biggest issues in the diamond industry, especially in the manufacturing sector of the diamond pipeline, is a lack of impartial and detailed data about consumer purchasing habits. The need to bridge the gap between the information retailers supply in informal discussions (as well as the telltale sign of their purchases) and what consumers actually buy is essential.
What diamonds are US consumers buying today? 
Market Overview
In 2015, the total value of sales of natural polished diamonds by specialty jewelry retailers in the US was $14.98 billion, based on data collected from nearly 4,000 specialty jewelry retailer doors in the US by retail metrics research firm NPD. These retailers sold 3.67 million carats of diamonds at an average value of $4,078 per carat (p/c). The total cost of polished diamonds purchased by American specialty jewelry retailers was $8.71 billion, averaging $2,370 p/c. The average retail margin was 42%.
When comparing the trading activity during the first seven months of 2016 to the January–July period in 2015, we see that the total cost of goods purchased by retailers fell 8.6% to $3.97 billion, and the average value of wholesale purchases softened 0.6% to $2,421 p/c.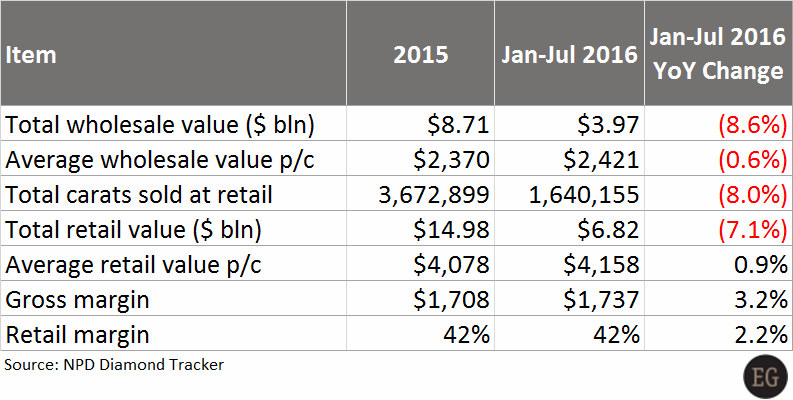 At the same time, the total value of polished diamond sales declined by 7.1%, and the volume of sales fell 8% to 1.64 million carats. Within all these declines, there is one area where there was an increase: in the average value per carat of diamonds sold by retailers, which increased by nearly 1%. I believe the reason the average value of sold diamonds increased is first because of a shift in share between smaller goods and larger goods. The decline in the volume of sales of smaller goods under 0.90 carats compared to larger goods is very noticeable (see more on this here).
The second reason the average price of goods increased is because retailers acted to recover some of their lost revenues created by the decline in diamond sales. Wholesalers did not get a share of this pie, which retailers kept completely for themselves.
This analysis is based on a presentation given last week (October 20, 2016) at the Bharat Diamond Bourse in Mumbai on behalf of NPD, a retail metrics research firm that is collecting data from US specialty jewelry retailers on actual diamond performance.