When talking about the future of the diamond industry, we are usually directed to expected growth in demand from China and India, as well as the continued leadership of the U.S. In this context, Japan, once the world's second largest market of diamond consumers, is often overlooked. With billions of dollars in annual diamond jewelry sales, this is a mistake.   Once upon a time, diamond giant De Beers invested heavily in generic marketing promoting diamond jewelry in Japan. While it lasted, consumer demand in the land of the rising sun increased regularly. In 1997, gross polished diamond imports peaked at $1.45 billion.
However, once generic marketing ended, consumers lost interest in diamond jewelry, especially the non-branded variety. The ensuing decline was long lasting, and while occasionally demand increased, the general trend was one of diminishing interest and decline.
The decline hit a low in 2009 before starting to increase again in 2010, an increase that lasts to this day.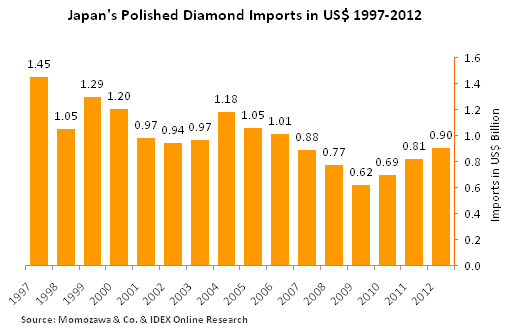 A disaster to the rescue?
But it wasn't until after March 11, 2011, when Japan was struck by a triple disaster – an unusually large earthquake, a devastating tsunami and the Fukushima nuclear meltdown – that matters really changed. In the past two years, Japan's appetite for diamonds and diamond jewelry has increased.
Month after month, loose polished diamond imports have been rising. And even though the figures are gross imports and not net, the trend is clear. More importantly, while revenues at Japan's shopping centers are generally trending down, and almost every sector is reporting a decrease in sales, jewelry sales are consistently increasing.
Jewelry, luxury and precious metals category sales are about $280 million a month, according to the Japan Department Stores Association, with sales rising even during stormy weather.
This is because the Japanese people are financially sound, with one of the highest personal savings ratios in the world, even though the Japanese government has financially struggled for years.
Tokyo-based Yano Research estimates the country's retail jewelry market at $11.4 billion with diamond jewelry at $5.5 billion, representing nearly half of all retail jewelry sales; a sizable market by all accounts.
The triple disaster provided the initial boost in the recovery. In times of hardship we tend to rediscover our personal lives. We pause in the daily rush, evaluate our actions and try to set new priorities – putting family and loved ones first. The reaction, also witnessed post 9/11, included proposing, getting married, gifting a daughter on her graduation with something bigger – simply celebrating life. In this scenario, diamond jewelry, an eternal and highly valued possession, plays an important role – leading to increased purchases.
We cannot "credit" disasters alone for the Japanese turn in interest in diamond jewelry. Fashion and tastes are always changing and are known for their cyclical behavior, and yesterday's new is today's old, and tomorrow's rediscovered new.
However, it does not end there. Historically, there is a close correlation between the yen-to-dollar exchange rate and demand for diamonds. When the yen strengthens against the dollar, demand increases. This was especially true in the 90s through 2007. The global economic meltdown in 2008 turned matters around a little and a weak dollar was not enough to convince Japanese consumers to buy diamond jewelry. The deep savings that allowed them to start buying in 2011 were carefully guarded in 2008-2009, at the height of the global economic crisis.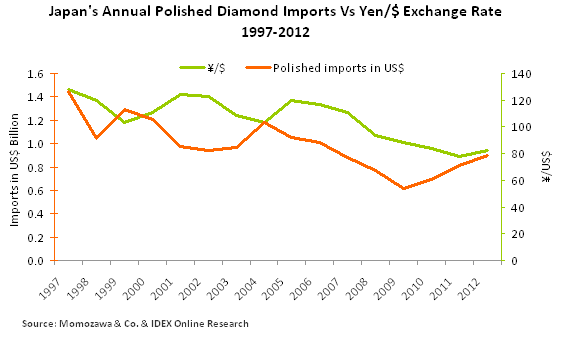 In our own research we also see a correlation between the exchange rate and the average value of purchased goods. Once again, when the yen is strong, the price per carat (p/c) increases. The correlation is strong and was absent only once in the 15 years of historic data we checked – during the 2008-2009 global crisis.
As the graph below shows, this trend is back and true today – the average value of imports increased 10.5% to $443.47 p/c in 2012 and as the yen strengthened by 6.5% to an average 82.65 against the dollar (compared to 128.03 in 1997).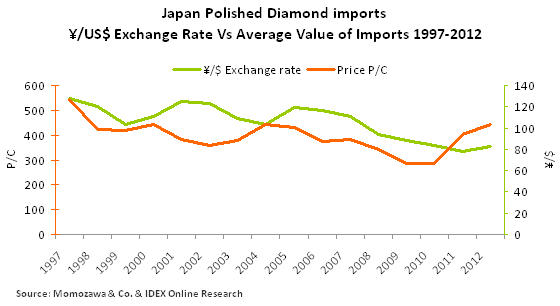 Japan's interest in diamond jewelry is growing. Yano Research expects diamond jewelry sales to grow to ¥937.4 billion ($15 billion) in 2013 and by another 4.8% to ¥982 billion ($15.8 billion) in 2014.
In 2011, right after the earthquake and tsunami at a time when all seemed bleak, we wrote a column titled "Believe in Japan, It Believes in Itself." That holds true today. When we look at where the global diamond industry will grow and what drives that growth, look not only at China, India and the U.S. Take Japan into count as well.