COVID-19 hit the world like a wild and destructive storm, harming lives and assets as it spread. The diamond and jewelry industry was not spared, and sales dropped significantly – how significantly was anyone's guess until now. Following are the figures showing just how COVID-19 impacted sales, and how the tide is perhaps starting to turn.
This is how COVID-19 impacted retail
With closed stores and consumers under varying degrees of lockdown as well as social distancing, jewelry retailers had very limited sales during the period. US specialty jewelry retailers saw their sales drop some 82% in the span of just two months.
From estimated sales of $2.65 billion in February, activity dropped to some $470 million in April. This period covers just before the pandemic hit the US and when Valentine's Day sales spurred consumer demand to the height of the retail crisis.
It should be noted that April is cyclically a slow month for jewelry sales, yet less than half a billion dollars in sales in a month is something we have not seen in decades, since the 1980s.
Following the two-month drop, sales bounced up in May. During the month, sales by specialty jewelers rose to $1.35 billion, up more than 230%, according to our estimates. Sales were helped by the partial removal of activity restrictions, a feeling that the worse is behind us that drove up consumer confidence, and consumer demand ahead of Mother's Day.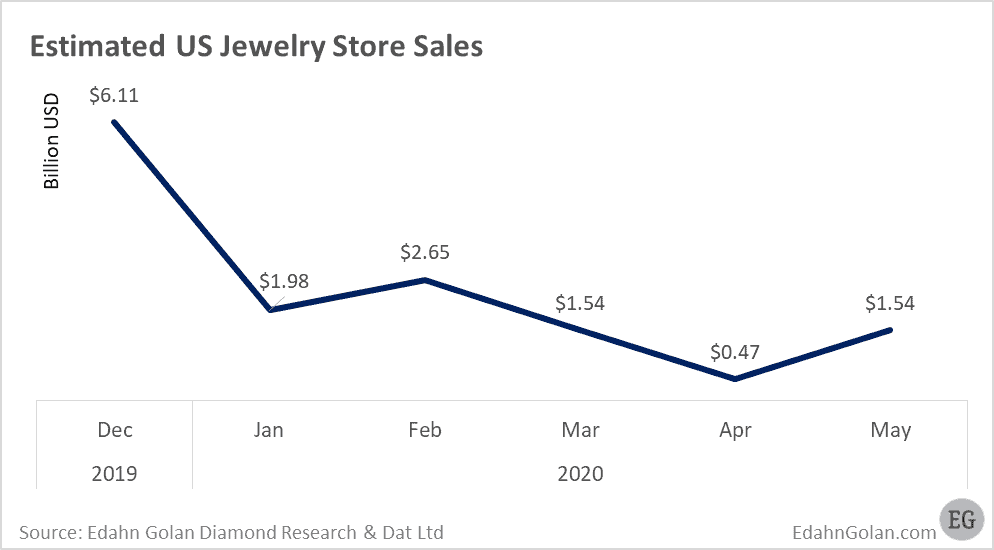 This is how COVID-19 impacted LGD
Sales of lab-grown diamonds were also impacted by COVID-19. With a somewhat defined consumer base, demand for this product had its own fluctuations.
Based on our data, sales of loose LGD fell 41% in March and another 40% in April. This brought sales down 65% during the two month period. By volume, sales fell 69% in April compared to February.
The drop, while substantial, unveiled an interesting trend: the average value per sold stone was not only relatively steady, prices actually increased 13% in April vs. February. Revenge buying? Maybe. Consumers felt no need to reduce expenditures on LGD during the pandemic.