Two and a half years ago, Rubel & Ménasché met Olivier Segura, Director of the LFG, the French Gemological Laboratory (Laboratoire Français de Gemmologie). Having held the position for about three years at the time, he painted a portrait of a laboratory on the rise, with great focus on the transparency and impeccable quality of its certification reports. We met him once again in mid-October. This gave us an opportunity to get the latest news about the lab, its development and its very high-quality, bespoke services. And also about the detection, disclosure and certification of synthetic diamonds…
Olivier Segura, could you tell us about the changes and latest news since we last met in January 2014? At the time, when you had been in the position since 2011, you qualified the French Gemological Laboratory as a "sleeping beauty" and you were trying to give it a fresh impetus…
To remind you a little of the history of the LFG, it was founded in 1929 by the Chambre Syndicale du Diamant. It was therefore the first gemological laboratory to be created in the world; at the time, its role was to certify natural pearls and differentiate them from cultured pearls. Indeed, at the start of the 20th century, Paris was the world's largest trading center for pearls: 300 traders were installed between numbers 1 and 100 on rue Lafayette! Since 2011, the LFG has been part of the UFBJOP, Union Française de la Bijouterie, Joaillerie, Orfèvrerie, des Pierres & des Perles, which appointed me as Director.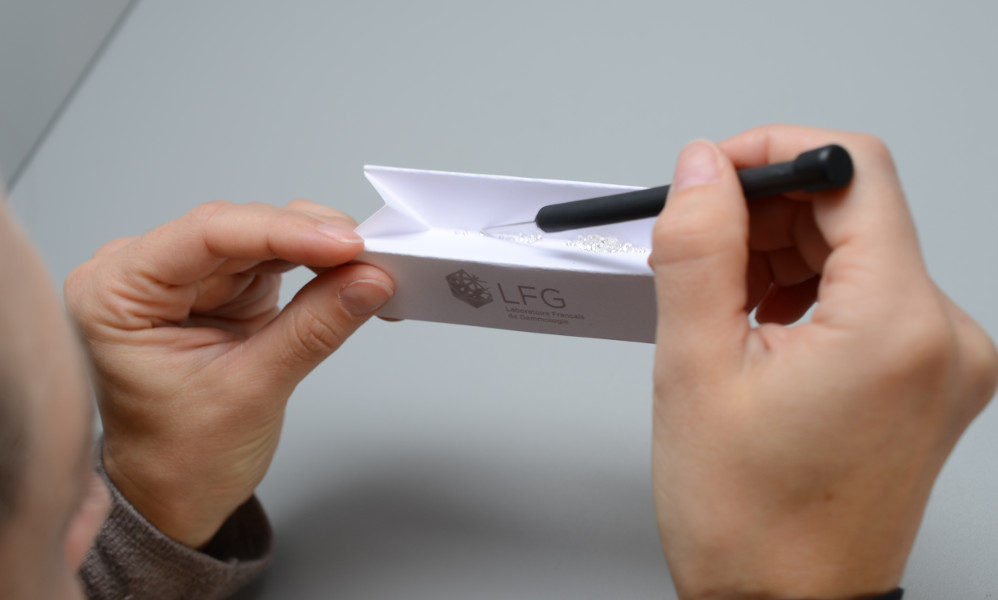 [two_third]
Amongst the changes that have occurred over the last three years, I can mention our training in gemology. In the new school year of 2016, we are welcoming our 3rd class of 10 students, selected through interviews, who will undergo training of one year (2 days every week for €9,500 per year). This will lead to the awarding of a qualification, which is in the process of being recognized by the French State. We designed the course with the assistance of Emmanuel Fritsch, a researcher at Nantes University who is a world recognized specialist in diamonds.
[/two_third]
[one_third_last]
"We have won the confidence of the biggest jewelry houses."
[/one_third_last]
Finally, to meet the demand for testing melee diamonds, I have taken on another gemologist; there are now six of us. There are slightly more jewelers amongst our customers, around 38%. We have been able to earn and increase the trust of the biggest jewelry houses through our proximity, our availability and the quality of our work.
In 2014, you told us that you were in the process of designing "new advanced tools in order to appraise" parcels of melee. Where are you up to now and, to go a little further, what equipment do you have?
Indeed, once again with Emmanuel Fritsch, we have developed some technologies that help us to meet the needs to analyze melee. These technologies are competent and consistent and have also been patented.
But the influx has been so great that we were quickly overcome! We have therefore acquired the M-Screen from the HRD that we are still testing in-house. This machine appears to us to be the best suited in terms of volume and quality for the analysis of melee diamonds. It is therefore a safe choice.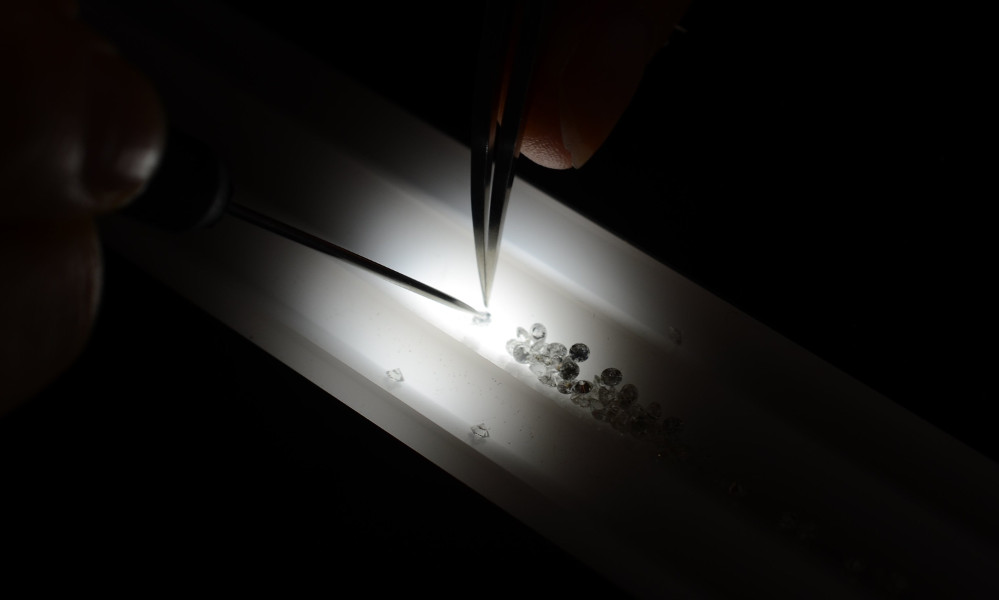 The tool we developed in-house allows us to analyze color melee. We also have new methods for observing luminescence (using microscopes). Finally, we also have the Diamond View from De Beers.
What added value does your laboratory have over other certification laboratories and what guarantee do you offer to your customers?
The LFG analyzes all diamonds to see if they are synthetic, natural or treated. We can also analyze any sizes of melee. Generally, the limit is 0.7 mm. We can analyze smaller if required, but it is complicated logistically.
[two_third]
To explain our operation in detail, we carry out an initial sorting of the melee based on the infrared spectrum (to determine if there is any nitrogen present, synthetics have little nitrogen, Ed.). We then use M-Screen to analyze the transparency of the stones; and finally we refine this with the Raman spectrum or Diamond View (therefore luminescence).
[/two_third][one_third_last]
"Our strength is the volume that we can analyze with 100% reliability."
[/one_third_last]
What are your prices?
We charge €36 to analyze the 4 Cs. As for analyzing melee, our prices are under review following our new acquisitions and organization… Our strength is, amongst other things, the volume that we can analyze with 100% reliability.
Let's talk about synthetic diamonds in a little more detail. We always (or almost always) talk about synthetic diamonds with a gem quality of IIA. Why? Can we find other qualities (such as IA)?
There is no scientific proof, in my opinion, that we can make an IA synthetic diamond. I am talking about scientific proof. Yes, treated synthetic diamonds are officially IIA (this is due to the manufacturing procedures and the quantity of nitrogen).
Therefore, when we analyze a parcel of melee, we exclude the IIA; they may also be natural, they only account for 1 or 2% of natural diamonds; all seams include some IIA. Therefore 99% of the melee that we analyze are not IIA.
Then we check if our IIA diamond is synthetic, treated or natural. In order to make sure that this analysis is 100% reliable, it is performed by a human. That is why I can guarantee you an analysis of parcels of melee and detection of synthetic diamonds that is 100% reliable.
What do you think about certifying synthetic diamonds?
[two_third]
At the French Gemological Laboratory, we have decided not to grade synthetic diamonds. We produce our reports, but we refuse to apply the grading criteria established for natural diamonds to synthetic diamonds. For my part, I feel that they are different materials and markets and therefore incomparable. Synthetic diamonds cannot therefore be graded in the same manner and on the same criteria as natural diamonds.
But I'm not making a value judgment! The problem for the market is the homology between natural and synthetic diamonds.
[/two_third][one_third_last]
"That is why I can guarantee you an analysis of parcels of melee and detection of synthetic diamonds that is 100% reliable."
[/one_third_last]
Research and information about synthetic diamonds has progressed dramatically in recent years. The market seems to have got to grips with the problem. What do you think? Where do we stand?
As a gemology laboratory, I already consider that we are outside the market. I think that the biggest problem today is treated diamonds, which are far more difficult to detect. As we have seen, synthetic diamonds are not hard to detect in a laboratory.
Can we imagine that in 20, 30 or 40 years synthetic diamonds may have as much of a place in the market as cultured pearls—which have supplanted natural pearls—now have?
Yes…. we can imagine a similar development…
In France, "synthétique" or "de synthèse" are the legal terms for qualifying synthetic diamonds (French decree 2000-65 of 14/01/2002).  There is a greater latitude in the USA. The Federal Trade Commission accepts "laboratory-grown" or "laboratory-created". The 2015 ISO 18323 standard recognized the terms "synthetic diamond", "laboratory-grown" and "laboratory-created"… What do you think? What seems most appropriate to you at a global level?
For my part, as a scientist, I think that the term "synthetic" is the most appropriate as it describes the material. You know that nomenclature is very important in France. We have to find the right word in as much as we can.  In France, the first law determining the name to be given to precious stones dates back to 1968! It was updated in 2002. In France, we cannot use the equivalent of "laboratory grown" (de laboratoire) to refer to synthetic diamonds.
Do you really think that a trader has the means to trace and guarantee the source of every stone in their parcels of melee?
This is a general issue that should be borne by the whole pipeline! But yes, serious traceability of parcels is essential!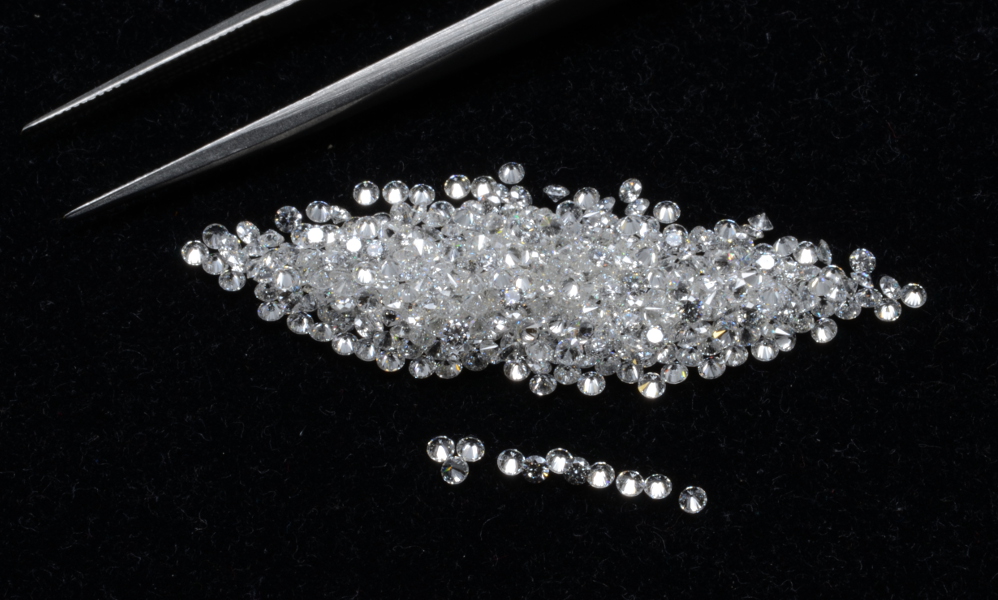 Knowing that HRD offers members of the Antwerp exchange free use of the M-Screen Plus tool*, that De Beers hires out the AMS for $75,000 for 3 years, do certification laboratories still have a place?
[two_third]
However, machines can never guarantee total traceability! As for whether gemological and certification laboratories still have a place, you have to ask if we can give an unbiased view!?! The question is how much responsibility a diamond trader can have with regard to their customers.
So, granted, technically "one" could carry out an inspection and detection for the 98-99% of the stones that are not IIA grade. But apart from lab, who else has the expertise to analyze the IIA grade stones? As for me, at the LFG, gemological laboratory, I have all the credibility required to issue a certification report. Diamond traders can commit themselves to the responsibility and traceability of their parcels, but not on certification… This goes for their credibility to be able to "offer" and prove everything about their parcel to their customers.
[/two_third][one_third_last]
"Yes, serious traceability of parcels is essential!."
[/one_third_last]
Finally, one of the added values of lab is that one day we will be able to certify stones that are already in settings. Our scientific knowledge of diamonds should develop.
To conclude, what do you think of the supreme power of gemology laboratories and certification reports?
Ah, this issue of reliability and the supreme power is a real question and a real issue. We are working on just this matter with the CIBJO (the World Jewellery Confederation). There is currently no international body that governs, determines and defines what a gemology laboratory actually is. Maybe an international ISO standard could be the solution? We have the ISO 17025 standards, which cover the scientific aspect, the machines and the procedures applied in laboratories, and ISO 9001, that guarantees the quality of the service, management and organization. These are tools that can help to show our customers that we are more reliable than the others. The transparency of the laboratory and the commitment to certification procedures are also essential…
But the only officially recognized criteria are those regarding the practice and credibility of the gemological laboratories! That is exactly why I decided to base the legitimacy of the LFG on its scientific credibility…
---
*The M-Screen scans polished diamonds from 1 point to 20 points, at a rate of 10 800 diamonds per hour.
Photo © LFG