The Dali Group has been a De Beers Sightholder since 1968! To celebrate this anniversary and the links forged during these 50 years, Dali Diamond Co and Rubel & Ménasché invited partners, friends and selected customers to an evening at the MAS in Antwerp.
Since October 2017, under the banner "In Antwerp we speak diamond – Antwerp, diamond capital since 1447", the city of Antwerp has been celebrating its long history with the queen of gemstones. This was the backdrop for Rubel & Ménasché and Dali Diamond Co, a part of the Dali Group, to arrange for the Cartier tiara owned by Queen Elisabeth of Belgium to be brought to the MAS for the Dazzling Desire exhibition.  Buoyed up by this patronage, the group decided to take advantage of this exceptional situation to gather together its suppliers, partners, friends and selected clients.
Dali Diamond is celebrating a milestone in 2018 – 50 years as a De Beers Sightholder! Isi Morsel, President of Dali Diamond Co., views this as an "honour" but also an opportunity to remember "our shared history and 50 years in which our closely intertwined lives and work have allowed us to forge strong and lasting bonds."
Everyone came together at MAS on 8 January. Distinguished guests included:
Bruce Cleaver, CEO of De Beers Group, and his teams; Ludo Van Campenhout, deputy mayor of the city of Antwerp; Dorothée Gizenga, executive director of DDI; representatives of AWDC, BJOP, DPA, HRD, LFG, RJC, WDC; and Maisons from luxury groups LVMH and Richemont.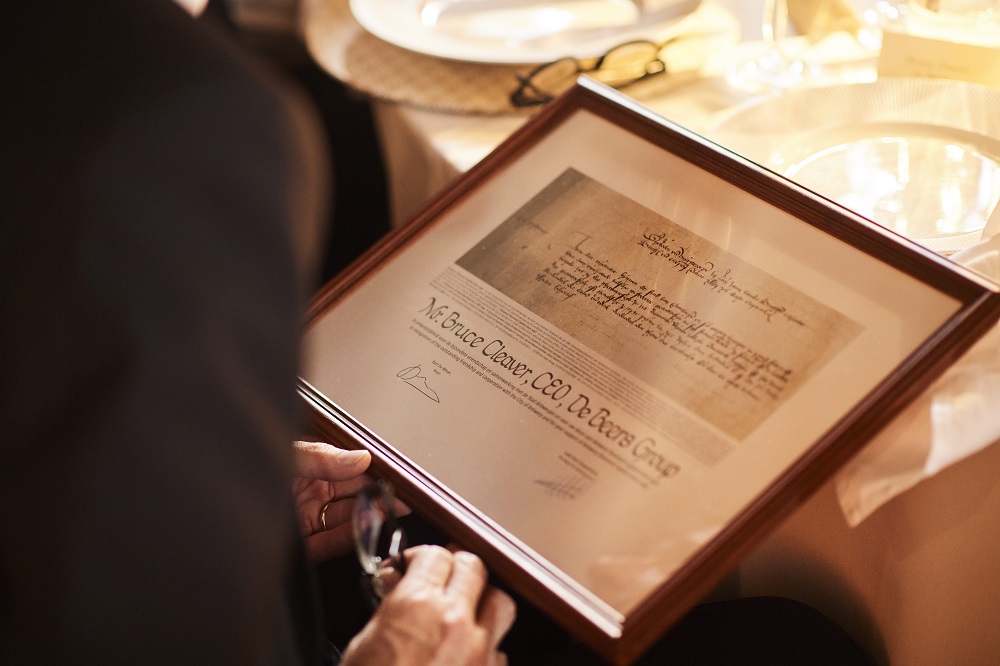 Isi Morsel, President of Dali Diamond Co. and Stephan Wolzok, CEO of Rubel & Ménasché, shared their thoughts about this memorable anniversary.
Isi Morsel, why is this anniversary so important and what does it tell us about your company?
Being a De Beers Sightholder for 50 years is a major accomplishment in the diamond world. This is a boast that few companies can make. It proves that we are a stable and financially sound company. In short, it shows that we are a partner who can be trusted.
Dali Diamond Co has always been proactive and is constantly striving to innovate in order to improve its relationships with suppliers and customers.
The most important thing to remember is Dali's conviction that transparency can only enhance our business model. It means that bankers will feel more comfortable about financing our operations and consumers will be better informed about our product. Perhaps I should also mention that we are some of the most fervent supporters of blockchain?
But we never forget that our past history may indeed be a good pointer for our future success, but it is no guarantee!
Stephan Wolzok, what does that 50th Sightholder status mean to you and how would you evaluate your development ?
Let's be honest, 50 years is not nothing! This anniversary marks a great partnership, which has spanned different eras and seen De Beers and the Dali Group evolve over the years. If, after 50 years, these two companies are still working together, it is because they have always changed and moved with the times, in concert, and forged deep and lasting relationships.
To return more specifically to Rubel & Ménasché, who have been affiliates of Dali Diamond for 13 years, I would say we have reached a truly international level. I intend to keep moving forward – higher, further, stronger! Our methods and our organisation will continue to evolve in order to pursue ever greater transparency and traceability. I believe our past achievements serve only to back us up and lay the foundations for progress. Blockchain is clearly the future, and Rubel & Ménasché will listen to its customers, who will steer our direction in the years to come.
Our industry has grown, it is a large and beautiful industry, and it should provide the end consumer with as many guarantees as possible. Due diligence requires everyone in the industry to work solely with responsible third parties. The diamond industry will progress by reconciling the experiences of everyone, by being partners rather than competitors. By understanding the requirements of the banks and the needs of our partners and suppliers, we will all be in a better position to move forward… together!