The Maison Van Cleef & Arpels recently unveiled its new high jewelry collection, "Sous les Étoiles, heavenly dreams", taking us on a flight beneath starry skies. Constellations, comets, Cepheids, dust tails, Milky Ways, stars, planets, the sky could not fail to be an inspiration to Van Cleef & Arpels, which loves dreams and nature. The codes of the Maison are there while the colors of the gems present all those of the celestial vault, from white to midnight blue, passing via orange-reds of flamboyant sun. The diamonds, of course, sparkle with all their brilliance.
What is more poetic than a starry sky? The Maison Van Cleef & Arpels has made no mistake and has put the know-how and creativity of its craftspeople to the test of the cosmos to translate its magnificence, relying on all of its mastery of high jewelry: colors, cuts, combinations and innovative gem-setting techniques give splendor to these heavenly bodies in movement. Moreover, it is not the first time that Van Cleef & Arpels has drawn inspiration from the cosmos, as the stars feature in its pantheon and in many of its collections.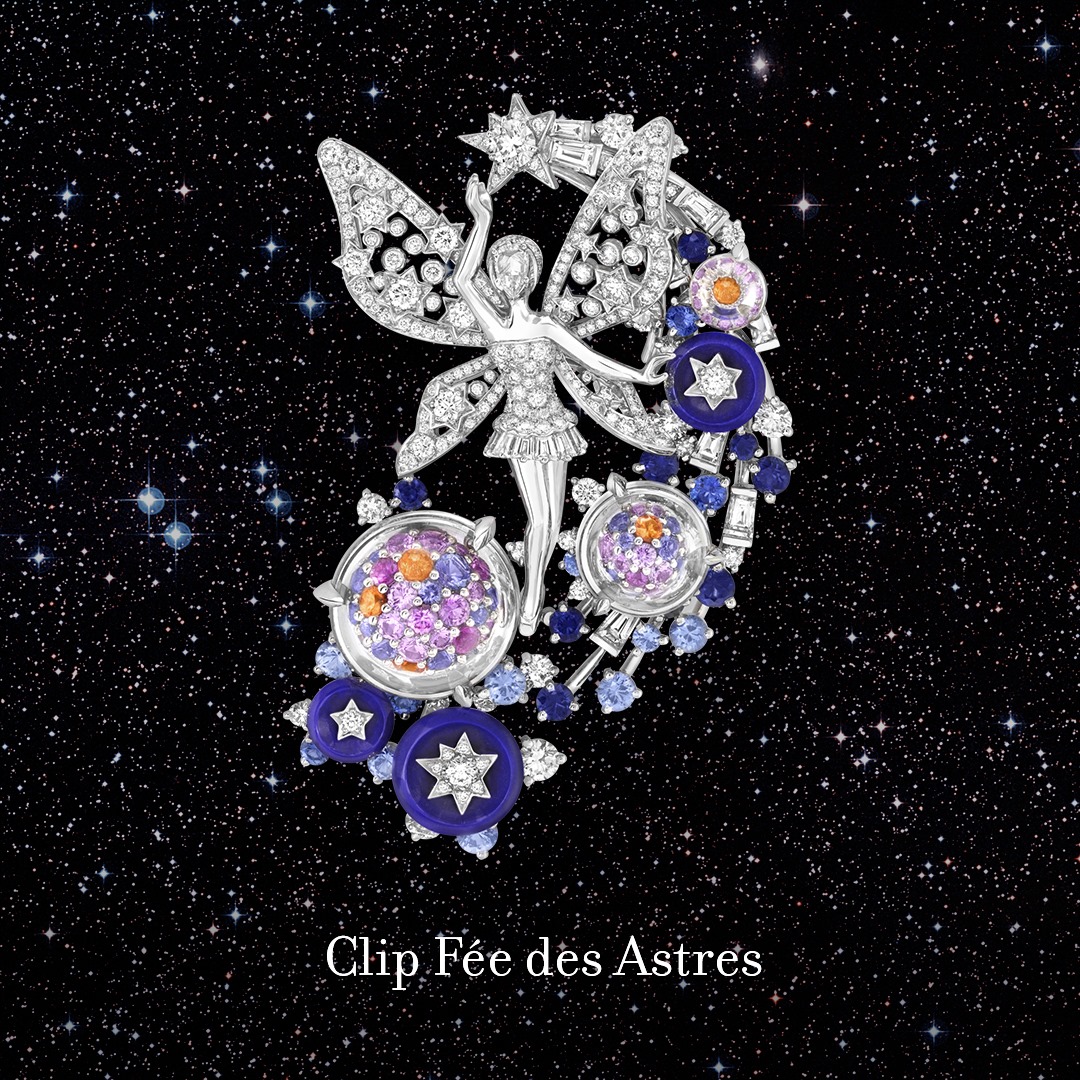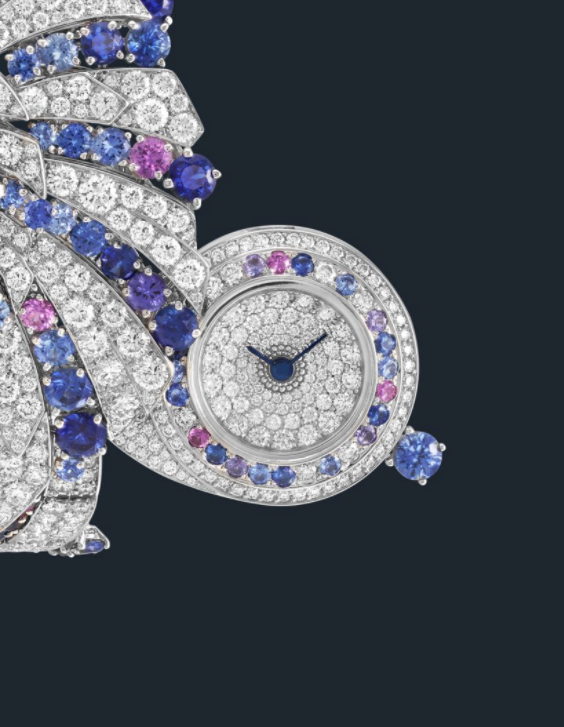 So, the Ison manchette bracelet uses the Mystery SetTM technique and relies on the historic know-how of the Van Cleef & Arpels jewelers, cutters and setters to represent, among rubies and diamonds, the explosion of the eponymous comet in November 2013, during its course towards the sun.
The transformable Halley necklace and ring is also inspired by the comet of the same name that can be observed from Earth every 75 years. The yellow and white diamonds are intertwined, including a pear-shaped 11.29 carat Fancy Vivid Yellow diamond and a pear-shaped 3.26 carat white diamond, and they depict Halley's Comet's ice core, the halo of its coma and its dust tail, in their frantic race.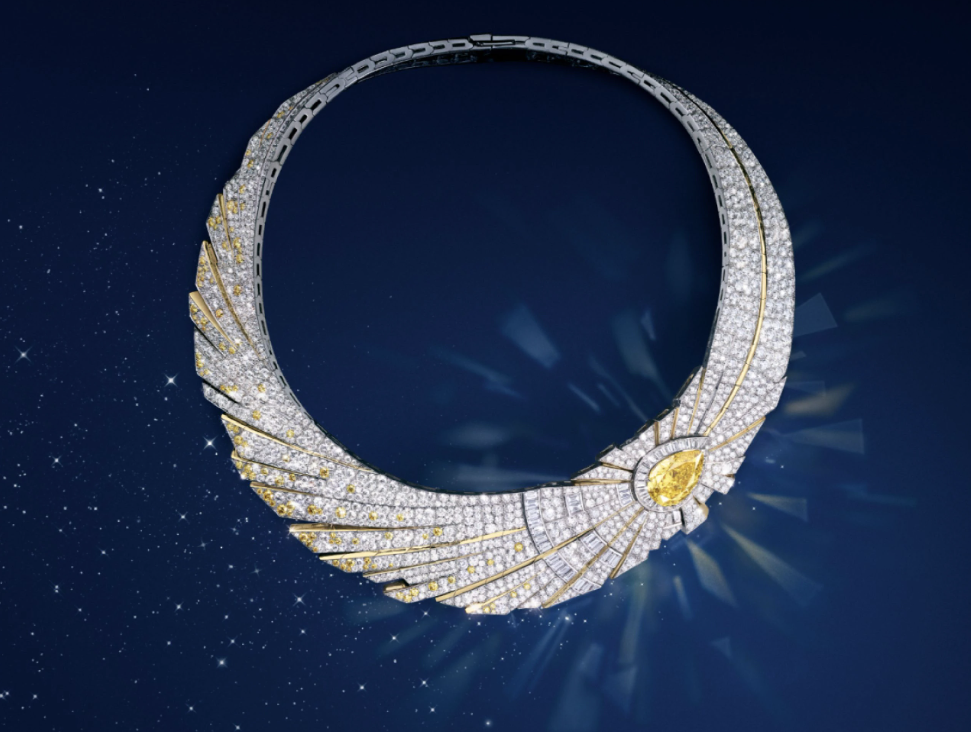 For its part, the Ciel de Minuit necklace pays tribute to the Milky Way. The deep blue of the lapis lazuli, set in white gold (and bespokely recut), holds diamonds and sapphires in a circle of stars as if suspended by an invisible thread.
150 creations in total, 80 in 2021 and 70 others to come, which enable the Maison Van Cleef & Arpels to demonstrate its talent and explore the other themes that it holds dear—fairyland, goddess or dancer, magnified nature—in the light of the riches of the cosmos.
But make no mistake about it, the marvels here are also, and above all, the inestimable gems that adorn all of these jewelry sets—such as the mauve and two-colored tanzanites of the Céphéide necklace and all the diamonds, each one rarer than the next…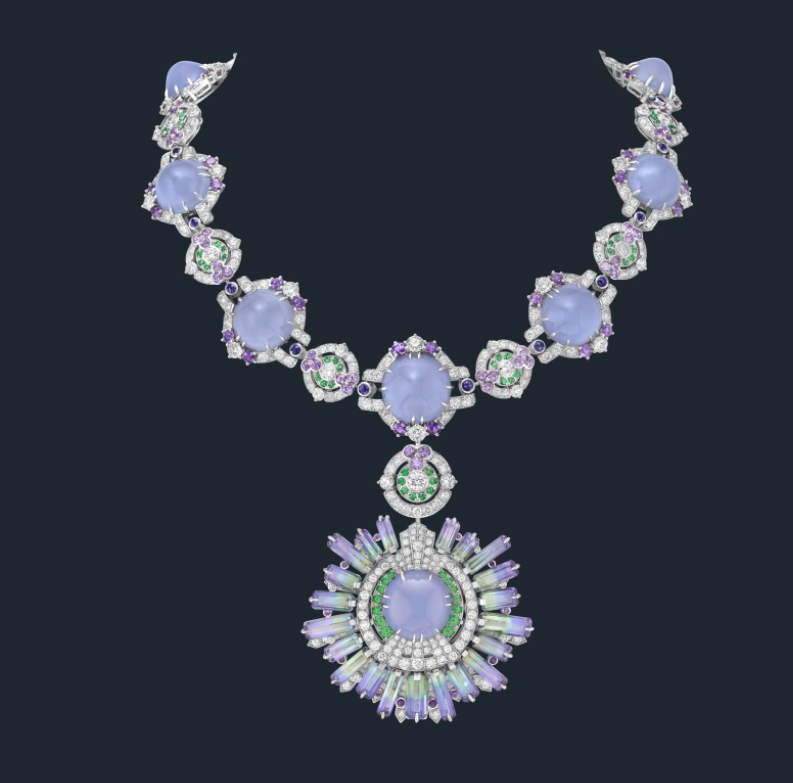 The "Sous les Étoiles, heavenly dreams" collection is accessible via the Maison Van Cleef & Arpels's Instagram or Facebook accounts or on its website.
Source Rubel & Ménasché
---
Photos © Van Cleef & Arpels.