On May 13, Sotheby's Geneva will auction the 100.9 ct. Graff Vivid Yellow, considered among the largest fancy vivid yellow diamonds in the world.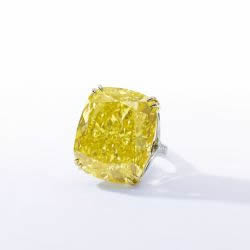 Courtesy of Sotheby's
The Graff Vivid Yellow
The stone, named for famed London diamond collector Laurence Graff, is described by the auction house as "of exceptional beauty and extraordinary fire and brilliance" with a "sensational daffodil yellow" color.
It carries a $15 million to $20 million estimate.
---
Pictures JCK Online