Geneva – Diacore and Mellen Inc. have formed a partnership with Sotheby's to acquire an ownership interest in the 59.60-carat Pink Star diamond.
"The three parties have formally partnered to achieve the value of the 59.60-carat stone, which Sotheby's holds in its inventory," the auction house said in a brief statement, declining to comment on the specific percentage of the stone owned by each entity.
The stone could be sold in the future, either privately or at auction, with proceeds split among the three companies per their ownership percentage, according to a Sotheby's spokesman.
The stone is the largest internally flawless, fancy vivid pink diamond that the Gemological Institute of America has ever graded.
De Beers unearthed the 132.5-carat piece of rough that became the Pink Star in 1999 in South Africa.
Sotheby's auctioned the polished diamond in November 2013, when it sold for $83.2 million, beating out the Graff Pink to become, at the time, the most expensive gemstone ever sold at auction.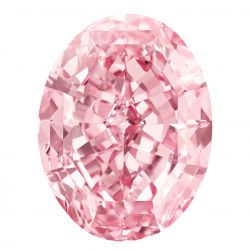 New York diamond cutter Isaac Wolf bought the diamond but, according to Forbes, he defaulted on the payment and the stone was put into Sotheby's inventory. The auction house reportedly had to buy the Pink Star for $60 million, the price it guaranteed the original seller.