On Tuesday, we reported that polished prices had declined year-over-year, for the fourth month in a row. This trend started more than a year ago, when prices began to show a continuously diminishing growth rate that slid straight into the red as diamond prices sank from their July 2012 peak. Month-over-month, polished diamond prices have not fared much better, posting meager growth, declines or no movement at all.
Bucking this trend are a few items that have consistently outperformed all other over the past year, proving that even in the toughest times, some diamonds shine on.
True to her royal title, Princess cuts have acted modestly and calmly. After the 2008 crash, when prices of most round cuts tumbled for an entire year, and sometimes longer (5 carats floundered for 18 months before they hit bottom, losing more than 29 percent of their price in the process), 1 carat Princess diamonds slipped for just eight months, losing only 8.6 percent of their price.
Rounds peaked again in July and August 2011, but 1 and 2 carat Princess glided slowly, and peaked just recently in September, showing a gain of almost 28 percent.
While 1 carat rounds lost 1.2 percent in October compared to September, 1 carat Princesses softened by just 0.3 percent. Over the past year, 1 carat rounds dropped 10.5 percent, while 1 carat Princess cuts soared 14.7 percent; a handsome return, outpacing gold (4.9 percent), platinum (6.8 percent) and even the S&P 500 (12.7 percent).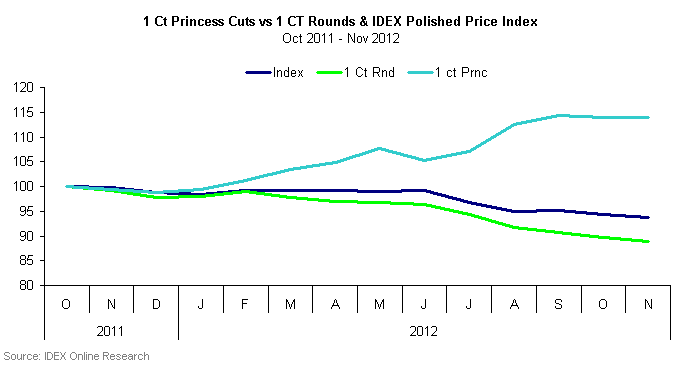 One-carat rounds are a common item. By value, they represent 15.6 percent of the goods offered in the global wholesale markets this year. By comparison, 1 carat Princess cuts constitute just 1.9 percent of the market so far in 2012.
The recent resurgence of Princess cuts is an act of bravery. Their depressed price led manufacturers to polish rough fit for Princess (and other Fancy cuts) into rounds. What they lost in yield, they regained in total price. Consumers, however, saw an opportunity. A 1 carat Princess cut wholesales, on average, at about 33 percent to 44 percent less than a round cut of the same color and clarity. A third less is no joking matter, and in this troubled economy, round cut diamonds are seeing subdued demand, with price-conscious buyers turning to Princesses – when they do finally seek diamond jewelry.
The most popular of the 1 carat Princess cuts are VS1 goods, specifically in FGH color. Many hundreds of thousands of FGH / VS1 1 carat Princess cuts were, and still are, circulating in the pipeline this year.
I don't want to provide an outlook. In an uncertain global market, with a deeply divided U.S. population – not least of all since half the country feels that the wrong guy is going to lead its economy in the next four years – a change of leadership in China and just too few diamond firms heavily promoting diamond jewelry in emerging markets, consumers sometimes surprise us, and sometimes they don't. But one thing is sure, Princess cuts escaped an oppressive thumb. Now back in demand, they are attracting all the attention they deserve.