During the month of February, the average price of polished diamond prices increased 1.8 percent, with most of the gain taking place in the last week of the month, according to the IDEX Online Polished Diamond Price Index.
However overall, polished diamond prices are still not changing their course by much. Compared to average prices in January, polished diamond prices declined 0.1 percent, while year-over-year, average prices fell 5.1 percent.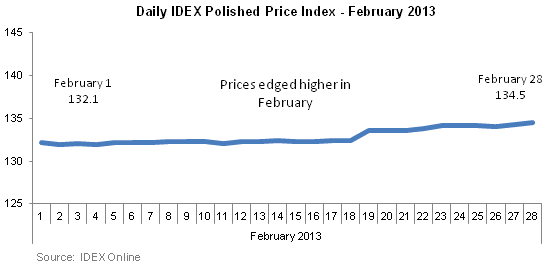 It should be remembered that in February 2012 polished diamond prices climbed 14.5 percent, making for a challenging year-over-year comparison.
The IDEX Online Polished Diamond Price Index averaged 132.8 in February. In January, the Index averaged 132.9; it stood at 139.9 in February 2012.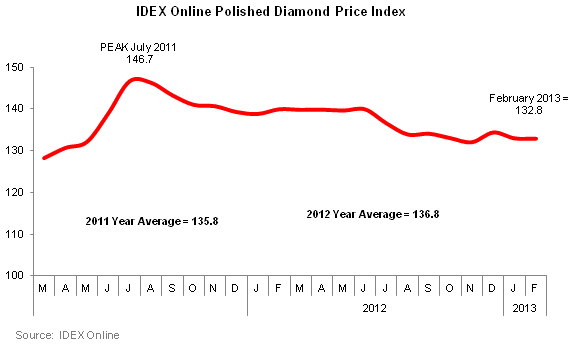 The forces behind february prices
A number of forces are behind the increase in prices in late February. Prices usually rise ahead of the important Hong Kong International Jewellery Show in early March, and this year is no exception. Rough diamond prices are edging up and diamond manufacturers are protecting their margins by pushing up prices of polished diamonds, is another reason.
After a period of slower supply of polished diamonds, an increase in supply of fresh goods to the market is resulting in a sharp rise in the prevalence of better goods, pulling up overall average prices.
Diamond prices by size: mixed
Compared to January, 1-carat rounds decreased 0.6 percent and 2-carat rounds softened by 0.2 percent. Larger goods fared better, with 3-carat rounds increasing 1.5 percent and 4-carat rounds up 2.3 percent compared to January.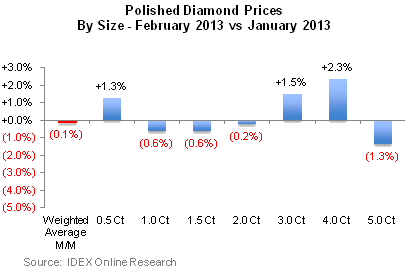 Year-over-year, prices of round-shape diamonds lost 4.9 percent (0.5-carat) to 15 percent (5-carats).
Outlook
In the long-term, diamond prices are set to continue their increases, at the very least maintaining their 4.0-4.5 percent annual increase. The tricky part is the short term. Demand in the coming year is set to increase, mainly in China. In the U.S., Japan and India the global economic forecast is uncertain and consumers tend to buy cautiously in such times.