Ernie Blom, the President of the World Federation of Diamond Bourses (WFDB) for the third term, has served on a range of industry bodies as an executive as well as chairman for many years, including Chairman, Diamond Dealers Club of South Africa; Chairman, Rough Diamond Dealers Association; Chairman, Master Diamond Cutters Association; Chairman, Jewellery Council of South Africa, South African Diamond Board; and is a Special Diplomatic Advisor to the Belgium government on trade with Africa.
An astute businessman, Ernie Blom, President, WFDB, is a third generation diamantaire with his grandfather having entered the industry in the 1800s. Currently, Ernie's son is with him in business as fourth generation heir. Prior to entering the business arena, Ernie became a shop steward at 23 with the trade union South African Diamond Workers Union (SADWU). He rose through the ranks to become the youngest vice-president and a strike leader in the mid-1970s.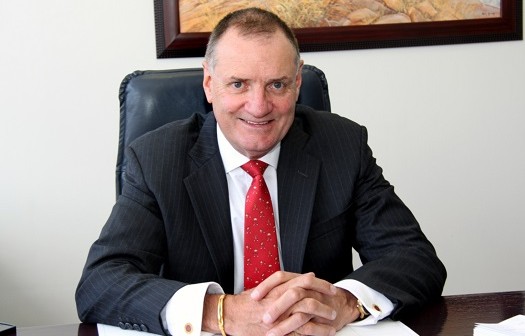 Here, in an interview with Rough & Polished, Ernie Blom speaks on various issue currently plaguing the global diamond industry.
Excerpts:
During the Finance Seminar at the Presidents' Meeting in Mumbai, many issues were put forth by the industry as well as the lending banks. But, barring a few banks, most of the banks expressed genuine concern at the state of the diamond industry. Your thoughts?
We did, indeed, discuss many critical issues at the Presidents Meeting. It was also important that we discussed alternative forms of financing for the diamond trade. Our aim is to take this issue forward with task force charged while doing so. We do not want the issue and the potential solutions to slip away out of focus.
The global rough market is reported quite strong and stable at present. How does this reflect on the future polished market? Do you see a sustained growth or will it falter in response to price volatility/market forces?
A strong rough market can be seen as a positive sign that there is demand for goods and that manufacturers are restocking. However, there is often a concern that manufacturers may be purchasing only in order to keep their plants going without strong demand for polished goods further down the pipeline.
On the issue of volatility, this is always a problem because there is so much political and economic uncertainty. But the diamond trade has learned to operate in a prudent way and I hope that is continuing to be the case.
At certain intervals, the Indian diamond industry especially has seen a glut of rough diamonds in the market, which eventually increases stock inventory. Buying for price speculation results as a costly effort, negatively affecting liquidity in the market. Is there a way out of this situation? Your views?
As I have said in the past, our industry members must act in an intelligent and measured manner. Creating an overhang of goods is no good for anyone. It goes without saying that speculation is highly damaging and should not be practised. We believe that manufacturing should be in line with market demand.
Despite steps taken to detect lab-grown diamonds, mixing them with natural stones is still a major issue. Looks like the steps taken currently by the bourses are not strong enough to deter unscrupulous people from doing or repeating the act. A more stringent punishment should be meted out if the diamond industry has to survive; and also to ensure consumer confidence in diamonds. Your views?
The WFDB and its member bourses are monitoring this issue very strongly. We have zero tolerance for this criminal behaviour which is quite simply fraud. People deliberately seeking to gain a financial advantage by passing off lab-grown stones as natural diamonds are behaving illegally.
We take an extremely strong stance on this because the effect on consumer confidence could be disastrous. Many of the diamond bourses have been supplied with machines that can identify synthetic goods.
The WFDB has the power to ban people found to be behaving illegally in one diamond exchange from trading at all of the WFDB's 30 member bourses.
Much has been debated about generic marketing activities over the years. The Diamond Producers Association (DPA) is trying to do its bit, but are we on track to reach the target consumer effectively? Contradictory reports are seen in the media in terms of Millennials' love for diamonds. How serious is the demand situation at present, considering the diamond industry's future is at stake?
Clearly, the next great consumer market is the Millennial generation of 18 to 35-year-olds. Unfortunately, they have had little exposure to diamond jewellery because there has been no generic diamond jewellery marketing for almost a decade.
I believe the DPA is on the right track in concentrating on this segment of the market which is quite cynical about life and what it regards as outdated conventions. It will require a lot of work to ensure that these younger people get the message and to enable them to connect with diamonds. This can certainly be achieved.
Whoever you are and whatever your age, diamonds are still a beautiful object and a store of value as well as symbolising long-term commitment. We are looking forward to the DPA joining hands with the World Diamond Mark and working together to boost consumer demand for diamond jewellery.