We all know that US consumers spent much more on jewelry in 2021. But who exactly drove jewelry sales and by how much? The surprising findings show major shifts in jewelry expenditure in the post-COVID lockdown period.
The age group that spent the most on fine jewelry and watches were the 55–64-year-olds
Pent-up demand is the phrase that probably best describes the force behind this leap in diamond sales, especially in the US. Delayed weddings and proposals, essentially bridal, were important drivers.
The age group with the largest increase in demand was surprisingly under 25 years old. According to the latest available Bureau of Labor Statistics' Consumer Expenditure Survey (CES), these young adults nearly quadrupled their spend on jewelry in 2021.
The two most surprising findings had to do with race and population. For the first time, Americans that identify as Asians, and those residing outside urban areas were top spenders on jewelry in 2021. These three demographics drove jewelry demand across the US.
US households spent a third more than during COVID
With US jewelry demand leaping to historic levels in 2021, average household expenditure on self-purchased jewelry (as opposed to gifts) rose 44% to a record $647.
This may seem a low figure at first, but keep in mind that not all households had weddings, and many may have not purchased any jewelry at all. But with 133.6 million households, this average amount adds up.
Each adult spent on average $359.41 on jewelry in 2021. Again, this is a historic level of personal expense on jewelry.
From a jewelry market analytics perspective, these are interesting figures, but not very surprising. By diving deeper into the figures, we can learn much more about the jewelry market dynamics and try to understand how they impact both jewelry retail trends and the jewelry industry at large.
This is who bought jewelry in 2021 and so deeply shaped US jewelry market trends.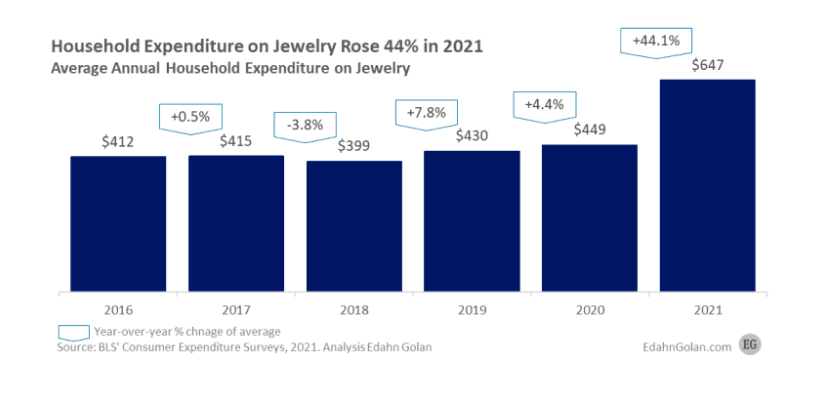 Jewelry demand by age group tells the post-COVID story
For years, the leading spenders by age group were either those aged 45–54 or the 55–64-year-olds. Both groups are around the peak of their earning power and tend to possess an appetite for finer jewelry.
In 2020, it was the 45–54 age group that spent the most on jewelry. The following year, this shifted to the 55-64 age group, who spent on average $1,343 per household on jewelry in 2021 – an increase of 213% year over year.
But that was not the largest jump in spending on jewelry in 2021. This jump belonged to Gen-Z. The under 25-year-old age group burst out of lockdowns with a voracious appetite for life. Among spending on streaming services and accessories, they also revealed a growing interest in jewelry.
Gen-Z's jewelry demand leaped 270% year over year. It is possible, this was because it began with a very low base. In 2020, the under 25-year-olds had the lowest spend on jewelry.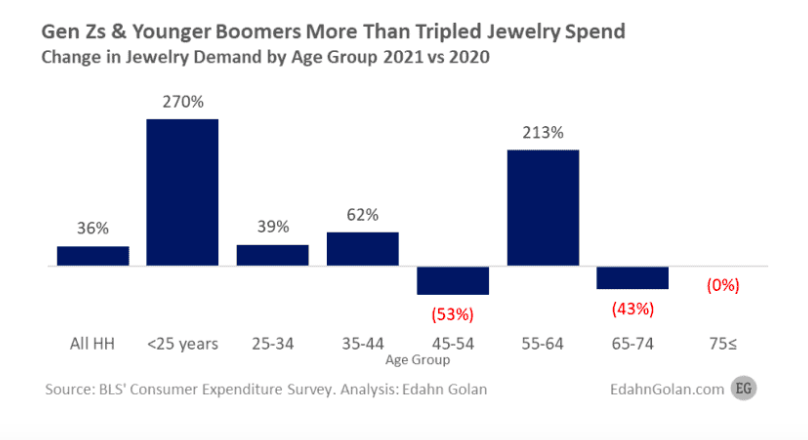 Asians are the top jewelry expenditure demographic by race
The CES has a very broad race grouping, with only three categories: Black or African-American, Asian, and White and all other races.
All other races include, in their words, "Native Hawaiian or other Pacific Islanders, American Indian or Alaska Native, and approximately 2 percent reporting more than one race."
Among these three groups, Whites and others have up to now been the biggest spenders on jewelry. The shift to Asians came as this group tripled (up 199%) their average expenditure on jewelry to $1,312 per household.
Whites and other households increased their average spend on jewelry by a third. Blacks or African-Americans decreased their spending 15% in 2021.