The wider diamond world is engaging with the small-scale mining sector and taking steps to encourage better standards. 
The community of Fandehun is not used to pomp and ceremony. The modest village in the heart of Sierra Leone's Kono District has been sustained by diamond mining for over 50 years but lacks the basics many take for granted — notably, safe drinking water. Women, and often children, walk miles to fetch water from a neighboring village, and they tend to use the same source for all their needs, be it cooking or bathing.
It was therefore an important step for the townsfolk when local officials, including government ministers, gathered in early February to inaugurate a well for the community.
The significance of the event lay not only in providing an important water source, but also in the fact that it was funded by artisanal diamond miners who live there, explains Dorothée Gizenga, executive director of the Diamond Development Initiative (DDI).
In Sierra Leone, DDI is encouraging miners to put aside a percentage of their profits from diamond sales for community development. Gizenga hopes Fandehun's example will motivate other artisanal mining communities to fall in line with DDI's programs.
Setting the bar
Community development is one of five focal points DDI has adopted in its work to bring greater structure to the artisanal mining sector.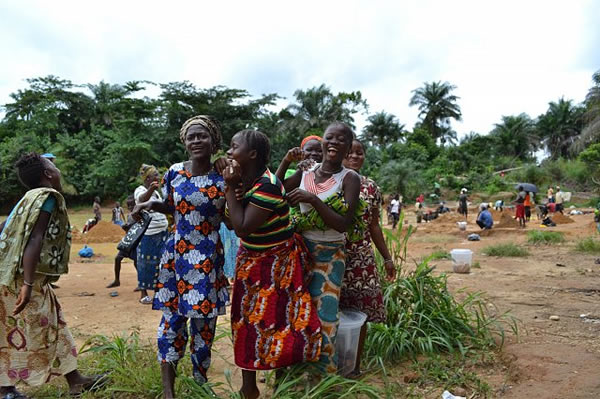 The nonprofit also engages with governments to sensitize their mining policies to the needs of artisanal diggers; works to register miners and organize them into cooperatives; provides professional training such as first-aid response and diamond valuation; and seeks ways to raise miners' incomes by, for example, facilitating having new buyers operate in the country.
DDI took a significant step toward achieving those goals when it launched the Maendeleo Diamond Standards in April, which it claims enable ethical diamond production by artisanal and small-scale miners.
As more miners adopt the certification system, Gizenga expects artisanal communities will increasingly be included in a broader system of responsible supply chains. Slowly, the wider diamond industry is engaging more with the artisanal sector, she acknowledges, with De Beers, the Gemological Institute of America (GIA) and the Rapaport Group among those with projects in the communities.