Dear Readers,
This week our Lettre focuses on jewelry and the retail sector.
The articles that we are sharing should provide you with more insight so that you can approach this new year with confidence. And for those, like us at Rubel & Ménasché, who live in Europe, and have been buffeted around by a never-ending crisis, that is something we really need J.
In 2021, the world of jewelry grew from strength to strength. Jewelry sales rose 32 % compared to last year, according to MasterCard's SpendingPulse, and 26% compared to the same period in 2019. It was the cherry on the cake after a fantastic year.
As you know, the rise in e-commerce has become a vital channel for increasing sales as well as charming, informing and helping consumers in their search for the perfect jewelry item.
This sales approach remains complementary to in-store visits and digitalization – if possible on cell phones! – ultimately spans the entire marketing and purchasing process. Finding the digital experience that will support in-store purchases, in a concrete, bold or original way, anticipating a need that your customers may not have spotted, can help you close a sale and offer an additional service. Each of us needs to understand and know our customers, the 'Diamond person of the year' (the American consumer, to be more accurate), according to Rapaport.
Just a few days or weeks away from the Chinese New Year and St Valentine's Day, we know that this important annual milestone for the jewelry world is also looking very promising.
Finally, it is also interesting to note that in 2021, demand influenced diamond supply! We should monitor this trend, which is reassuring for the future. We now have to maintain and build loyalty among consumers who will perhaps be a little fickler when they can once again fly to other sunny climes.
But, in the meantime, let's continue to work together to think outside the box and deliver beautiful multi-generational marketing campaigns*, sustainable jewelry with traceable diamonds. The kind we would want to give ourselves or our loved ones to celebrate love, friendship, tenderness and quite simply, life.
Because, in the end, what else could we want more right now than to celebrate life with outpourings of joy?
Happy reading and enjoy your week.
* On this subject, check out the NDC and RJC campaign – PS : Merci/Thank you, by the way –, reminding people of the positive impact of diamonds, and which is currently sparkling on the pediment of the Opéra Garnier in Paris.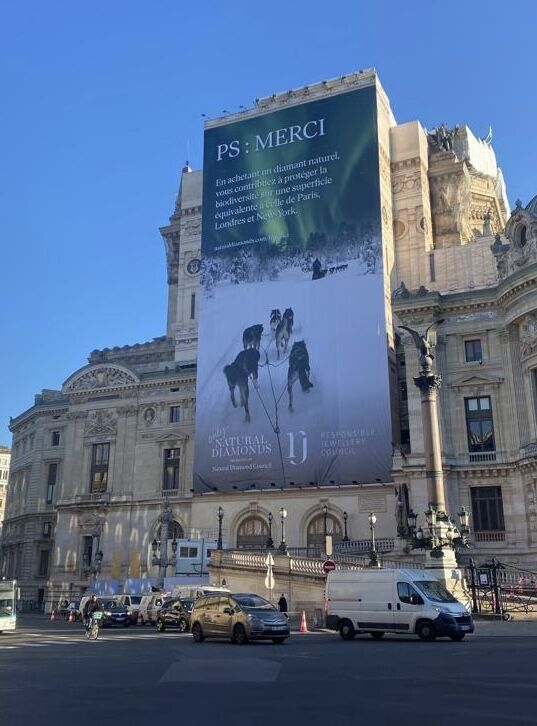 Source Rubel & Ménasché