Boucheron and Pomellato performed especially well in the first half after expanding into the Asia-Pacific region.
Kering posted strong growth in the first half of its fiscal year, with revenue climbing double digits and exceeding pre-pandemic levels.
The company behind Gucci, Yves Saint Laurent and other high-end brands posted first-half revenue of €8.05 billion ($9.57 billion), a 54 percent increase on a comparable basis and 8 percent higher than the first half of 2019.

In the second quarter, revenue nearly doubled, up 95 percent year-over-year to €4.16 billion ($4.94 billion) and up 11 percent compared with the second quarter of 2019.

"Kering delivered excellent performances in the first half and resumed its trajectory of strong, profitable growth," said CEO François-Henri Pinault in a press release about the results.
"All of our houses contributed to a sharp rebound in total revenue, which comfortably exceeded its 2019 level, with a remarkable acceleration in the second quarter."
Strong momentum in North America and the Asia-Pacific region bolstered sales in Kering's directly operated stores, which account for about 80 percent of its total sales.
First-half sales from these stores, including e-commerce, were up 60 percent year-over-year and 11 percent compared with 2019.
About 17 percent of its stores were closed during the first half of 2021 and 13 percent were closed in the second quarter.
Online sales, however, were "outstanding," said Kering, with first-half revenue up 78 percent year-over-year, accounting for 14 percent of retail sales. For the second quarter, online sales were up 59 percent.
In North America, e-commerce sales doubled in the first half, up 110 percent, accounting for 24 percent of retail sales.
Wholesale sales were up 30 percent year-over-year in the first half, though sales are down 4 percent in the past two years as the company works to streamline the segment.
The company's watch and jewelry brands, including Pomellato and Boucheron, fall into its "other houses" division, alongside Alexander McQueen and Balenciaga.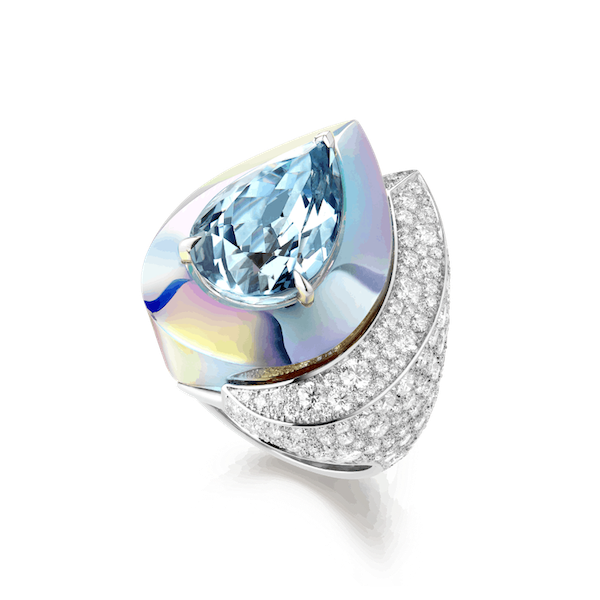 First-half revenue in the "others" division rebounded, totaling €1.48 billion ($1.76 billion), a 65 percent increase year-over-year on a comparable basis. Compared with the first half of 2019, sales were up 22 percent.
"Our jewelry houses all posted sharp rebounds with significant triple-digit increases across channels and geographies in Q2," said Chief Financial Officer Jean-Marc Duplaix during the company's earnings call.
---
Photos © Boucheron, Holographique collection.