Elena Levina, analyst of the diamond world, is one of the writers of Rough & Polished website. She publishes researches and monthly analysis of the diamond industry and the market's trends. www.rubel-menasche.com wanted to know a little bit more about her.
Could you explain your professional background and in particular your experience relating to diamonds?
When I was little, my father was engaged in organizing a workshop to produce artificial diamonds in a small Russian town. He quickly realized that this job was not for him, but the stories he told me were enough to get me interested in the diamond industry.
At the university I studied physics, like my parents, but somehow I did not go along that way professionally. I always liked to write, and I began to prepare various materials for newspapers – first for fun, then it became my job. For several years, I was a business columnist in one of the major Russian publications, and in that period I also wrote about the diamond and jewelry markets. Now I work in one of the companies within the diamond pipeline and my job is internal corporate analysis.
How and why did you come to work for Rough and Polished?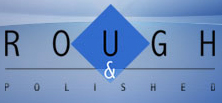 Journalists and experts from the same industry usually know each other well, especially if it is as specific as the diamond industry! One day my friend called me from Rough & Polished and asked if I was still missing journalism – it was necessary to systematize conflicting and diverse data about the movement of prices for diamonds in 2010 to help readers, who are sometimes not well versed in the industry undercurrents, to navigate. The first experience was a success, and we decided that I could do such surveys on a regular basis.
Could you tell us a little more about Rough and Polished? What is its purpose? (teams, locations in several countries, etc.) ?
Rough & Polished is a specialized news agency covering and analyzing events in the diamond industry and, accordingly, in the diamond market. This is a relatively young media outlet – in 2012 it marks its five years since the start-up.
It should be said that the biggest obstacle to spreading information is not political and ideological barriers, but language barriers So the idea to, at least partially, eliminate this obstacle and allow the industry's professionals from different countries to obtain information in a familiar language was right and the website of Rough & Polished running in Russian, English and Chinese got its own readership, which now – thanks to the cooperation with Rubel & Ménasché – also includes people speaking French.
Rough & Polished has an international team of correspondents and editors, who being in Russia, Belgium, Italy, Israel, Namibia, Zimbabwe, South Africa, China and the United States are trying to keep their readers abreast of industry developments.
Who are Rough and Polished's readers?
Our readers are mainly professionals working in the diamond industry in its upstream and downstream sectors including top managers, financial experts, marketing consultants, mining specialists, technologists, diamond cutters, appraisers, jewelers, wholesalers, retailers, etc. We are also read by the staff of government agencies, legislators and lawyers involved in the problems of the diamond industry, and, of course, by people who buy diamond goods, or just interested in diamonds.
As for the audience in terms of geography, here is a list of countries whose readers visited the Rough & Polished website in the last 90 days: Afghanistan, Albania, Algeria, Andorra, Angola, Armenia, Australia, Austria, Azerbaijan, Bahamas, Bahrain, Bangladesh, Belarus, Belgium, Belize, Benin, Bolivia, Bosnia and Herzegovina, Botswana, Brazil, Brunei, Bulgaria, Cambodia, Cameroon, Canada, Central African Republic, Chad, Chile, China (including Hong Kong), Colombia, Congo, Costa Rica, Cote d'Ivoire, Croatia, Cuba, Cyprus, Kyrgyzstan, Czech Republic, Denmark, Djibouti, Dominican Republic, Ecuador, Egypt, Equatorial Guinea, Eritrea, Estonia, Ethiopia, Falklands, Fiji, Finland, France, French Guiana, French Polynesia, Gabon, Gambia, Georgia, Germany, Ghana, Gibraltar, Great Britain, Greece, Greenland, Grenada, Guadeloupe, Guatemala, Guinea, Guinea-Bissau, Guyana, Haiti, Hungary, Iceland, India, Indonesia, Iran, Iraq, Ireland, Israel, Italy, Jamaica, Japan Jordan, Kazakhstan, Kenya, Kiribati, Korea, Kuwait, Latvia, Lebanon, Lesotho, Liberia, Libya, Liechtenstein, Lithuania, Luxembourg, Macau, Madagascar, Malawi, Malaysia, Maldives, Mali, Malta, Marshall Islands, Mauritania, Mauritius, Mexico, Moldova, Monaco, Mongolia, Morocco, Mozambique, Myanmar, Namibia, Nepal, Netherlands, New Zealand, Nicaragua, Niger, Nigeria, Norway, UAE, Oman, Pakistan, Palau, Panama, Papua New Guinea, Paraguay, Peru, the Philippines, Poland, Portugal, Puerto Rico, Qatar, Romania, Russia, Rwanda, Salvador, Samoa, San Marino, Saudi Arabia, Senegal, Serbia and Montenegro, Seychelles, Sierra Leone, Singapore, Slovakia, Slovenia, Somalia, South Africa, Spain, Sri Lanka, Sudan, Suriname, Swaziland, Sweden, Switzerland, Taiwan, Tajikistan, Tanzania, Togo, Tunisia, Turkey, Turkmenistan, Uganda, Ukraine, the United States, Uruguay, Uzbekistan, Venezuela, Vietnam, Yemen, Zambia, Zimbabwe, and some others.
What exactly is your role? You write monthly market reports and occasional analysis, could you tell us a little more about these? Do you have any favourite themes?
We do not have a rigid work format right now – I write about everything which attracts my attention in the market. Of course, my work in the diamond business puts some moral limits – I know a lot of information that must be treated with caution. So I try to pay more attention to general trends in the market, rather than events in Russian companies, sticking to neutral presentation of information and thinking as an outside observer.
Generally, the result is that my surveys cover those issues which I myself find it worth getting to their bottom. Text is not an end in itself: while I'm looking for materials to be used in my features trying to find and analyze the information coming in, I come to know a lot of new and useful things that may later prove handy in my work. And if it is useful to me, then it may be useful to someone else as well.
I also love to write 'popular science' articles, explaining the basics of the diamond market, the technology of production or the work of the Kimberley Process. Odd as it may seem, but these features sometimes prove useful not only for the people who are far from the diamond industry, but also for those who work in this market.
What do you particularly like about the diamond sector?
Its uniqueness. The diamond market is unlike any other commodity market I know. You will not find two identical diamonds, so you cannot invent a stock exchange, which would be able to determine the average world price for this product. You can never tell exactly how many diamonds you will recover from ore, and especially how much they will cost, because every time you will come across crystals of different shapes and sizes.
And even the very idea of this market is absolutely unique. Strictly speaking, a diamond is just a piece of crystalline carbon, not worth one's money for household purposes. It does not bring any tangible benefit – it's not metal, not fuel, not a chemical agent. But it holds an idea, a symbol. When a lover gives his bride a diamond ring, he gives something more than just a piece of rock and metal – it is an expression of love, gratitude, deep feelings. As jewelry is passed from generation to generation, it's more than just gems – it's a family history. This is an amazing phenomenon, still giving me delight.
Since this market is unique and does not obey to the classical market laws, it is very, very difficult to understand its depth. Actually, that's why I believe that there just cannot be too much of analysis focused on the diamond market.
What do you consider to be the immediate and future (a 20-year horizon) challenges facing the diamond industry?
I think the diamond market is now at a stage of great changes due to globalization of the economy. For a long time, diamond monopolies existed as private, closed companies. Information about their activities was very scanty, which made it possible to regulate the market and dictate prices. Such a method is familiar and even useful for the industry, but in the current economic conditions it is impossible.
Contracts and pricing are monitored by antitrust authorities, and even banks, which lend you money, impose certain disclosure requirements. There emerged several companies – not very large – which are engaged in diamond mining and listed on the stock exchange. Now, people who invest in such companies want to have an in-depth understanding of this business. If ALROSA, the world's largest diamond miner by carats, will enter the stock market, this will put new and even more stringent disclosure requirements on the industry.
The "growth crisis" is also evident in the structure of the diamond industry. The diamond business ownership pattern is gradually changing. The Oppenheimers, who historically stood at the origins of this industry, are leaving it. BHP and Rio want to sell their diamond mines, and the junior diamond miners I mentioned are among probable buyers of these assets. We are in a period when a number of new players, be they shareholders or investors, are trying to enter the diamond industry, and this may have an impact on the very principles of doing business.
Another interesting subject for reflection, as I see it, is the idea of preserving the value of diamonds. For the older generation it was unconditional, but now a younger generation is coming in. These are people who grew up in a different environment at a different pace of life, with somewhat different values in their minds as well – and it is they who will shape consumer demand in the coming decades. Will they treat diamonds as they used to be treated before?
Russia is not the best market for the study of demand for diamond jewelry, but, nevertheless, I can see some changes in the minds of young people. When I was in school, most girls dreamed of a beautiful ring with a large stone, but now most of my friends believe such a gift is a ghost of the past. In this regard, I wonder if there is any way to change the positioning of diamonds on the market.
Does Rough and Polished have any particular projects or development objectives which you would like to tell us about?
For Rough & Polished, the purpose of development is only one – to become a reliable source of information for those who work in the diamond industry, as well as for consumers of goods it offers. So, any projects pursued by Rough & Polished lie in this vein.
One of them was and remains associated with our 'Exclusive' column, where we publish interviews. The idea is to create a broad platform for those who work in the diamond industry to express their views. Gradually, this column has turned into a kind of international club, in which Rough & Polished tries to offer opportunities to speak out on the most burning problems of the diamond industry and diamond market.
Another project is currently being developed in cooperation with the African News Center (http://www.afrinewscentre.com), an African regional news agency distributing political, economic and business news of the African Continent and among other things covering events in the African mining industry, including diamond mining.