Polished diamond prices edged higher in March, according to the IDEX Online Polished Diamond Price Index. Average prices for the month were up from February by a strong 1.8 percent.
After drifting lower during the first week of March, polished diamond prices rose steadily through the month. By the end of the month, they were notably higher than at the beginning of the month.
There are several reasons that polished diamond prices have begun to strengthen, including the following:
• Diamond dealers are looking past the recent softer-than-expected 2012 holiday selling season, and they are hopeful that 2013 diamond demand will be stronger.
• Economic growth in the U.S. market appears to be strengthening, based on the leading indicators. There is a high correlation between economic vitality and diamond demand. The U.S. consumes roughly 38 percent of the world's polished diamonds and diamond jewelry, based on value, and it is by far the most important market for the global diamond industry. In 2012, the U.S. retail diamond market posted above-average sales gains.
• Diamond and jewelry shows in the Far East hold much potential for near term diamond demand, and early signs are positive.
• The American stock market has been on an upward trajectory since the beginning of the year. When Americans feel wealthy, they tend to loosen their purse strings.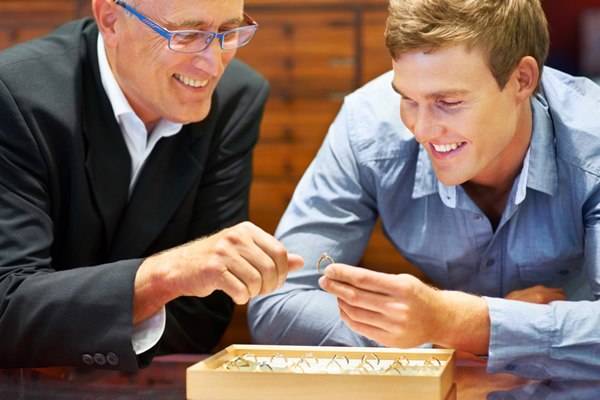 Polished prices move higher in march
Polished diamond prices moved modestly higher in March, reversing modest weakening in January and most of February, as the graph below illustrates: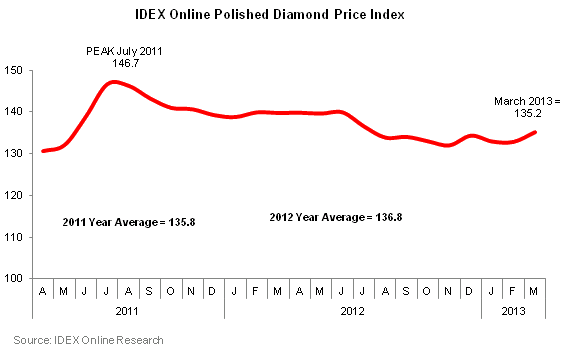 The global polished diamond industry continues to seek more good news that will push prices even higher in the coming months. March's data is positive, but it is too soon to suggest that this is a trend.
Polished diamond price trends
The IDEX Online Polished Diamond Price Index averaged 135.2 during the month of March. In February, the Index averaged 132.8; it stood at 139.8 a year ago (March 2012).
Here's what this means:
• March 2013 versus February 2013 prices: up 1.8 percent – Polished diamond prices in March were up 1.8 percent when compared to February. While it is too early to say that the polished diamond prices in March are a reversal of the weak trends of 2012, they are at least hopeful. The graph below illustrates monthly price changes for the global polished diamond market.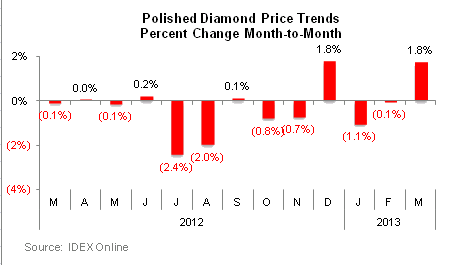 • March 2013 versus March 2012 prices: down 3.3 percent – The rate of decline in diamond prices on a year-to-year comparison fell again in March, as the graph below illustrates, and it was the smallest monthly decline since mid-2012.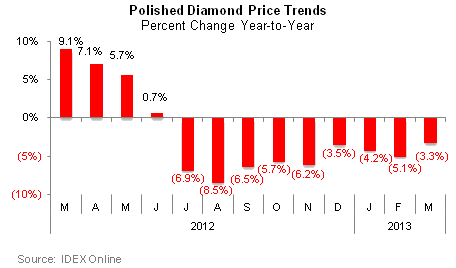 • Daily prices of polished diamonds rose beginning in the second week of the month – Polished diamond prices drifted early in March, and trading was lackluster. However, beginning in the second week of March, daily diamond prices picked up, and rose notably from prices earlier in the month. The graph below illustrates daily price movements for polished diamonds during March 2013.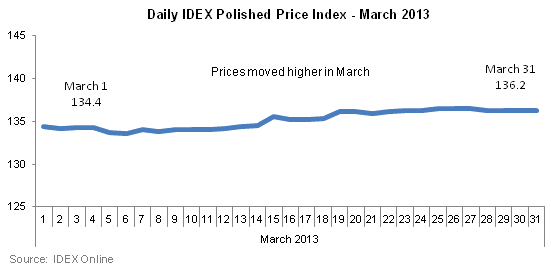 • End-of-month (March) prices versus beginning of month (March) prices: up 1.3 percent – Polished diamond prices closed the month of March notably higher than at the beginning. Since the end of the month, March's price levels have extended into April, though there appears to be some short-term hesitation in upward movement.
Diamond prices by size: encouraging
Diamond prices were up for all major sizes in March, when compared to prices in February. The graph below summarizes month-to-month price changes for polished diamonds by size.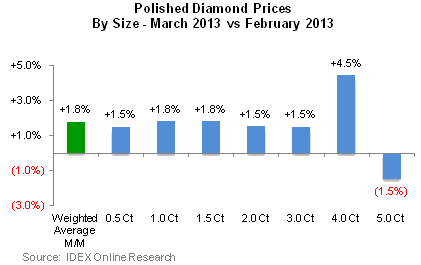 On a year-over-year comparison, polished diamond prices in March 2013 were down for all key diamond sizes, when compared to March 2012, as the graph below illustrates. These price declines were inconsistent across the various sizes of diamonds. For example, four-carat diamond prices were nearly equal to last year's levels, but prices for five-carat diamonds were significantly below last year. However, the year-over-year decline is smaller than in recent months, as shown on the graph.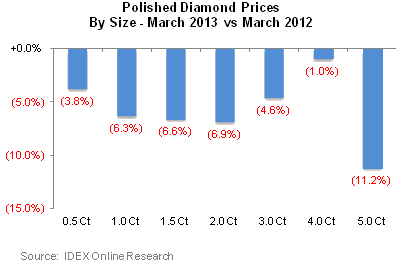 Long term trend shows diamond prices drifting since mid-2011 bubble
After rising slowly beginning in mid-2010, most polished diamond prices – by carat size – were relatively stable during the first half of 2012, and then began to soften in the summer. Late in 2012, there were some hopeful signs that perhaps polished diamond prices had at least stabilized, and were perhaps headed higher. January's polished prices dashed those hopes since diamond prices slipped for all major gemstones. However, March's positive price action gives the polished diamond industry a ray of hope. The graph below illustrates price trends by diamond size (all rounds).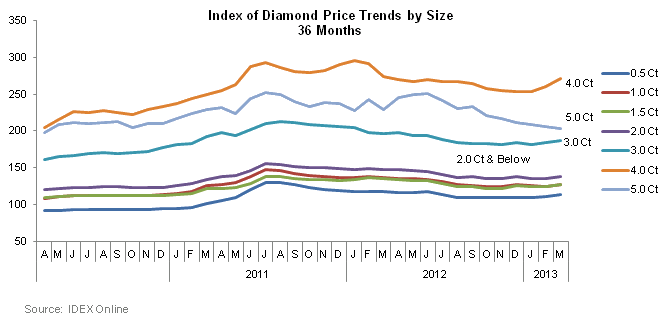 Short term outlook unchanged – still somewhat worrisome
With the global economy still limping along, consumers in most parts of the world have kept their purse strings tight and reined in their discretionary spending. Overall, it appears that the current positive factors affecting diamond prices in 2013 are being cancelled by the negative factors. However, there are some encouraging longer-term positive signs.
• The OECD Composite Leading Economic Indicators for the Euro Area, point to stabilizing economic growth in 2013. European diamond demand represents just under 15 percent of total global diamond and diamond jewelry sales.
• Economic growth is "firming" in the U.S., according to the OECD, despite a weak fourth quarter in 2012. Diamond demand in the U.S. market represents about 38 percent of the global diamond market.
•China's economy appears to be at a "tentative turning point," according to the OECD. This has been pushing up some commodity prices such as oil, as commodities traders anticipate improved demand. This is a good sign for the diamond jewelry market, since jewelry demand tracks closely with economic activity. China represents about 8 percent of global diamond demand.
• India's economy is also at a tentative turning point, with positive signs for later in 2013. India's diamond demand represents about 9 percent of global demand.
• Japan's economy is stabilizing, though it seems to be perennially stuck in a slow-growth or no-growth mode. This market is only 6 percent of global demand, it is not having a notable impact on diamond prices.
Longer term outlook brighter for diamond demand
Longer term, polished diamond prices should move higher due to several factors within the diamond market:
• Emerging markets, including China and India, are poised for solid long-term growth. As consumer wealth builds in these markets, shoppers will be spending more on jewelry.
• Rough diamond supplies – based on credible data – appear to be flat, at best, for the next decade or longer. With flattish supply, but rising demand, the forces of capitalism will push diamond prices higher.
However, until global economic conditions solidify and accelerate, it is unlikely that polished diamond prices will begin to move substantially higher near term. Further, if the industry does not develop a unified marketing strategy for diamonds, it is likely that shoppers will gravitate to lower-priced jewelry.
The table below summarizes the average price of polished diamonds, using the IDEX Online Polished Diamond Price Index. The pre-recession peak for diamond prices occurred in August 2008 (box). As expected, polished diamond prices were weak during the "Great Recession" which officially ended in mid-2009. Unfortunately, polished diamond prices lagged the general economic recovery, and did not begin to show an upward bias until early 2010. The new, latest record price level (red box) occurred in July 2011. After slipping, prices remained relatively stable since October 2011, until July 2012 when they began slipping.