The Gemological Institute of America (GIA) doesn't usually declare itself stumped, but a recent discovery of a flaw in a synthetic diamond that's almost always associated with natural stones left scientists scratching their heads.
Gemologists studying a round, brilliant-cut, 0.26-carat, pink laboratory-grown diamond found a surprising "H4 defect" — a common characteristic of natural diamonds. It was the first time the GIA had identified such a phenomenon in a stone created using chemical vapor deposition (CVD), one of the main processes for developing synthetic diamonds, the laboratory reported recently.
The H4 defect occurs where the diamond crystal structure contains four nitrogen atoms and two "vacancies," or missing atoms. Gemologists often find the phenomenon in diamonds that contain a certain type of nitrogen that is very difficult to recreate in synthetic diamonds, the GIA explained.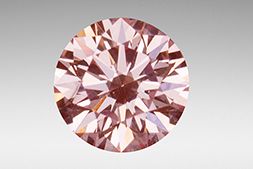 The stone had been submitted to the GIA's Carlsbad laboratory for a synthetic colored-diamond grading report. Experts confirmed it was grown using a gas that was "doped" with nitrogen, while the pink color came from irradiation and a heating process called annealing. The way the manufacturers had probably created the stone made the H4 defect especially "puzzling," the GIA said.
"It is possible that the H4 was created during the irradiation and annealing process, but among the many samples GIA has examined, this was the first observation of this defect in a CVD synthetic diamond," it said.